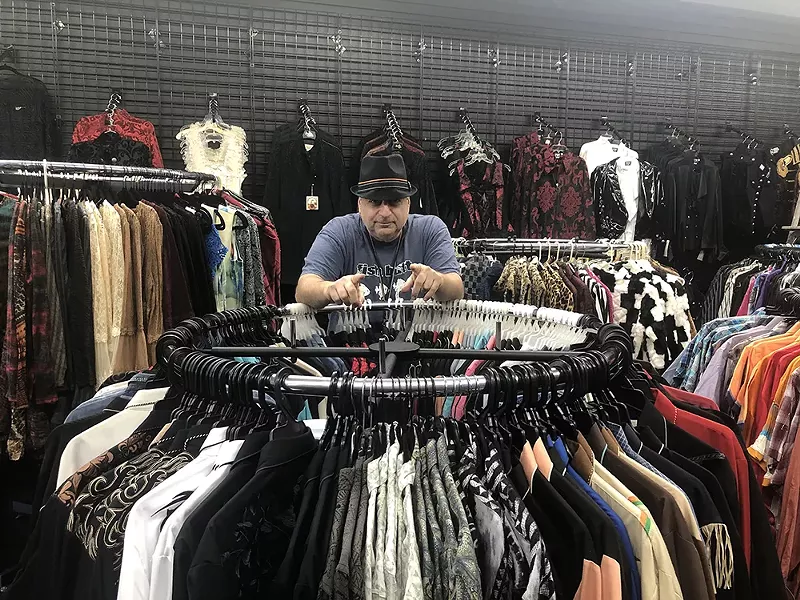 Showtime Clothing had operated for nearly 30 years on Woodward Avenue in Detroit before owner Dan Tatarian decided to close up shop and relocate his business in 2015.
More than seven years later, the store — which is known for its rock 'n' roll vibe and sells items like leather jackets, fur coats, dresses, Western wear, jewelry, and even some guitars, and counts some big-name stars as customers — is back.
Showtime Clothing quietly opened its doors in Hamtramck earlier this month with a soft opening.
"A soft, stupid opening," Tatarian tells Metro Times with a chuckle, adding that he decided to open for business on the same day as a terrible snowstorm.
The new Showtime Clothing is located at 9702 Joseph Campau Ave. in a storefront formerly home to another clothing store called New York Fashions. For now, it's open from 11 a.m. to 8 p.m. on Fridays and Saturdays only, and Tatarian says he's still putting some finishing touches on it.
When we last checked in with Tatarian ahead of a holiday pop-up appearance, he said he was planning to open his Hamtramck store back in 2019. Why the delays?
"Well, you know, what you expect and what happens are two separate things," he says.
Tatarian says he opened his former store at 5708 Woodward Ave. with just $500 back in 1989, when the neighborhood was known as the Cass Corridor, not "Midtown." He has long complained about the changing nature of Detroit's former counterculture hub as big developers have since moved in, especially in the last decade or so.
Thanks to its cheap rents, the neighborhood long known as the Cass Corridor was associated with a number of arts and culture movements in the 1960s and '70s, including visual artists like Gordon Newton and the original offices of the rock 'n' roll magazine Creem. But the name was also associated with crime, and in the early 2000s a campaign was launched to rebrand the neighborhood as "Midtown." An influx of trendy restaurants, high-end retail shops like Shinola, and those ubiquitous 5-over-1 buildings, also known as "gentrification buildings," soon followed.
In 2014, Tartarian told Metro Times that construction of the QLine streetcar was choking off his business, eliminating street parking and foot traffic. Ironically, the QLine was designed with a curbside rail with the idea that it would create more foot traffic for businesses along the Woodward Avenue thoroughfare.
At the time, Sue Mosey, president of development and planning nonprofit Midtown Detroit, Inc. told Metro Times that "at the end everyone will benefit with new light rail connecting Midtown" to downtown.
"We are aware that area businesses are suffering and will continue to suffer until the streetcar is operating," she said.
Tartarian didn't bother to wait and see if the QLine, which opened to the public in 2017, would in fact become the promised boon to his business. He says his basement flooded during construction, and the last straw was when he couldn't even open his door because a pile of sand was dumped in front of it.
"When I left, I was glad to go," Tatarian says.
At 3,500 square feet, including an upstairs mezzanine, the new Showtime Clothing store is smaller than the former 5,000 square-foot Detroit location. (Maya's Indo-Pak Cuisine moved into that building, although years later it has still not yet opened.) But Tatarian says he's quite happy with his new downsized store.
"It seems to work," he says. "I like the neighborhood better. The community is phenomenal here. You know, you're not fighting the corporate world."
He says he plans on selling his Detroit house and move to the Hamtramck area so he can walk or bike to work, just like he used to do in the Cass Corridor.
Back when he launched his business, Tartarian says the members of the glam punk band the Trash Brats were among his first customers, and were happy to rep his brand. "They put me in every interview they did," Tatarian says, returning the favor by displaying record sleeves by the Trash Brats' Ricky Rat in his windows. Other customers, he claims, include Vinnie Dombroski from Sponge, Suzi Quatro, and even Slash from Guns N' Roses.
At the new store, there's a small stage on the mezzanine level, and Tatarian says he plans to create a lounge area that could host intimate music or poetry performances.
"The Detroit music scene is the biggest driver of Showtime," he says. "They keep me in business."
He says he purchased the new building outright, so there's no danger of a landlord raising his rent. His experiences with Hamtramck so far have been positive, he adds, and he says he loves the diversity and entrepreneurial spirit of the community.
"I like Hamtramck, and the people here are welcoming," he says. "The Arab community, the Polish community, everyone here is very welcoming. It reminds me of the Cass Corridor back in the day."
Coming soon: Metro Times Daily newsletter. We'll send you a handful of interesting Detroit stories every morning. Subscribe now to not miss a thing.

Follow us: Google News | NewsBreak | Reddit | Instagram | Facebook | Twitter