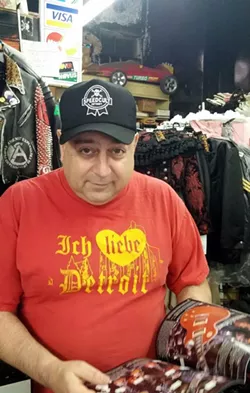 Thanks, but no thanks. That's what Dan Tatarian, owner of the speciality clothing and instrument shop, is saying to the area all-but-formerly known as Cass Corridor, according to
recent interview
.
In 2014,
we reported
on the troubles facing the store due to M-1 construction, but it wasn't the lack of parking that put the final nail in the coffin.
"The atmosphere of the Cass Corridor is gone and all the people that were a part of it. Now it's becoming Birmingham and the rich are coming here and pushing everyone out with no regard for anybody around them," he told The Detroit News.
Can't fault him there, but now what? Well, fear not. Tatarian says he's eyeing possible new locations for the clothier, which has been a Detroit staple since 1989, that fit with his politics and isn't so, well, white.
"I want to be in a more culturally diverse neighborhood where there's different cultures, different nationalities and people who work hard for their money ... and care about each other," he said.
Southwest Detroit, Hamtramck, and Highland Park have all been options he's explored, no word yet on a decision. We'll keep you posted.