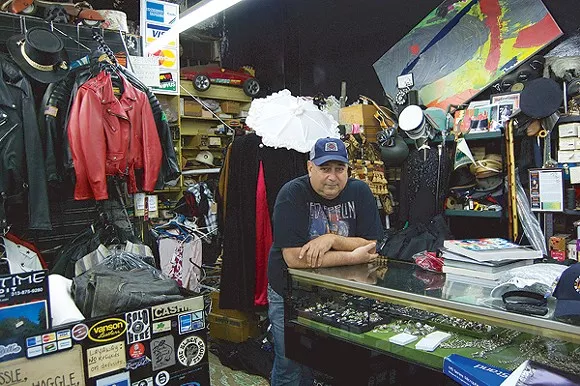 It will be three years in January since Dan Tatarian's longstanding clothing store, Showtime Clothing, closed its Midtown location. After nearly 30 years in business, Tatarian cited the changes in the city's culture, development, and
the long construction of the QLine
for a dip in his sales and disinterest in "New Detroit."
"The thing is, you know, people are people, right?" he says of the Cass Corridor's recent rejuvenation. "The problem lies with developers and people who want to make a profit. They're not concerned with the dynamic of a neighborhood. I'm not into displacing people."
While he awaits to relaunch his store, Tatarian, who still resides in Midtown, will feature some of his latest duds during Noel Night from noon-8 p.m. this Saturday at the Detroit Shipping Co. The pop-up will feature much of what Showtime had become known for — stagewear with a bohemian twist. This time around, Tatarian says he will sling a mix of mostly womens' clothing in the form of Marilyn Monroe screen-printed T-shirts, lace pieces, fringe, and items that fall under Tatarian's definition of "hippie chic" all ranging from $20 to $45.
The pop-up will be the first for Tatarian. "I don't do pop-ups," Tatarian says. "But it's close to my house and I know a lot of people show up for Noel Night, and I know the people at the Shipping Company and they're nice people."
Get our top picks for the best events in Detroit every Thursday morning. Sign up for our events newsletter.