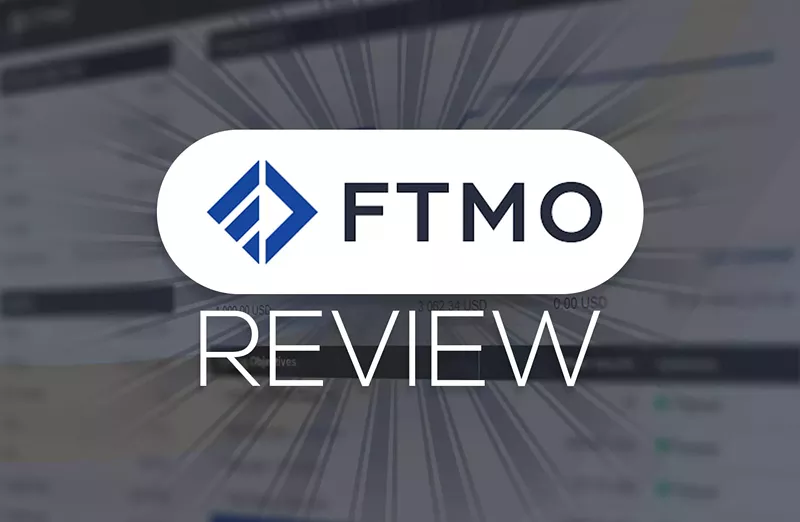 FTMO is one of the best proprietary trading firms in the world. With over 10,000 traders worldwide and high profit splits up to 90%, this prop trading firm is fast-growing and highly reputable within the industry.
Prop trading is an excellent way to capitalize on emerging financial markets and increase profits with reduced risk. Popular tradable assets include forex, cryptocurrencies, commodities, indices, and stocks.
In this article, we give an in-depth FTMO review and guide you through the FTMO Challenge. Continue reading to learn more about their evaluation process, account types, trading platforms, and pricing.

About FTMO
FTMO proprietary trading firm was founded in Prague by a group of experienced, profitable traders.
Since the company's inception back in 2014, it has expanded operations worldwide and experienced immense growth. The prop firm has registered traders in over 180 countries and receives 6+ million trades every single month.
FTMO won the Deloitte Technology Fast 50 award for 3 consecutive years and has been featured in major publications such as Forbes.

FTMO Funded Account Program Highlights
Between 80% to 90% profit split
Up to $2 million of trading capital
Various tradable assets (i.e., forex, crypto, cash indices, metals, futures contracts, equities)
FTMO Challenge Rules = 10% profit target, 10% max loss limit, and max daily loss 5% limit
Refundable initial fee after you pass the FTMO Challenge
How Does FTMO Work?
FTMO works just like most prop firms. First, you have to prove that you're a skilled trader by passing the FTMO evaluation process. All prop trading firms set out different rules, requirements, and trading objectives for their challenges.
To pass the FTMO evaluation, you have to meet profit goals (around 10% for most funded accounts) without breaching any of the trading parameters. You will also select the account size you want and the prop firm will provide the capital for you to trade. Most range from $10,000 to $200,000.
Once you complete all of the requirements in the evaluation process, you will be able to invest professionally as an official FTMO trader. This means you get to trade for profit.
The more you succeed, the more money you'll get. Funded traders start with an 80% profit split and FTMO will bump that percentage up to 90% as you continue to exceed profit goals. Traders receiving payouts can access them at any time via cryptocurrency, direct deposit, or Skrill.
However, if you hit one of the max loss limits, your FTMO account will automatically be terminated. You will have to start the evaluation process over again and work your way back up to a funded trading account.
FTMO differs from other prop firms in that you never directly trade in financial markets, even when fully funded. Traders remain on a demo trading account indefinitely. However, this shouldn't affect your trading strategies. And you will still receive all earned profits.
Pros
Low one-time fee that's fully refundable after passing the evaluation process.
Some of the best profit split payouts in the industry. New traders receive 80% payouts, with the possibility of increasing to 90% if trading objectives are met.
Advanced tracking technology to help both beginner and professional traders with profit targets and risk management.
Cons
All FTMO traders remain on demo accounts, even if you pass the FTMO Challenge and become a fully funded trader. This means your trades may not be carried out in the actual market.
Two-step evaluation process consists of various challenges and phases that many forex traders consider time-consuming and tedious.
Steep 10% profit target for the first step of the FTMO evaluation, however, it eventually drops to 5% for the second verification stage.
How Does FTMO Work?
FTMO works just like most prop firms. Once you complete all of the requirements in the evaluation process, you will be able to invest professionally as an official FTMO trader.
First, you will select the account size you want and FTMO will provide the capital for you to trade. Most range from $10,000 to $200,000.
Evaluation Process
The FTMO evaluation process consists of two main steps - the FTMO Challenge and the Verification.
Traders who successfully complete the evaluation process are given a position in the FTMO proprietary trading firm and can begin trading with an initial account balance of up to $400,000.
FTMO provides an extensive trading journal, including account analysis and educational resources for proper risk management. This is an attractive offer for both expert and beginner traders.
Step One: The FTMO Challenge
The FTMO Challenge is the first step of the evaluation process. This is your opportunity to prove that you're a disciplined, skilled, and profitable trader.
The FTMO challenge lasts for 30 calendar days, with 10 minimum trading days. This means 30 days is defined as the maximum trading period to reach the trading objectives. If you achieve the profit target faster, while remaining compliant with all rules and requirements, you will automatically move onto the FTMO Verification phase.
However, there are still 10 minimum trading days required. If you reach the target within 7 trading days, for example, you will still need to make trades for another 3 days. You can simply place low-risk trades and maintain the target for the next couple of days.
You are required to pay at the start of the FTMO challenge. Prices will vary based on the funded trader account chosen. Upon successful completion of the evaluation, the prop firm will pay back the fee in the first profit split as a funded trader.
This is not a default trading challenge. There are a few different account options available during the FTMO Challenge, including aggressive accounts and normal accounts. Each account type has its own trading rules and funding size, which can fluctuate between $10,000 and $200,000. Additionally, the maximum daily loss and profit target ranges from 10% to 20%, depending on your chosen risk level.
An aggressive account will cost more money and entail more risk, but allows you to have additional drawdown without losing the account. For example, it doubles the maximum drawdown from 10% to 20%.
Accounts with a normal risk level are cheaper, typically providing an initial account balance of $10,000. This FTMO Challenge is a good option for beginner traders.
Step Two: The Verification
The second step of the process is known as the Verification. You will once again have to prove yourself by implementing successful trading strategies, but this time it's completely free. There is no extra fee required to participate in the Verification phase.
You will have double the amount of time to reach the profit target. This means you are given a maximum trading period of 60 calendar days. The minimum number of trading days remains the same at 10 calendar days.
Again, different trading accounts will have different rules. The maximum daily loss and profit target percentages will ultimately depend on your chosen risk level.
If you successfully make it through, you will get an offer to become an FTMO trader with a funded account.
If you miss the profit target after the 60 days are up, you can repeat the Verification step for free. This free repetition offer only applies to traders that stayed within the loss limits (did not exceed the maximum daily loss or total maximum loss) and finished with some profit when all positions were closed.
Begin your FTMO evaluation process.
FTMO Costs and Fees
FTMO does not charge any recurring subscriptions or maintenance fees. Instead, there is a one-time fee due when you sign up for the Challenge.
The price will depend on the size of the FTMO account and the level of risk preferred. If you pass both phases of the FTMO evaluation, this initial fee will be fully refunded.
Here are the prices of the refundable one-time fees according to risk level and account size:
Risk Level: Normal
$10,000 account size = €155 fee
$25,000 account size = €250 fee
$50,000 account size = €345 fee
$100,000 account size = €540 fee
$200,000 account size = €1,080 fee
Risk Level: Aggressive
$10,000 account size = €250 fee
$25,000 account size = €345 fee
$50,000 account size = €540 fee
$100,000 account size = €1,080 fee
As you can see above, accounts that are more aggressive and take on significant risk have higher fees.
FTMO Tradable Assets
There are 44 total currencies tradable on FTMO.
The proprietary trading firm focuses on forex trading. All major currencies are available, such as EUR/USD and USD/JPY. Forex traders can even access some less popular ones, like USD/HKD or EUR/NOK.
Beyond forex trader options, 8 metal, 14 futures contracts, 10 cryptocurrencies, and 23 equities are also available to trade on FTMO.
FTMO Accounts and Profit Splits
FTMO accounts are broken down into varying amounts - including 10k, 25k, 50k, 100k, and 200k challenges. While you can have multiple accounts, FTMO sets the maximum initial capital allocation of $400k for normal accounts and $200k for aggressive accounts. For example, you could have (2) 200k accounts, (4) 100k accounts, (1) 400k accounts, etc.
You will need to pass the evaluation process and pay for the Challenge for every new account. There's also an option to merge different accounts if they have the same risk level and currency setup. You can do this by contacting the customer support team.
All account types offer leverage up to 1:100 and access to over 100 forex pairs. Forex trading options include USD/EUR, USD/GBP, cryptos such as Bitcoin (BTC) and Ripple (XRP), stocks, bonds, as well as commodities like gold and indices like US30.
FTMO also offers excellent profit splits, regardless of account type. The prop trading firm starts everyone off at an 80% profit split. If you prove yourself to be a profitable FTMO trader for an extended period of time, the company will increase the split to 90%.
FTMO Capital Scaling Plan
FTMO recently released a new capital scaling program that offers 25% growth every 4 months. This means your trading account can double in size every 16 months, though this will depend on how you compound profits.
To be eligible for the scaling program, traders must reach 10% profit within 4 consecutive months and the account balance must be above the original starting balance.
Monthly profits are also required. For example, you could reach a 2% profit during month one, a 3% profit during month two, a 4% profit during month three, and a 1% profit during month four.
FTMO Trading Platforms and Tools
FTMO supports the three of the most popular trading platforms: MetaTrader 4, MetaTrader 5, and cTrader. They are free to use and do not markup demo account options or virtual funds.
All FTMO accounts come with unique trading tools and apps. This includes the Account MetriX, Mentor Application, and the Trading Academy. These tools can help you manage accounts, track insights, and improve your overall trading strategy and performance.


Account MetriX
Every trade you make will be tracked via FTMO MetriX. Choose your Challenge and select MetriX to access this tool and open the tracking dashboard.
You will be able to see various details such as challenge status, start/end date, the account size, provider, chosen platform, and current results.
Active traders can also access a trading journal to view and analyze the most recent statistics.


Mentor Application
FTMO Mentor is an application that is compatible with MetaTrader 4. The app aims to track your trading behavior, strategies, and patterns.
This tool is especially helpful with risk management. It will alert you if you're trading in a way that puts your evaluation eligibility at risk.


Trading Academy
The FTMO Trading Academy is another helpful resource offered by the proprietary trading firm. It can help you discover trading talents, find beginner videos, access trading platform insights, etc.
Additionally, you will have access to expert advisors and trading indicators within the downloads section of the account dashboard. There are links to download MetaTrader 4, MetaTrader 5, and cTrader here as well.
Customer Reviews
With several prop trading scams over recent years, it's important to look at unbiased traders' reviews. FTMO has over 1,950 independent reviews on Trustpilot and an average rating of 4.8 out of 5.
Many traders claim that they're getting funded/paid and enjoy using the platform. Several have even completed numerous $200k challenges and built massive portfolios with the prop firm.
Frequently Asked Questions
Is FTMO A Legitimate Prop Firm?
Yes. FTMO has an excellent reputation among the online trading community. The firm has funded thousands of traders worldwide and sent $23 million in payouts in 2021, with an average processing time of just 8 hours. FTMO is a reputable company and legitimate prop firm.
Is FTMO Good For Forex Traders?
Yes, FTMO is one of the leading prop firms for forex traders. You can even trade other things besides forex pairs, including stocks, bonds, crypto, commodities, indices, forex, and more.
Is FTMO Regulated?
No, FTMO does not operate as a broker or dealer and is not regulated by government entities or regulatory bodies. This is one of the reasons traders remain on demo accounts.
How Do I Contact FTMO Customer Support?
FTMO has great customer service. You can contact customer support via email, phone, or WhatsApp. As an internationally-operated company, customer support is available in over 15 languages.
Does FTMO Have Discounts Or Promo Codes?
Yes, FTMO offers occasional discounts throughout the year, especially during the holidays. The company does not use promo codes, however.
FTMO Review Summary
FTMO is one of the best prop firms for forex brokers and swing traders. The evaluation is fair and transparent, the pricing is reasonable, and the profit shares are some of the highest in the industry.
Overall, this is an excellent proprietary trading firm if you want to trade large accounts without risking your own capital. We hope this FTMO review has helped. If you're ready to join FTMO sign up here. Good luck!