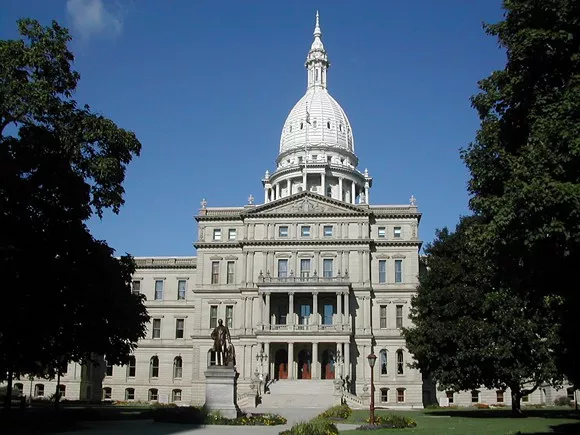 Just three days after
the mass shooting
at Michigan State University, Democrats in the state Senate on Thursday introduced a package of gun-control bills.
The legislation would require background checks and safe gun storage, as well as enable courts to temporarily seize guns from people deemed a danger to themselves or others.
The bills mirror similar measures that Republicans have blocked over the past few years.
But now Democrats, who have control of the state House and Senate for the first time in nearly four decades, are moving with urgency to pass the legislation, with support from Democratic Gov. Gretchen Whitmer.
The bills were introduced by Sen. Rosemary Bayer, D-West Bloomfield, who heads the Firearm Safety and Violence Prevention Caucus.
Among the supporters are survivors of the Oxford High School mass shooting in November 2021.
"In the wake of the horror at MSU, the community has called for the leadership that Sen. Bayer has provided today," said Dylan Morris, executive director of No Future Without Today, an organization founded by survivors of the Oxford shooting. "Strong new laws like these are needed to prevent more tragedy."
Faith leaders also expressed support.
"In a time of fear and deep grief, Senator Bayer has extended a lifeline of hope that could pull us toward safety," said Bishop Bonnie A. Perry of the Episcopal Diocese of Michigan. "We call on the House and Senate to hear the cries of the students on the steps of the Capitol yesterday and take up these bills up immediately. We are profoundly grateful to Senator Bayer for her years of leadership on this issue."
Pro-gun groups were quick to oppose the legislation.
"Anti-gun Democrats wasted no time introducing their unconstitutional rights shredding legislation," Brenden Boudreau, executive director for Great Lakes Gun rights, said. "If passed and signed into law, Michigan will rank as one of the worst states for gun rights – and criminals will see our state as a safe haven for their demented acts."
If the bills pass, Michigan would become
at least the 20th state
to enact a red flag law, which would allow a judge to order the confiscation of guns from people deemed dangerous.
A recent
study of more than 6,700 red flag cases found that nearly 10% involved threats to kill
at least three people.
Last year,
Congress passed legislation
to provide $750 million for state crisis intervention programs, including red flag laws.
On Tuesday, the state House introduced
a bipartisan package of bills
aimed at improving school safety by focusing on mental health, creating a confidential tip line, and improving responses to shootings at K-12 schools.
On Thursday, Secretary of State Jocelyn Benson announced she's working with state lawmakers to ban guns at polling places.
"The time for only thoughts and prayers is over," Benson said. "The time for taking action to ensure Michiganders are safe – in schools, in grocery stores, in places where we vote and everywhere in between — is now."
Coming soon: Metro Times Daily newsletter. We'll send you a handful of interesting Detroit stories every morning. Subscribe now to not miss a thing.

Follow us: Google News | NewsBreak | Reddit | Instagram | Facebook | Twitter