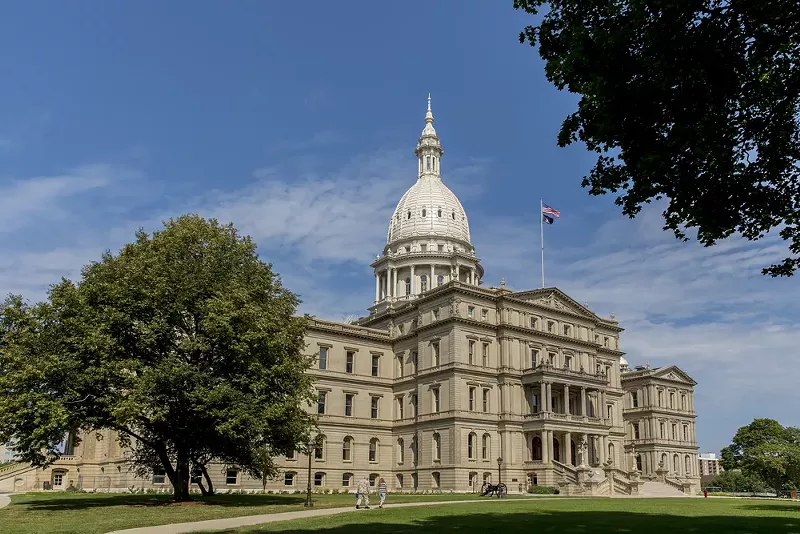 A day after
the mass shooting at Michigan State University
, state lawmakers introduced a bipartisan package of bills aimed at improving safety at schools.
But the state House legislation fails to address the main culprit of mass shootings — guns.
Instead, the legislation focuses on mental health, a confidential tip line, safety plans, and improved responses to shootings in K-12 schools.
"The timing of this bill package is not lost on any of us," said state Rep. Kathy Schmaltz, R-Jackson. "The horrifying events that unfolded at Michigan State University once again shattered our sense of security and left people across our state with a feeling of deep despair. In the days following the Oxford tragedy and again today we ask ourselves 'how could this happen?' It's a complex issue with no one simple solution, but the bipartisan bills we introduced represent a willingness to work together to improve school safety and address the mental health needs of Michigan students."
Following the mass shooting at Oxford High School in November 2021, a bipartisan group of lawmakers formed a task force with teachers, administrators, parents, law enforcement, mental health professionals, and other experts to identify policy solutions that could curb future gun violence at schools.
In December, the group
released its report
, outlining proposals that are now in the package of bills.
Under the bills, state lawmakers would establish the School Safety and Mental Health Commission, which would identify ways to address behavioral, physical, and mental health needs for students. In addition, each intermediate school district would receive funding to hire a safety and security coordinator and one mental health coordinator.
The legislation also would require schools to review and update their safety plans every three years.
Under another bill, each student's ID cards would include contact information for a confidential tip line that goes to police and school district coordinators.
Another bill would require Michigan State Police to provide comprehensive school safety and security training for school resource officers and staff.
"Representatives took the time to work with experts, uncover problems, and identify solutions to support the health and safety of Michigan's students at school," House Republican Leader Matt Hall said. "Just as the School Safety Task Force patiently researched complex issues and prepared solutions for school safety, we need to thoughtfully plan to protect our college campuses and every Michigan community."
While some Democrats co-sponsored the bill, they insist that any meaningful efforts to curb school shootings will require gun-control measures.
"What happened to East Lansing is unfortunately far too common. Going to school in America, whether it's pre-school or college, means risking your life every day to the threat of a mass shooting," said Rep. Ranjeev Puri, D-Canton. "Yet all we have offered up are empty solutions — traumatizing active shooter drills and bulletproof backpacks."
Coming soon: Metro Times Daily newsletter. We'll send you a handful of interesting Detroit stories every morning. Subscribe now to not miss a thing.

Follow us: Google News | NewsBreak | Reddit | Instagram | Facebook | Twitter