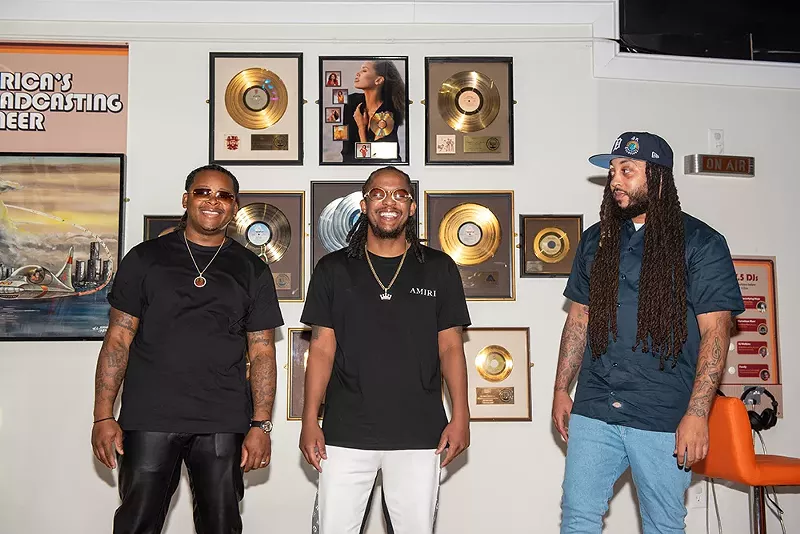 The walls inside of WGPR's William V. Banks Broadcast Museum in Detroit are filled with visual artifacts from Black media's yesteryear. A litany of plaques and framed portraits of singers, DJs, and prominent radio and TV personalities hang throughout. Three huge murals of 1980s and '90s dance shows The Scene, Contempo, and The New Dance Show take up an entire wall.
But the glory days aren't all in the past. In addition to hosting the museum, WGPR broadcasts as Hot 107.5 FM. The station was independently owned until 2010 when national conglomerate Radio One moved into the Detroit market and leased the signal. The move established a more cookie-cutter approach, as Radio One owned stations in multiple states and operated them all in a similar way.
But in 2019, Radio One left the market and management returned to the station's longtime owners, the International Free and Accepted Modern Masons. The move opened the doors for radio veterans DJ Gifted, UknowCell, and IBeenDior to evolve and stitch their love for Detroit hip-hop into the fabric of Detroit radio. The trio would go on to develop two shows airing a combined four hours of local hip-hop artists every week.
For the three radio mainstays, the station's return to local management has been liberating.
"It was too much politics in my opinion at Radio One," says DJ Gifted. "I just felt like they were playing it more safe."
"The difference between Radio One and WGPR is that WGPR is privately owned and they can do what they want to do. They don't have to stick to the script that normal radio does. We have more freedom," adds Dior.
The three, all in their early 30s, have worked in radio for more than 10 years. DJ Gifted and Dior are Specs Howard School of Media Arts grads and Cell (who went to middle school with Dior) got his start working on The Mildred Gaddis Show on the AM dial. They all have produced shows and worked in promotions, and Dior even worked as "Milo the Mascot" for 107.5 for a while. But most importantly, the trio have been day-one fans and supporters of Detroit hip-hop.
"We always had a common goal for our artists, whether they were in the city of Detroit or the surrounding area. And we've been doing that since 2013," says DJ Gifted.
"I was doing a show called Press Play Live for Radio One with Nick Speed, Helluva, Ikeisha Baker, Jay Success," says Cell. "We was playing Detroit music back then, but it was in the background. It was coming on at one o'clock in the morning. Now that it's ran by WGPR, they see the significance and the need for it."
"We just wanted a show. Cell was already on the radio and I was trying to get on. We always hung out, we worked the same shift … We needed a mixer and Cell said, 'Let's call Gifted,'" says Dior.
They started by broadcasting via Instagram Live every Thursday.
"So we had something to bring WGPR," DJ Gifted explains. "Like we were already building traction and getting a response from our IG, so it only made sense to have it on a major platform."
The freedom and innovation has led to Friday's two-hour Hot Boy Radio show, which weaves interviews from Detroit hip-hop artists within its rotation of songs, and Sunday's Hot Plays, an hour-long show that plays nothing but Detroit hip-hop.
"We're primetime on a Sunday at 9 p.m. when people are at home, in their cars, and they're actually listening to what's being played. So it's important for us to keep pressing on," says Cell.
"I just feel like they took a chance, they believed in our vision, and we delivered," says DJ Gifted.
"We're not reinventing the wheel; we're just the first in this era to really reach back to some of these artists. We're trying to bridge that gap and get them to understand the importance of radio over again. … Radio can really make stars."

tweet this
For the past 100 weeks or so, every Sunday show has featured 14 to 16 different Detroit artists. Listeners will hear established emcees like Peezy and Payroll Giovanni as well as artists who are just putting out their first track.
"Everybody is getting a shot if they submit a clean song to the email … No other station is really doing it like that," says Cell. "You gotta play the game."
When Cell says, "play the game," he's referring to the love-hate relationship Detroit hip-hop artists have had with mainstream Detroit radio over the last three decades. Many have conspiracy theories and gripes. Legendary '90s acts like Slum Village and Eminem didn't get the constant spins from other radio stations until they were already stars. Of course there were the occasional summer anthems that made it to the rotation (think C.O.I.'s "Cash Rules," Stretch Money's "Takes Money to Make Money," and Doughboyz Cashout's "Good Ass Day"). But as a whole, many Detroit emcees felt it was best not to expect much support from the radio.
But even during those early years, pioneering artists like A.W.O.L. and Awesome Dre would get spins and interviews on 107.5's Rap Blast (which was hosted by Billy T and TJ the Troublesome Juvenile) if nowhere else. And now DJ Gifted, Dior, and Cell have become as important to this generation of hip-hop artists as Billy T and TJ was to the first generation.
But now they're not alone in paying attention to Detroit's scene.
Rapper Tee Grizzley's 2018 breakout success created a domino effect for Detroit hip-hop artists. Over the last five or so years close to 20 local artists have signed to major record labels or distribution deals, and many appear regularly in national music magazines and websites. Detroit radio has followed suit; artists like Sada Baby and Icewear Vezzo have been mainstays on most urban rotations for the last three years. That's now led to a different kind of griping.
"A lot of artists feel like we don't support them or now that the whole world is paying attention to Detroit hip-hop, we're trying to jump on the bandwagon, but that's not the case," says Dior.
To clear up any misunderstandings, the trio wants it known that there is no payola — they do not accept money for spins — and they don't only play Detroit artists who are signed to major record labels.
"We putting people on our show. You could have 15 followers but if you submit the music, and it's labeled correctly, and if it's hitting, we playing it. We don't get into politics," says Gifted.
With the rise of digital streaming services like Spotify, satellite radio, and podcasts, many people had already started writing terrestrial radio's obituary. But since 2020's pandemic, old-school radio has found a new relevance. According to the annual media report by PricewaterhouseCoopers (PwC), U.S. radio revenue will reach the $21.9 billion mark this year, up more than $700 million from last year.
The three radio veterans still have their doubts about the future of the industry. But they're enjoying the ride — and they feel confident they've positioned themselves and WGPR to be Detroit's flagship station for many years to come.
"The people love it and that's what makes us win, because radio is dying, to be honest. But at the end of the day when you got the people and you got the artists, they're promoting for you," says Dior. "They're telling people, 'They're going to play our song.' This is Detroit, people around here are going to listen to it, and that's what's pushing our numbers up."
The work is appreciated in Detroit's hip-hop community. "They're helping and supporting the young rappers who always dreamed of being on the radio like me," says rapper Baby Money. "You get a relationship with them. They show love for sure, they're good people."
"We need more guys like them at 107.5, they have no problem putting on for the city," adds Darylynn 'DeDe' Mumphord, Baby Money's manager and CEO of Dream Agency.
"We're not reinventing the wheel; we're just the first in this era to really reach back to some of these artists. We're trying to bridge that gap and get them to understand the importance of radio over again," says Cell. "Now that we're here, we're letting them know what radio can really do for you. Radio can really make stars. That's what radio is here for."
For future endeavors the group sees themselves possibly starting a podcast, adding more days to their shows' broadcast schedule on WGPR, and doing more collaborations with local artists and promoters.
"I think the next step for us is live shows — giving artists another platform to show their talents. I'm talking about a real concert where you get an Icewear Vezzo to headline and some of these other artists who aren't well known to come in and perform," says Cell.
"One of my passions is figuring out what the next step for radio is and where it is going," adds Dior. "I feel like it's hit a roadblock, and it's time for the next step. The new rules haven't been created yet and that's what we're trying to figure out, and that's what we're going to do."
Hot Plays airs on Hot 107.5 Sundays from 9-10 p.m., and Hot Boy Radio airs on Hot 107.5 Fridays from 7-10 p.m.
Coming soon: Metro Times Daily newsletter. We'll send you a handful of interesting Detroit stories every morning. Subscribe now to not miss a thing.

Follow us: Google News | NewsBreak | Reddit | Instagram | Facebook | Twitter