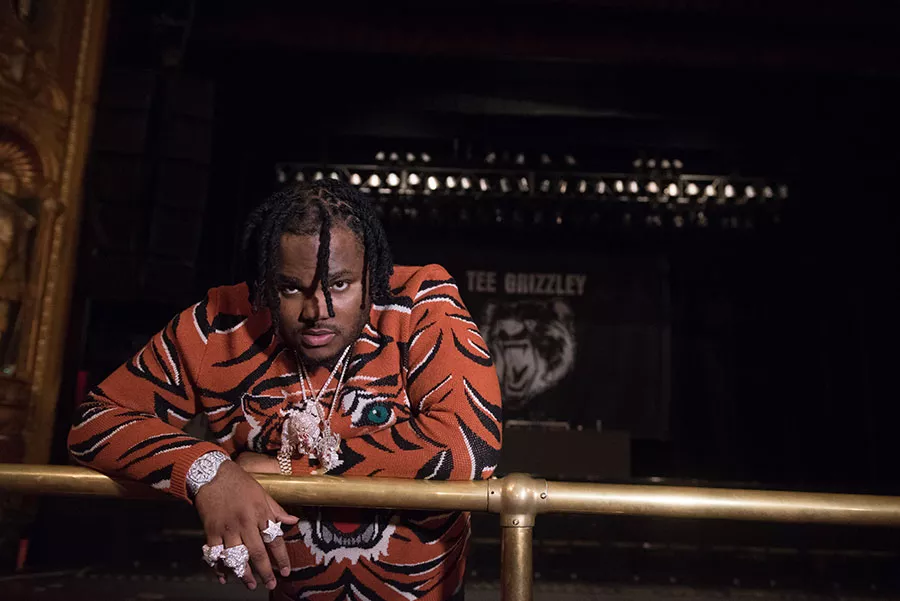 It's approximately three hours before the framed glass doors will swing open at the Fillmore Detroit on Saturday, Feb. 24, the 11th stop of the 31-city the Cold Summer Tour featuring rappers Tee Grizzley and Jeezy. The two are a perfect pairing; though they differ in age, both rap and rep for the streets. Jeezy; the 40-year-old Atlanta-based trap pioneer has 17 years under his belt, while the Detroit-born Tee Grizzley is one of hip-hop's newest trap stars.
The tour manager is busy making sure that the catered food arrives, that the sound checks are timely, and that Tee is not bothered by any unnecessary visitors. Tee, meanwhile, is in full chill mode, dressed in a Gucci sweater, belt, and kicks. He's lying back in an accent chair in the dressing room, feet propped up on an ottoman while a white towel rests over his head. This is the duo's fourth consecutive night performing, and all he wants is a nap before showtime and a good meal to eat.
By now, most Detroit hip-hop heads know the broke-to-baller tale of the emcee born Terry Wallace. He and an associate began robbing dormitories while students at Michigan State University in February of 2014. On July 1 of that year he attempted to strong-arm rob the Castle Jewelry store in Lexington, Kentucky. He was convicted on Feb. 3, 2015, receiving 9 months for the jewelry store robbery and 18 months for the Michigan State robberies.
Tee has acknowledged his judgment was questionable at best back then, but the decision not to use a firearm or weapon for the jewelry store robbery altered the charges and the jail time he received.
"I used a sledgehammer to break the glass," he says. "If I would have held that sledgehammer for a certain amount of seconds longer, that would have been a whole 'nother story."
"As soon as I hit the glass I dropped it," Tee says nonchalantly. "I'm like, 'They got insurance.'"
Tee emerged from prison on Oct. 16, 2016 feeling like a new man and ready to reignite the rap dreams he had before his incarceration. But he knew a plethora of questions regarding his crimes was waiting for him by family and friends, and he had no problem addressing them. "I was prepared to answer questions about the case. I knew I was going to have family ask, 'Why you do that dumbass shit,'" Tee says. "I knew I was going to go to the barbershop and they would be like, 'Why you do that bro?' And my answer to them was, 'I was trying to get some money. You lucky I ain't try and come see ya'll ass,'" he says with a laugh.
With a better outlook on life and a new array of experiences courtesy of his prison stint, Tee immediately made his way to the studio. He recorded several songs, but the track "First Day Out" was lightning in a bottle. It garnered 2 million YouTube views in two weeks and has since become a mainstay in clubs and on the radio. The song kept spinning all the way to being a certified RIAA Platinum single.
It was surprising, but it shouldn't have been. "First Day Out" is the perfect inspirational hood story — told through 80 straight bars with no hook. A poverty-stricken aspiring emcee and college student who's tired of being broke decides to set it off. You don't have to have had committed a crime or stood trial to relate to the lyrics; the song speaks raw and beautifully to anyone who has faced adversity.
Yet Tee admits the success of the song caught him and his team off guard. "We ain't know," he says. "We thought it was going to be some other song to blow. 'First Day Out' just took off under our noses. I was shocked. I was happy. I can't even explain the feeling. It's something I always wanted my whole life."
With a single as hot as a gas stove, Tee was fielding offers from record companies left and right. But it was 300 Entertainment that stepped to the plate. "We talked to damn near every label, but I went with who I went with because it was the best for me at the time," Tee says confidently.
Even though the independent route has grown in popularity by aspiring emcees, Tee didn't think twice about signing with a major label. "Dudes like me, where I'm from with my sound, don't get signed!" he says. "It ain't like labels in and out of Detroit and it's a guarantee and I got talent that everybody sees. This is a once in a lifetime thing. What I'm waiting for? I'm about to put a label behind me, get this money, and try to take off. I ain't got no business waiting because I ain't got nothing."
Last spring Tee released the mixtape My Moment, his first release on 300 Entertainment. The mixtape channels the same Detroit trap energy his fans clamoured for, while most of the production was handled by Helluva Beats. The mixtape kept his buzz going and received positive reviews. To the surprise of many Tee dropped another mixtape in December, Bloodass, a collaboration with Chicago native Lil Durk. "I wanted to do something before I dropped my album," says Tee. "We cool, we got a real relationship, we got a real bond. We did a whole bunch of songs one night. We were only supposed to do a couple songs and put them out but we did like 20 songs. So we decided to just put out a mixtape."
The way Tee sees it, the Motor City and the Windy City's dark sides mirror each other, and that darkness is what links the two emcees.
"Chicago and Detroit is all killing. It's all gangs, it's all drugs," he says. "It's a little good, but it's a lot of bad and me and him come from that bad."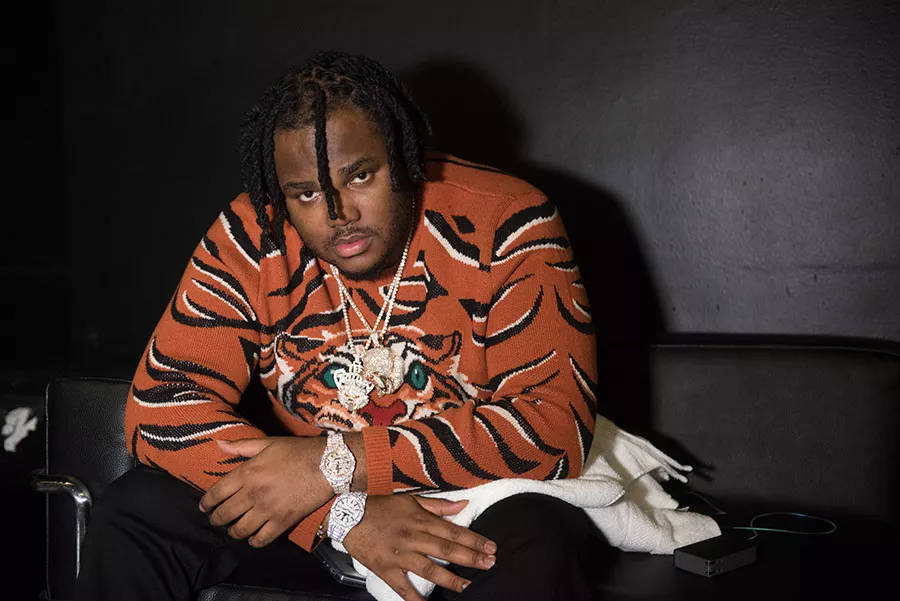 Hip-hop artists like Tee Grizzley are never truly defined by the sum of their lyrics. The brashness and aggressive cockyness in his music is authentic, but Tee is welcoming and sincere in person.
He promises that if he gives you his number, he's going to answer the phone if you call. He's loyal to his family and is determined to support the kids who are going through the same struggles he went through as a kid growing up in Detroit. He's randomly picked kids up that were walking in the snow to give them a ride. He bought his sister a house, sent an aunt to Bora Bora, and paid for several of his little cousins to go to Disney World. "I done bought basketballs and basketball rims for people," he says. "I'm about to put some computers in my old high school. I just don't be broadcasting everything."
This past February, Tee footed the bill for 300 students from Horatio Williams Foundation and students from Detroit Public Schools, including his alma maters Frank Cody High and Lessenger Middle School to see a private screening of the superhero movie Black Panther. "Some stuff I just wish somebody would have did that for me," he says. "It's a lot more I'm going to do for the city. I saw the movie and I feel like it's a good movie and I just wanted to send some kids off to go see it."
Tee has legitimately been famous for a solid year now. He's performed across America, received shoutouts from Jay-Z and Lebron James, and has been interviewed on all of the major platforms, but still considers himself the same person. "Nothing changed, I just got access to more stuff," he says. "You get access to higher people, but at the end of the day they're just regular people. You just got more money. People look at you a certain kind of way. Now your voice means more. Everything you say means more. I used to go on the internet and say anything I want, and couple of my mans would laugh and females would laugh and it would be over. I can't do that now."
Tee talks about the pressures of still living in the city, avoiding conflict, and the older, aspiring emcees in his hood who got a bone to pick because he won't hop on their mixtapes. Tee shakes his head, letting out a mild laugh. "They like older, older; like going to the doctor older," he says. "It's challenging because the street stuff always be calling. I'm already trying to break them habits."
But Tee knows he'll always get hated on from those who knew him during his come-up and are frustrated that he made it big and they haven't yet. "A lot of rappers think they better than me because they saw me broke, going in and out of studios, and couldn't pay for studio time," he says. "So they feel like they better than me already and they feel some type of way. Some hate and some show love. But if they come correct on some cool nigga shit; like, 'I'm genuinely happy for you bro, fuck all this music shit,' then at the end of the day we people. Let's get up off this bitch."
Tee occupies an interesting space within Detroit hip-hop. He's not boom-bap, he's not as lethally comedic as Danny Brown, and he's not as lyrically preppy as Big Sean. He's one of the first rappers in many years to ascend this high while representing only the street life. The only local artists he cites as being his inspiration growing up are Doughboyz Cashout, Team Eastside, and Blade Icewood. It's this gangsta music tradition that he's keeping alive, and he doesn't care what any other Detroit rappers think about it.
"A lot of these rappers in Detroit are not real niggas, so they not going to treat me like I want to be treated or deserve to be treated," he says. "First of all, they get their city fame and they be fake bougie. Some of these niggas wasn't even popular in Flint and would never answer the phone for me and spin me and give me the run around like they were some celebrities. Niggas expect me to act like that and they be distant for that reason. All that fake Hollywood bougie shit and letting this fame stuff get to people's heads. I just don't rock with it. It just ain't my vibe."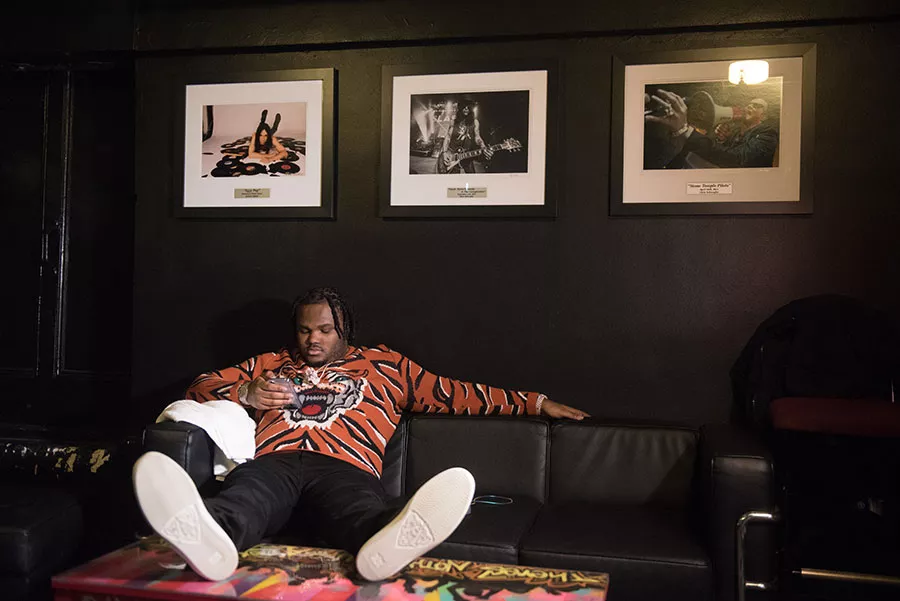 Tee Grizzley's next point of focus is making sure his debut album Activated, due May 11, meets expectations. The first single, "Colors," dropped in February and it's simply Tee being Tee. "Been on the indictment list/ trying to see the Forbes list/ went from playing with joysticks to out in traffic blowing sticks," he raps. "Don't Even Trip," "Robbin," and "Too Lit" are three more stellar anthems, and Chris Brown lends his vocal talents on "Set the Record Str8" and "Fuck it Off."
"I'm going to have a lot of features on there," he says. "Just more up-tempo than the last one." Activated is simply a more versatile body of work from a production standpoint. Tee's Detroit city narratives are consistent, but shift from extra gritty to trap to R&B and then back to gritty.
As Detroit's lead breakout star from it's millennial generation of street hip-hop artists, Tee's proud to see so many others near his age bracket on the verge as well. "I'm seeing a lot of people getting deals and getting views," Tee proudly says. "I feel like Detroit is doing good. Sada (Baby) going crazy, Deezy going crazy, Molly (Brazy) got signed, Joseph McFashion got the 4746 thang taking off, Kash Doll going crazy, Payroll just did some shit, Peezy got his situation with Empire. Everybody just taking off."
Looking to the future, Tee says he has songs recorded with Dej Loaf, Big Sean, and Geno Cash. There's a show in China in the works, a mixtape with Sada Baby in the picture, and another tour once his album gets rolling. But more than anything, Tee is enjoying the ride. He understands how much his musical lottery ticket has enhanced his life and he plans to keep the checks coming by putting out quality music.
"Just expect good music," he says. "I'm always going to put good music out and I'm always going to be creating and doing new things and helping out when I can. It's a lot of hate in the city, but it's a lot of love too. I'm going to try my best to do everything I can for Detroit."
Get our top picks for the best events in Detroit every Thursday morning. Sign up for our events newsletter.