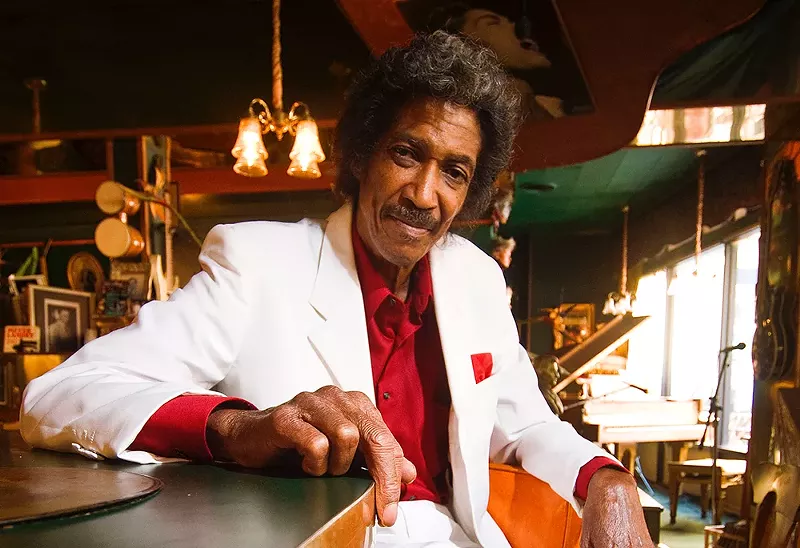 Melvin Davis has given us funky drumming, soulful vocals, and heartfelt songwriting for at least six decades. Now, a GoFundMe has been launched asking the public to help Detroit's "Ambassador of Soul" with his medical bills.
We wouldn't begrudge you if you don't know Davis by name, as he's sadly received minimal credit and fame for his musical contributions. (When Metro Times spoke to him for a 2009 cover story, he was working at a Detroit post office, despite being internationally renowned.) The soul man has made contributions to Motown and beyond working with Smokey Robinson & the Miracles, David Ruffin of the Temptations, Holland-Dozier-Holland, Chuck Berry, Wayne Kramer of MC5, and more.
According to the GoFundMe page, during the height of the pandemic, Davis "had a debilitating case of covid pneumonia only to begin another fight against leukemia. While he is indeed currently on the mend, Melvin Davis can use our help with the medical expenses that have resulted from these battles."
Davis tells us over the phone from his home in Detroit that he hasn't fully recovered from leukemia, which he was diagnosed with last year before catching COVID-19 twice.
"It's been a very challenging past 18 or 19 months for me," he says. "I've lost about 60 or 70 pounds and am feeling very weak. Any assistance from my music family is more than appreciated. I just don't have the words to tell you how appreciative I am of all my supporters."
He remains kind and friendly even as he tells us he'll have to cut the conversation short because he isn't feeling up to it.
"Please give all my friends and my music family my best and undying gratitude. I thank them so much," he says after wishing us a happy new year. "I just turned 80 years old. I understand this is part of the deal here."
The crowdfunding campaign was started by fellow musician Drew Schultz, who worked with Davis on a 2020 cover of Detroit proto-punk band Death's "Politicians in My Eyes."
Born on August 29, 1942, Davis's family moved to Detroit when he was 3, but they frequently visited his grandparents' farm back in Georgia, where he developed a passion for music after hearing Little Richard perform at a nearby juke joint.
He went on to play drums alongside Dennis Coffey on "River Rouge/It's Your Thing," sing lead vocals on 8th Day's "You've Got to Crawl (Before You Walk)," and pen J.J. Barnes's "Chains of Love," which Detroit rock band the Dirtbombs popularized in a 2001 cover. He's written more than 600 songs throughout his long career that began in the 1960s.
"People aren't familiar with the wealth of contributions that have been made by so many artists, musicians, entrepreneurs, promoters; just a host of people who were out there putting their heart and soul into trying to make their place in the industry," he told Metro Times in 2009. "Detroit has always been a hotbed of expression; of soul on the cutting edge. And the essence of that spirit is still here."
Davis is a testament to that spirit. The GoFundMe has a goal of $25,000 with all proceeds reportedly going directly to Davis.
Coming soon: Metro Times Daily newsletter. We'll send you a handful of interesting Detroit stories every morning. Subscribe now to not miss a thing.

Follow us: Google News | NewsBreak | Reddit | Instagram | Facebook | Twitter