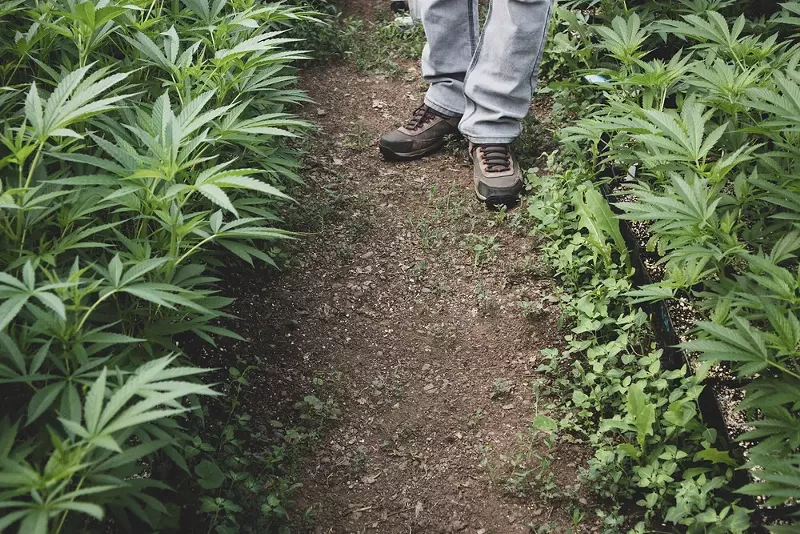 For many, the "green rush" of Michigan's blooming cannabis industry seemed like an exciting new career opportunity.
That was true for one woman, who says she left a corporate job in 2019 to work as a trimmer with dreams of learning the basics and one day owning her own company.
"When I started, I was full of hope," she says.
But she soon found out working in Michigan's cannabis industry wasn't all it was cracked up to be. She requested anonymity out of fear of retaliation, so we'll call her Mary.
Eventually, she found work for a company that sends workers to grow operations across the state to harvest cannabis. For Mary, who lives in the Detroit area, that meant waking up as early as 6 a.m. to drive two hours one way and work shifts that could be as long as 10 hours. When she got home, she would plan her next day.
Still, Mary was determined to make it work. "If you're invested in it, you're really treating it as if it's a 24-7 kind of role," she says.
At first, Mary says she enjoyed the opportunity to travel across Michigan and meet new people in the industry. And the money was good — she says she could make $1,000 or more for just three or four days of work.
"There was what we kind of call the 'golden age' when work was plentiful," she says. "There was a lot of need for help."
But as more grow operations cropped up and the price of cannabis plunged, Mary says she noticed a decline in working conditions. Corners started to get cut. Some facilities didn't have the proper tools or even working restrooms.
The worst day, she says, was when she drove more than an hour to a grow operation only to find out that the company didn't even have the proper packaging for the harvested products. The job was canceled without pay.
A fellow trimmer, let's call her Jane, agrees. "I think that as the price of the product started to decline ... people started to panic, because they really wanted to continue to make that money. And so there was more pressure on the trimmers, or the contractors in general, to make the most product for the most profit."
The price drop resulted in lower compensation and some grow operations and other cannabis businesses closing up shop, which led to fewer opportunities for work.
"You kind of have to roll with the punches and continue to refuse jobs at a lower rate, because there's not a lot of other options," Jane says.
Stacey Watrobski says she had similar experiences while working as a budtender at a Hazel Park dispensary. She was hired in 2020, just as Michigan's cannabis industry was taking off. Things seemed too good to be true, she says.
"We were doing like $300,000 a week," she says. "There was one single day that was $85,000 cash in sales."
But Watrobski began to have doubts during the COVID-19 pandemic and the company pivoted to online ordering and curbside delivery. Not only were workers' concerns about health and safety dismissed, she says, but they were subject to grueling conditions and not even allowed to take bathroom breaks.
"There were multiple people crying at work a day," she says.
Like Watrobski, a lot of her co-workers previously worked in restaurants, which were closed because of the pandemic. Many seemed to tolerate the worsening conditions because they were desperate for work.
"It was like, 'Oh, well, yeah, it's not nearly as much as I would make bartending, but at least it's a steady paycheck,'" she says. "Coming from hospitality, I was very familiar with what worker abuse was like and what chaotic and toxic environments were like."
Eventually, she began leading a unionization effort at the dispensary to join the United Food and Commercial Workers (UFCW) International Union's cannabis division.
But within 48 hours of filing a petition with the National Labor Relations Board, Watrobski says the union-busting tactics began — a campaign that included weeks of mandatory meetings and even the CEO taking workers off-site to talk to them one-on-one, Watrobski alleges.
Union interest diminished, and Watrobski decided to withdraw the petition. She says she was later fired and believes it was because of her union activities.
But Watrobski is still working to organize cannabis workers. She eventually became an organizer and intern for the UFCW, helping with unionization efforts at cannabis companies across the U.S.
"I talked to workers literally all over the country that were contacting the union and discovered that mostly everywhere, there's a lot of the exact same root problems," she says. She thinks part of the issue is that the promise of the industry has attracted executives from other industries who don't necessarily care about cannabis.
"One of the main things that they're bringing over from all these different industries is their bad practices," she says.
Now, Watrobski serves on the board of the organizations Americans for Safe Access's Michigan chapter and the Michigan Weedsters, and recently launched The Official Cannabis Workers Resource. Geared toward workers across the country, the site includes guides on filing complaints, training, health and safety, and more.
Watrobski hopes that instead of quitting their jobs or silently tolerating them, more workers will talk to each other and speak up. "There are ways to improve your workplace, and coming together with your co-workers is a main way to do that," she says.
She's hopeful that recent developments, including Michigan Democrats repealing anti-union "right-to-work" laws and new leadership at the UAW, could mark a turning point for labor writ large.
"This year is going to be an interesting one," she predicts.
Coming soon: Metro Times Daily newsletter. We'll send you a handful of interesting Detroit stories every morning. Subscribe now to not miss a thing.

Follow us: Google News | NewsBreak | Reddit | Instagram | Facebook | Twitter