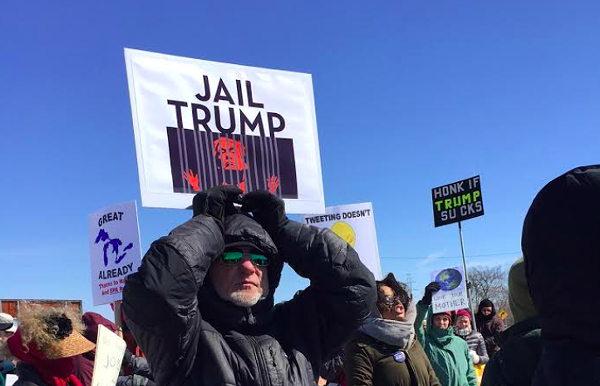 While Trump will manage to dodge Washington's media elite when he skips the White House Correspondents Dinner this week in exchange for
a visit to Macomb County
— he won't escape his haters on the ground.
As anticipated, anti-Trump organizers are coordinating a protest to coincide with Trump's second visit to Michigan as president. So far, at least two events are scheduled for Saturday outside of the Washington Township location where he'll be.
An event called
Protest Trump: No Hate In Our State
, will be hosted by the Metro-Detroit Political Action Network, Great Lakes AntiFa, By Any Means Necessary, and several other groups. That gets underway at 5 p.m. outside the Total Sports Park, where Trump supporters are to gather starting at 4 p.m. for the president's evening speech. BAMN has also created a Facebook event for a
smaller protest to start earlier
in the day, at 2 p.m.
"Macomb County is once again being targeted as the GOP turning point for Michigan," the "No Hate In Our State" event invitation reads. "We all will be showing up in demonstration that most in our state do NOT support the Trump agenda. All decent people regardless of political affiliation have reason to attend and speak out with a unifying voice: NO HATE IN OUR STATE!"
On his first visit to Michigan as president last March, Trump was met by
hundreds of protesters
who braved freezing temperatures to chant and
wave signs
.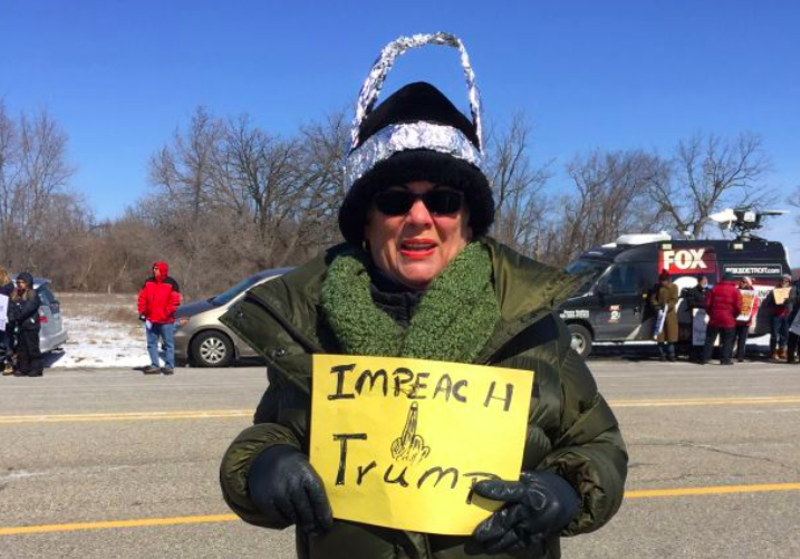 This time is expected to be no different. Hundreds of people have said on Facebook that they're interested in attending the protest. The Trump rally and demonstration will be held at Total Sport Park on 65665 Powell Road.
Despite nearly 11,000 Michiganders having voted Trump over Hillary Clinton in 2016 (a scale tipped by formerly blue Macomb County), the president's approval rating in the state had
dipped below 40 percent
as of January.
Trump is skipping the White House Correspondents Dinner and its famed roast of the president for the campaign stop in Macomb County.
In a statement issued last week announcing the rally, campaign COO Michael Glassner said, "While the fake news media will be celebrating themselves with the denizens of Washington society in the swamp that evening, President Trump will be in a completely different Washington, celebrating our national economic revival with patriotic Americans."