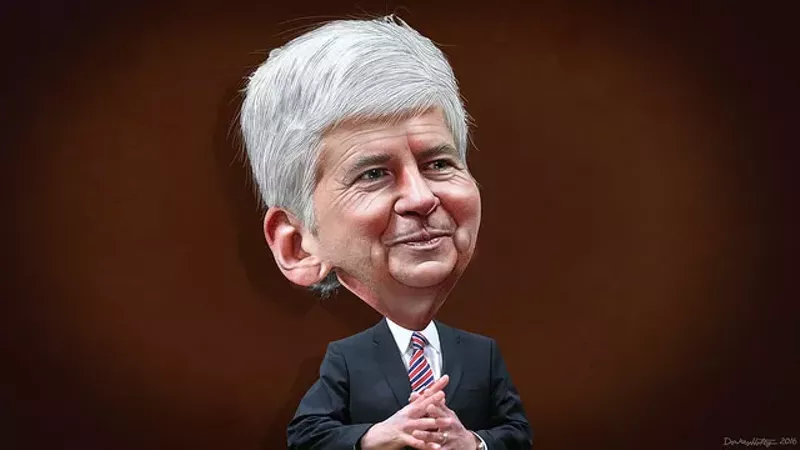 There will be no early special election to fill the congressional seat left vacant by John Conyers.
A federal judge today rejected a legal challenge of Gov. Rick Snyder's decision to wait until November to hold a special election to fill the vacancy in Michigan's 13th Congressional District, effectively leaving the district without representation until January.
The judge says the law grants "considerable deference to a governor in setting the election date" for vacant seats.

Lawyer Michael Gilmore, a Democrat running to replace Conyers, had argued Snyder was discriminating against voters in the mostly black district by waiting so long to hold an election, when Conyers resigned in December. By contrast, Gilmore argued, Snyder promptly filled a 2012 vacancy in Detroit's whiter, more affluent 11th Congressional District.
"This Court finds no evidence supporting Plaintiffs' theory that Governor Snyder was racially motivated or otherwise violated equal protection guarantees when he established dates that coincide with the regularly scheduled election dates in August and November of this year," U.S. District Judge Mark Goldsmith writes. "Therefore, those dates will remain in effect."
Shortly after Conyers' resignation, Snyder announced plans to leave the seat vacant for about a year — half the length of a full House term, and the longest vacancy for a House seat in at least 20 years. The decision, Snyder said, was partly intended to save money. A special, standalone primary election would cost $840,000.
In a phone call following the ruling, Gilmore said he knew it was going to be difficult to convince a judge that Snyder should hold an early special election. He said he does not intend to appeal.
"We're already going very close to the deadlines as it is," Gilmore said. "We can continue in this case, we can appeal, but it would just run the clock out too much and the point would be moot at that time."
Gilmore had wanted the state to hold a special primary as early as May, with a special general to coincide with the statewide primary election to be held Aug. 7, but lawyers for Snyder argued it wouldn't be worth the cost.
"We may be able to get them three months of representation," Assistant Attorney General Heather Meingast said during a March 15 hearing. "Does that result outweigh the cost burden to all the communities of having a special election? I would say it does not."
The state also argued Snyder's prompt filling of the vacancy in the 11th District couldn't be compared with his plans for the 13th. The state argued Snyder responded swiftly to the 2012 vacancy, scheduling a special primary within two months, because ex-Representative Thad McCotter (R) resigned over the summer and close to the November general election.
The state highlighted multiple other instances in which the governor had aimed to save money by only holding one standalone special election. Its arguments ultimately won over Goldsmith.
"While plaintiffs note the difference in the time that Gov. Snyder allowed each seat to remain vacant, this is by virtue of Gov. Snyder's clear preference to hold special elections in conjunction with previously-scheduled elections," Goldsmith wrote in his decision.
During this month's hearing in the case, Goldsmith asked why Snyder hadn't planned the special primary and general elections for already-set election dates of May 8 and Aug. 7. In his ruling, he said while Snyder could have scheduled one or two standalone elections immediately after Congressman Conyers resigned in December, "he was entitled to consider, and reject, the burdens that such a decision would impose on the localities and candidates."