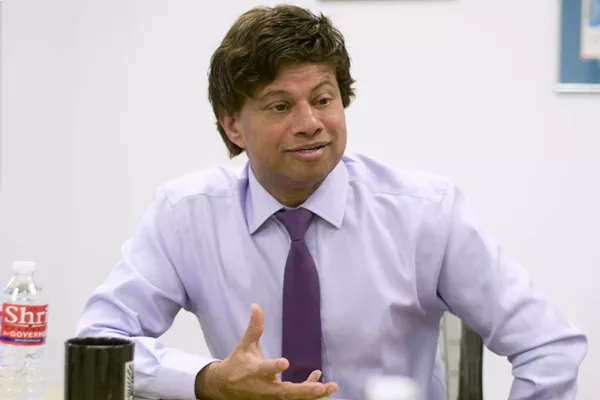 A
new report
in the
Huffington Post
charges that Michigan Democratic gubernatorial candidate Shri Thanedar's former pharmaceutical company abandoned 173 dogs and monkeys in its facility after the company went bankrupt in 2010:
Thanedar had to shutter the New Jersey testing facility, AniClin Preclinical Services, after its parent company, Azopharma, which he owned, went bankrupt in April 2010.

Local animal rights activists learned in June of that year that 118 beagles were still stuck inside the facility. The lab's workers had been jumping the lab's fences to provide food and water for the dogs, according to a USA Today report.

Two animal welfare groups teamed up to find homes for the beagles and were finally able to take them from the shuttered lab on July 4 to shelters, where they would be matched with adoptive families. A video report conducted by the Times Herald-Record, based in Middletown, New York, showed the dogs arriving in a van from the lab to a staging area where volunteers groomed and attended to the forlorn animals.

A few days later, the California-based group In Defense of Animals rescued 55 long-tailed macaque monkeys that had been left in the shuttered AniClin testing facility.

Thanedar told
HuffPost
that he had "no knowledge how well the bank took care of the animals," and said the lab followed all rules and regulations of the U.S. Department of Agriculture and other government agencies.
"No animal was harmed or subjected to any harmful conditions. No electric experiments were conducted," he said.
Thanedar, a self-made millionaire, has presented himself as a progressive on the campaign trail, voicing support for Medicare For All, $15 per hour minimum wage, and reigning in the Michigan Economic Development Corporation's giveaways to the wealthy. He's
led
or been
neck-and-neck
in the latest polls with Gretchen Whitmer, a former Michigan Senate minority leader who has the backing of all major unions.
However, his progressive credentials have been regularly
called into question
by one his opponents, Abdul El-Sayed. El-Sayed's campaign supports similar policies, but bills him as the race's "real progressive." El-Sayed came out of Detroit Mayor Mike Duggan's administration and picked up endorsements from several progressive groups, like Our Revolution. The campaign also announced today that it received an endorsement from Democracy For America, a group
founded by pharmaceutical lobbyist
and 2004 presidential candidate Howard Dean.
Stay on top of Detroit news and views. Sign up for our weekly issue newsletter delivered each Wednesday.