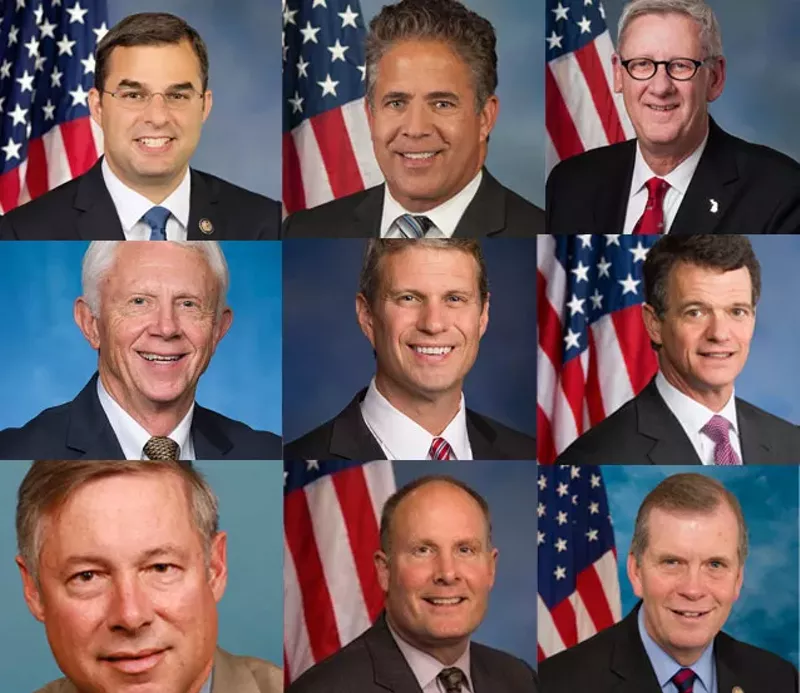 On Tuesday, House Republicans voted to rush a tax reform bill that has been described as the
"wholesale looting of America"
— one that will increase the nation's deficit, throw 13 million people off health care by dismantling the Affordable Care Act, and provide large tax cuts for corporations and the wealthy,
including President Donald Trump
.
Such was the GOP's desire to ram the bill through as fast as possible that they tripped on their way to the finish line. In the 11th hour, three small provisions in the final bill were found to violate budget rules, and the House was forced to vote on it again today.
Like most of Congress, the initial House vote came down to a straight party line, with all nine of Michigan's Republicans supporting the bill and all four of its Democrats opposing it.
In Michigan, those GOP representatives were Jack Bergman of Watersmeet, Bill Huizenga of Zeeland, Justin Amash of Cascade Township, John Moolenaar of Midland, Fred Upton of St. Joseph, Tim Walberg of Tipton, Mike Bishop of Rochester, Paul Mitchell of Dryden, and David Trott of Birmingham.
Upton framed the bill — the most significant overhaul of the tax code in 31 years —
as "historic tax relief for hardworking Michiganders"
:
"With this vote, historic tax reform is one step closer to reality. Here's what our plan does for individuals; it significantly increases the standard deduction, it expands the Child Tax Credit, preserves the Adoption Tax Credit, preserves the mortgage interest deduction, expands the medical expense deduction, continues the charitable contribution deduction, and more. We lower the corporate tax rate to 21 percent – down from the highest rate in the industrialized world and eliminate incentives to move Michigan jobs overseas. We also deliver significant tax relief to small businesses. At the end of the day this will be a big win for Michigan middle class families and our economy. After 31 years, it's time to get this done."
However, Michigan's Democrats issued harsh condemnation of the bill — especially as it pertains to the fates of the middle class.
Debbie Dingell of Dearborn said:
"Working families should be at the center of any effort to update our tax code. Instead, the legislation that passed the House today leaves working Americans behind – increasing taxes for 86 million families and jeopardizing the future of Medicare and Social Security, all while providing trillions in tax breaks to the wealthy and big corporations. This is plain wrong.

Republicans are trying to sell working families a bag of goods, but the American people will not be fooled. Those Representatives who voted today to put politics above the people they represent will have to answer to hardworking families across the country who will see their taxes go up as a result of this devastating plan. Working families deserve better, and now more than ever, we must continue to fight alongside them."
Dan Kildee on Flint Township said:
"Michiganders deserve real bipartisan tax reform that puts working people first. Unfortunately, this Republican tax plan being rushed through Congress raises taxes on many middle class families, all to give the wealthiest Americans a huge tax cut. Congress must start over and get tax reform right. Both parties should come together and focus on real tax relief for the middle class, not just on more tax breaks for those at the very top."
Sander Levin of Royal Oak said:
"In all of my 35 years in Congress, this is one of the most deceitful bills I have ever seen. It is deceitful about the debt. Republicans say don't worry about the expiring tax provisions, but extending them would raise the bill's already devastating effect on the deficit to $2.3 trillion."
And Brenda Lawrence of Southfield said:
"Our nation's tax policy should reflect our values and priorities — and this Republican tax scam shamefully undermines our future. They should be making our citizens' lives easier and our communities stronger. Instead, their proposal perversely makes people's lives harder all in the pursuit of stocking stuffers for the ultra wealthy."

Merry Christmas.