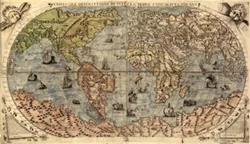 Every year the
New York Times releases a list of the best places to visit
. It's basically a Pinterest vision board for all the places you'd like to go but never will.
This year Detroit made the cut, coming in at No. 9 on a list of 52. They cited the QLine and Little Caesars Arena as reasons why tourists should use their hard-earned cash to travel to the Motor City. Those reasons seem kind of blase in comparison to our thriving restaurant scene, our many arts and culture institutions, easy access to live local music, and an ever-growing craft beer, liquor, and cocktail scene, but whatever, we'll take it.
Anyway, that's not even the best part.
The best part is that No. 1 on the
New York Times
's Best Places to Go in 2017 is Canada. No, they don't outwardly say, "Get the fuck out of the country and go to Canada while you still can because Trump's presidency is impending," but we get what they're playing at. And since we're so close, maybe this is one destination on our Pinterest travel vision board we might actually go.