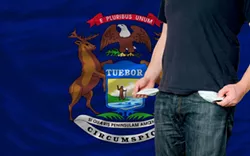 The state of Michigan has removed the director of its Unemployment Insurance Agency on Thursday as part of a "top-to-bottom review" following complaints that the agency has been falsely accusing unemployment insurance fraud.
In one of those stranger than fiction moments that seems par for the course here, it turns out the state's computerized fraud detection system, MiDAS — the Michigan Integrated Data Automated System — was screwing over the state's already plenty-screwed unemployed by falsely accusing them of fraud.
Yes, Michigan named a computer after a mythical cursed king. And gave it no human oversight. What could possibly go wrong? (If Michigan was a TV show, it'd be a poorly written one and unrealistic.)
As Metro Times reported
in a lengthy 2015 feature story, "It's a process that, contrary to its stated intention, is creating fraud, rather than eliminating it — a MiDAS touch, if you will, where the state gets the gold: The program has been a windfall for Michigan, collecting over $60 million in just four years."
The
Free Press
previously reported
that a federal review found that 93 percent of fraud allegations made by MiDAS against more than 22,000 unemployment were false. Now, the state is facing lawsuits for unlawfully taking millions of dollars from those falsely accused applicants. According to the
Free Press
, in 2015 the state seized more than $15 million from claimants.
One woman interviewed by
MT
was accused of receiving $2,200 in benefits from the unemployment insurance fund that MiDAS determined were illegally obtained, and as a result was issued $9,000 in penalties — leaving her on the hook for more than $11,000. She was able to prove it was in fact a computer error. Another man had his federal income tax return, $8,500, automatically garnished. It was also later proven to be a computer error.
An agency spokesman tells the
Free Press
that about $5.4 million has been refunded to 2,571 claimants falsely accused of fraud. But critics, including U.S. Rep. Sander Levin, D-Royal Oak, and U-M law professor Steven Gray, are calling on the state to review about 30,000 additional cases.
"It is vital that these changes happen quickly and are long-lasting, and I hope the state will re-review all of the fraud decisions during the period of automatic computer determination," Levin told the
Free Press
.
Read
MT
's cover story
here
.