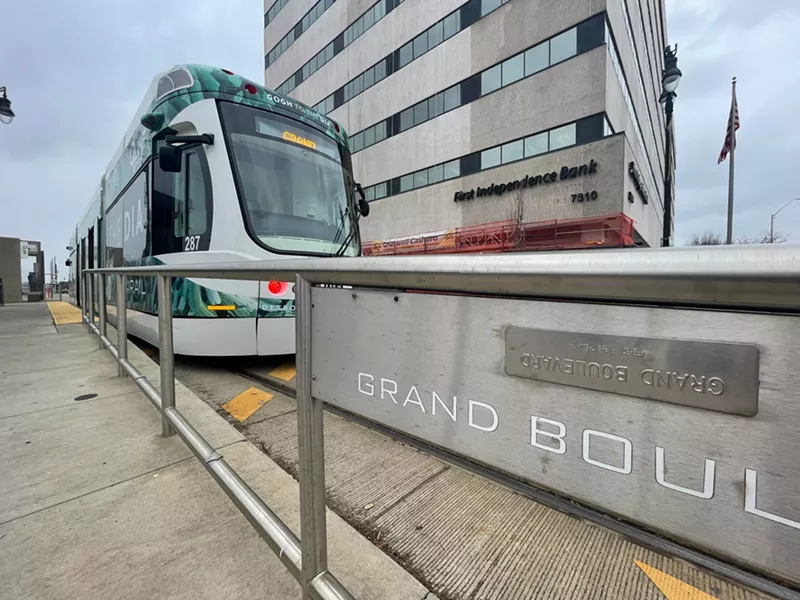 Congratulations to Metro Times staff writer Randiah Camille Green, who represented the alt-weekly at the Society of Professional Journalists, Detroit Chapter awards ceremony on Monday evening. Her Dec. 15, 2022 article "Upside-down braille signs on the Detroit QLine cause complaints" was awarded first place Print, Class A: Community/Local News Reporting.
The origin of Green's story came from a voicemail message left by reader Brian Taylor, a Detroit artist who suggested we look into the metal signs on the streetcar system displaying the names of the stops that appeared to be installed upside-down. While the braille for visually impaired riders would likely not be noticed by most riders, the words were accompanied by English letters that were also upside-down, drawing attention to the signs.
The QLine opened in 2017, and questions have been raised about the seemingly upside-down signs before. A spokesman for the streetcar system said that the signs were developed with input from the blind community. Others said it was not uncommon to read braille upside-down, especially while standing.
Green did the hard work of tracking down members of the blind community, who agreed to meet her at a QLine stop on a frigid winter day. Cathy McAdam said in her 76 years she'd never encountered upside-down braille signs, and Michael Patten said the placement of the signs was awkward, which are located on the railing leading up to the stations' boarding platforms, away from the shelter. They also pointed out that the embossed English appeared to be in violation of the Americans with Disabilities Act, which calls for letters that contrast with their backgrounds to make them easier for riders with low vision to see. Green even found at least one braille sign that was blocked by a street light post.
Last month, QLine operator M-1 Rail said it would replace the signs, and expected the new signs to be installed within a month. Metro Times visited a QLine stop Tuesday morning and found the signs had not yet been replaced.
"While it may be technically correct for some people, it's not useful for others and so we're working to update that to make it useful for more people," director Lisa Nuszkowski told Metro Times. "We'll do whatever it takes to make it right."
Congrats are also in order for Metro Times New Voices fellow Eleanore Catolico, who also won awards for journalism she did before the start of her fellowship. Catolico earned second place, Digital: Feature Reporting for her Bridge Michigan story "As Youth Mental Health Crisis Rages, Michigan Schools Work to Bolster Students' Sense of Connection" and third place, Digital: Feature Reporting for her Eater article "The Soul of Filipino Food Thrives Across Metro Detroit."
Subscribe to Metro Times newsletters.

Follow us: Google News | NewsBreak | Reddit | Instagram | Facebook | Twitter