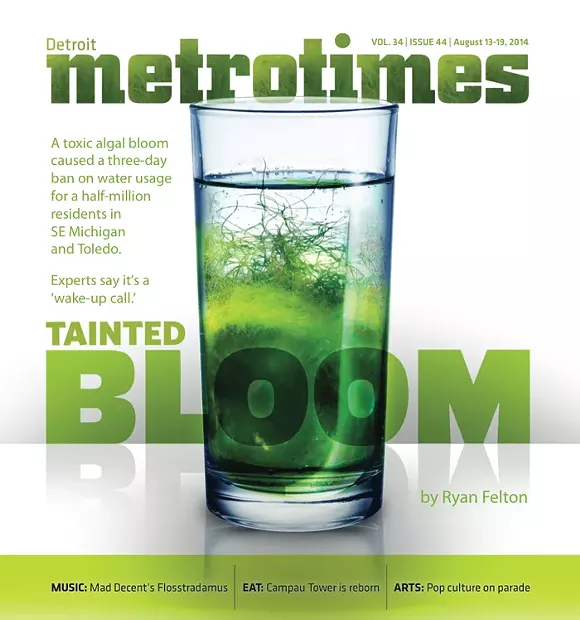 Toxic algae in Lake Erie prompted officials in Canada to issue a water alert for residents of Pelee Island, The
Toledo Blade
reports
.
The alert
, issued by the Windsor-Essex County Health Unit, says the blue-green algae has impacted water quality along the island's shoreline. Beaches have been closed, the alert says, and residents shouldn't bathe, cook with the water, or eat fish from it. Residents should drink bottled water, the alert says, as boiling the water only makes matters worse, and will not remove any potential harmful toxins.
The development follows a three-day water ban for 500,000 residents across southeast Michigan and Toledo earlier this month, after a toxic algae bloom tainted Toledo's water supply at the city's treatment plant. The cause of the toxic algae bloom, and the possibility it could return in the imminent future, was the focus of a
Metro Times
cover story
earlier this month
.
As
Metro Times
reported, the harmful toxin known as microcystin (my-crow-SIS-tin) has been a growing problem over the last decade. The toxin is part of the cyanobacteria family, known as blue-green algae, according to the Centers for Disease Control and Prevention. It can cause a number of unpleasant symptoms, including diarrhea, vomiting, and liver damage. The toxic bloom set off a hectic weekend in the region, as residents drove north as far as Ann Arbor for clean water, and thousands had to wait at impromptu stations across town for clean potable water.
The algae bloom becomes harmful for a number of reasons, the lease of which being phosphorus-enriched stormwater runoff from nearby industrial agriculture sites. Other issues such as the high presence of zebra mussels and climate change have led to growing problems, according to experts.