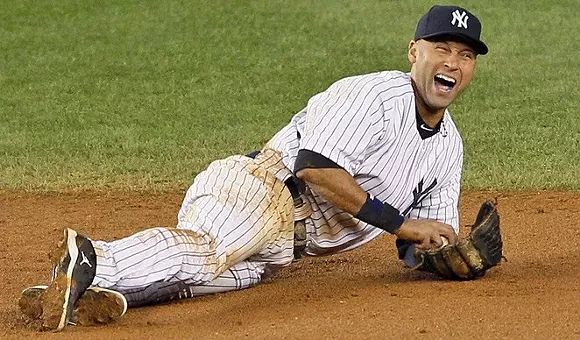 I don't know why anyone would root for the Yankees. Unless you grew up in the Bronx, there are plenty of other teams to root for. Say, the A's or the Cubs or
the Bears.
Rooting for the Yankees is like rooting for Matty Moroun to hit the lotto. Matty doesn't need any more money, and the Yankees don't need any more trophies.
(Least of all this one.)
But even though he wears the dastardly pinstripes, it's hard to root against Derek Jeter.
Not just because he's from Kalamazoo, but because he's a class act and a hell of a ballplayer.
This afternoon, after nearly 20 years on baseball's biggest stage, Jeter will likely be making his final appearance in Detroit as a Yankee.
Barring an unlikely playoff scenario between the Tigers and Yankees this fall, Jeter will start at shortstop at Comerica Park today for the last time in his career.
The last time these two teams met in the playoffs,
it did not go well for Jeter.
When Derek Jeter broke his ankle that day in the Bronx, I flashed back to my college days in his hometown of Kalamazoo, where in the fall of 1988, I was a sophomore studying sociology at Western Michigan.
On November 10, two days after Bush defeated Dukakis (and about an hour after an ill-fated visit with my Marine recruiter), I broke my ankle playing football down by Bronco Pond. That's when my resourceful roommate at the time, Dave Diedrich, sprang into action.
Being from the east side of Detroit (and having just spent his summer in the Marines' officer candidate school), Dave was quite the hustler. And so it was that he hustled back to our dorm room, scrounged up a hardcover book and a roll of tape, and sprinted back to my side.
As I lay there in agony, Dave quickly fashioned a makeshift splint out of my sociology textbook and some duct tape, and hauled my ass to the hospital.
Three days later, I had surgery and missed my sociology class.
My professor likely didn't notice.
He probably wouldn't remember me.
But I remember him.
His name was Dr. S. Charles Jeter.
Dr. Jeter was a last-minute replacement for another professor who was scheduled to teach the class. I got the impression that Dr. Jeter had never taught Sociology 200 before, and he struggled with the material almost as much as I did.
His son was just 14 that year, playing ball (unbeknownst to me) just down the road at Kalamazoo Central. Over the next few years, I would hear Derek Jeter's name mentioned here and there (
I even had a gal in Kalamazoo
who'd say "There's nobody sweeter than Derek Jeter"), and by 1996, he was in the World Series.
When the TV cameras caught a glimpse of his parents in the stands at old Yankee Stadium (Hey, Detroit, we can learn a thing or two about
repurposing an old ballpark
), I finally realized it was his father I'd studied under.
So if you're headed to the ballpark today, say hi to his dad for me.
And don't be surprised if he pulls another stunt like this:
---
Dave Mesrey is a freelance writer and founding member of the Navin Field Grounds Crew.