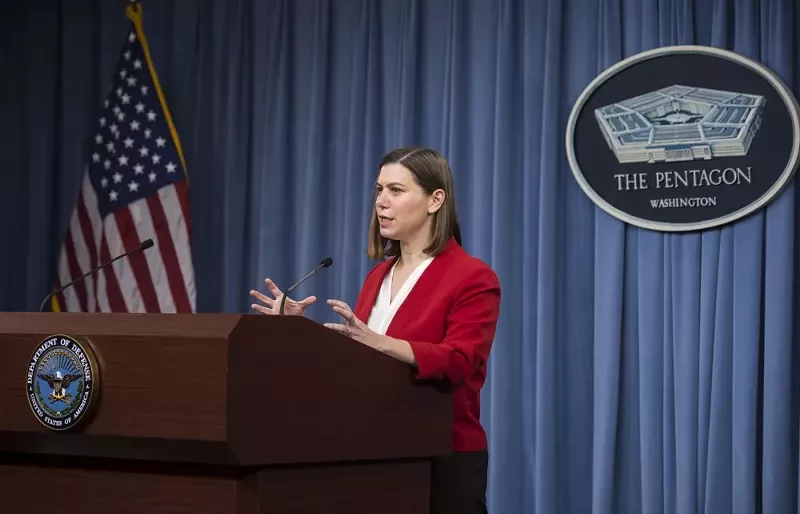 Elissa Slotkin, who is waging an extremely impressive campaign for the Democratic nomination for a seat in Congress, was once a proud CIA agent who served three tours of duty in Iraq. Once, that alone would have been enough to turn me off.
I also have to confess that I was reluctant to meet her, in part because so many people told me the 41-year-old Slotkin was the best and most remarkable candidate for any office they'd ever seen.
That's what I'd been told about Jennifer Granholm, who turned out a howling ineffectual disappointment. (When I first interviewed her, she cooed, "You didn't have to wear a tie just for me," and I knew we were in trouble, especially when it was painfully clear that she didn't have a clue how power worked in Lansing.)
When I wrote my worries about Granholm, I was attacked as a hopeless sexist. I was also attacked by both her and her husband (the "first gentleman") when I wrote about his habit of having places where she had worked pay him to do leadership seminars.
Eventually, toward the end of her second wretched term, people started asking me why I hadn't warned them about her earlier.
So I went to see Slotkin prepared to be underwhelmed — and was stunningly surprised. Sue Marx, the shrewd Oscar-winning filmmaker whose judgments about people I've learned to trust, summed Slotkin up this way: "She's the real deal."
She is indeed. Warm, brilliant and understated, she is a genuine foreign policy expert who, in her 30s, served with distinction in both the Bush and Obama administrations, rising to become acting Assistant Secretary of Defense for National Security Affairs.
Yes, she is about as savvy as they come about defense and international affairs, and I'd sleep better if I thought the creature with the orange hair had half her knowledge.
Slotkin, who speaks both Arabic and Swahili, is also something else unusual; an authentic patriot. She was in her second day of graduate school at Columbia in New York, thinking she might like to become head of an NGO somewhere.
That, however, was Sept. 11, 2001. "I just felt I had to do something in service to my country," she says. She thought of enlisting, but decided she could make a better contribution with her mind. Thanks to a well-connected professor, she was soon in the agency, where she ended up doing three tours in Iraq.
Interestingly, she says she wasn't in favor of the invasion itself. But "when it is your country, you want it to do well, regardless."
While in Iraq, she met her husband, U.S. Army Colonel Dave Moore, now a retired Apache helicopter pilot. "When I was in Iraq and in the White House, nobody asked if I were a Republican or a Democrat," she says. It was clear to her, however, that she couldn't work in an administration that had no respect for international agreements or diplomacy, so she came home to Michigan.
But it wasn't anything international that caused her to run, but health care. Nine years ago, her mother had been stricken with ovarian cancer, but had let he health insurance lapse.
"She was lying on an MRI gurney and they made us write a check for $8,000 before they would treat her," she remembers.
Judith Slotkin died just as the Affordable Care Act kicked in. Then, last May, she turned on TV to see Mike Bishop happily smiling because "he had just voted to kill Obamacare with no replacement in place. I looked at my husband and said 'This will not stand.'"
"In the military, this is called dereliction of duty," she says. "We decided to fire him that day." Slotkin does have an opponent for the Democratic nomination; MSU Criminal Justice Professor Chris Smith, who believes he is the true progressive in the race.
But so far, she has not only heavily outraised him, but has been outraising Bishop, despite not accepting corporate PAC money.
Frankly, it would be worthwhile helping pretty much anyone against the two-term incumbent in the Eighth Congressional district, Mike Bishop, the former State Senate Majority leader who was more interest in obstructionism than in getting things done. (A faithful lackey of Matty Moroun, Bishop happily took his money and did whatever he could to block a new bridge from being built.)
The district is an irregular rectangle that stretches roughly from Rochester Hills west to Lansing. It was designed for Mike Rogers of Brighton, who was first elected in 2000 in the closest congressional race in the nation that year. Legislative gerrymandering has made it basically Republican country — but not hopelessly so.
In fact, it should be considerably easier for a Democrat to win here than it was for Conor Lamb to get elected to Congress in Pennsylvania last month. Bishop won last time by a strong 56 to 39 percent, but that was after the debacle in which Democrats recruited Melissa Gilbert, the former Little House on the Prairie TV star, only to find she owed the IRS big time, perhaps from selling Pa's fiddle.
She then claimed migraines and withdrew, and the Dems plugged in an inept placeholder. But Trump only won this district by six points, and Bishop has been a lazy officeholder not given to showing up in the district. He'll certainly have a hard time getting away with the usual smear that Slotkin is unpatriotic.
Indeed, if any further proof of her Americanism is required, her immigrant great-grandfather founded Hygrade Foods, and her grandfather invented Ball Park Franks, specifically for the Tigers.
If there's any kind of blue wave in Michigan, these voters ought to reap the benefits. And then keep your eye on Slotkin. I have a hunch that she is indeed the real deal.
Dispatch from Moroun World: When I was a little boy in the 1960s, you could go to the Radio City Theater in Ferndale on Saturday afternoons to see monster movies for fifty cents.
There was one creature that, no matter how many times you killed it, would keep coming at you, slithering out of the ooze. Radio City's shoddy art deco splendor is only a memory now.
But we still have Matty Moroun — the socially parasitic owner of the shoddy Ambassador Bridge, and loser of endless court decisions — who still keeps coming at us, trying to prevent the badly needed Gordie Howe International Bridge from being built.
Moroun's latest ploy? He's appealing to Donald Trump, and may have found a shrewd way of doing so. Up to now, signals were that Trump was just fine with the new bridge.
Especially since Canada is footing the entire bill. But now, Moroun, or his pet dog Dan Stamper, is appealing to Trump's protectionist and Obama-hating sentiments.
President Obama granted the Canadian government an exception from the requirement that they use American steel, and Moroun wants that canceled. It would take a lot of chutzpah to do that, especially since Canada is paying for the whole thing.
But with Trump, you never know. Moroun used to claim the Ambassador Bridge was a "federal instrumentality" and therefore not subject to local and state regulation, until a succession of judges told him that was nonsense. Trump could be easier to convince.
Yet if that all fails, Moroun could still try the Secretary General of the United Nations and the Pope ... or the United Federation of Planets. I know for a fact William Shatner is looking for work.
Stay on top of Detroit news and views. Sign up for our weekly issue newsletter delivered each Wednesday.