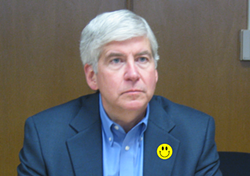 Governor Rick Snyder has signed into law a series of bills aimed to improve the Michigan's Unemployment Insurance Agency following a blunder in which it falsely accused nearly 50,000 residents of fraudulently collecting unemployment. None of the eight laws address compensation for the victims, many of whom saw their wages garnished or income tax refunds taken.
According to Snyder's office, the new laws will:
- Require the Unemployment Insurance Agency to reconsider a previous decision on benefits if evidence shows the decision was sent to a bad address.
- Reduce first offense fraud penalty from 200 percent of the claim to 100 percent, and reduce subsequent offenses from a highest-in-the nation 400 percent to 150 percent.
- Expand the Unemployment Insurance Agency advocacy program to allow representation of claimants or employers accused of fraud. If the agency or a court ultimately finds the claimant or employer did commit fraud, it will attempt to recover the cost of that representation.
- Prevent the Unemployment Insurance Agency from charging interest on benefit overpayments that were the result of administrative or clerical error by the agency.
- Allow a claimant to qualify for a waiver to have their benefits repaid if their income and assets are at or below 150 percent of the federal poverty line.
The bipartisan legislation was approved in the House and Senate earlier this month. Gov. Rick Snyder and lawmakers have reportedly been looking to create a fund to compensate those victimized by the rash of false fraud claims made between 2013-2015. The
Associated Press
reported last week that lawmakers would revisit the issue next month.
Separately, a Royal Oak attorney has mounted a lawsuit against the state that seeks class-action status for thousands of people affected by the debacle.