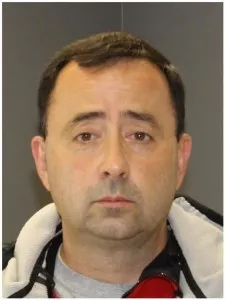 A
119-page report conducted by the Justice Department's Inspector General
released Wednesday revealed that FBI officials severely mishandled its investigation of convicted criminal and former USA Gymnastics and Michigan State University doctor, Larry Nassar,
The Washington Post
reports.
Nassar is in his third year of a life sentence for federal child pornography crimes, as well as an additional 40- to 175-year sentence for assaulting nine girls and women while practicing sports medicine.
More than 330 people — including notable Olympians, including Simone Biles, McKayla Maroney, and others — have come forward with allegations of sexual assault and misconduct while under Nassar's care. But the FBI isn't the only
system to have failed Nassar's alleged victims
, as the earliest complaints made about the doctor's misconduct were submitted to MSU in 1997 — nearly 20 years before his eventual firing and arrest.
Per the report, the result of an ongoing internal review that was initiated in 2018, the FBI Indianapolis Field Office "failed to respond to the Nassar allegations with the utmost seriousness and urgency that they deserved and required, made numerous and fundamental errors when they did respond to them, and violated multiple FBI policies."
During a 14-month period, nearly 40 girls and women claimed they had been molested by Nassar. During this same period, the FBI had already been made aware of previous sexual abuse allegations against Nassar, yet failed to investigate, follow up, or route a formal complaint, leaving the USA Gymnastics officials — and Nassar's alleged victims — in the dark for eight months before FBI officials in Los Angeles received yet another complaint.
Also leveled in the report: FBI officials in Indianapolis also failed to interview the alleged victims, nor did they properly handle evidence or document complaints. The agency ultimately failed to report abuse, according to the report.
Inspector General Michael Horowitz also found that the head of that FBI office, Jay Abbott, had been in talks with USA Gymnastics' then-president Stephen Penny (who was described by the report's watchdog as being untrustworthy and a "snake oil salesman kind of guy") about securing a spot on the Olympic Committee, which he did not get when he formally applied in 2018.
Following the release of the report, the FBI's Assistant Director Douglas Leff issued a statement in which he and the rest of the agency agree that the "the actions and inactions" described in the report are "inexcusable" and "a discredit" to America's premier law enforcement agency.
"At the FBI, we consider our mission to protect and serve the American people to be the highest responsibility," he said. "The conduct and facts in the Report are appalling, and we appreciate your continued efforts to examine it and recommend further improvements and safeguards."
The first woman to publicly accuse Nassar of misconduct, Rachel Denhollander, took to Twitter Wednesday to acknowledge the trauma she and so many girls and women were subjected to as a result of the FBI's willful neglect.
"The three women whose abuse had been reported never should have been left alone, treated as if they did not matter,"
Denhollander tweeted
.
"Had the FBI done their job I never would have been put in the position of having to relinquish every shred of privacy to stop the abuse and coverup," she said. "The dozens of little girls abused after the FBI knew who Larry was and exactly what he was doing, could have and should have been saved. They deserve answers."
Stay connected with Detroit Metro Times. Subscribe to our newsletters, and follow us on Google News, Apple News, Twitter, Facebook, Instagram, or Reddit.