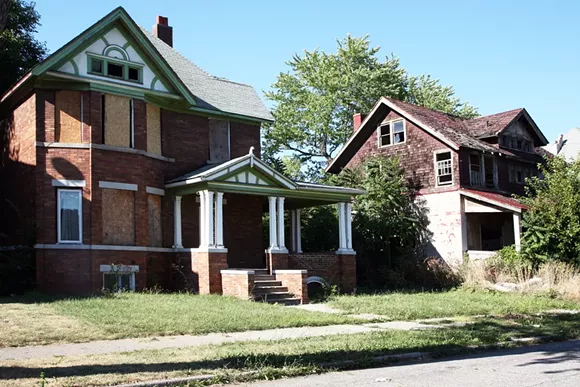 Updated 2:27 p.m. Monday, Jan. 2:
This post has been updated to clarify that at this time, none of the employees from the Detroit Land Bank and the Detroit Building Authority referenced in the subpoenas have been named subjects of the investigation.
Originally posted at 7:32 a.m. Monday, Jan. 2:
The Friday before New Year's Eve, the Detroit Land Bank Authority released two subpoenas related to the ongoing federal corruption probe into the city's demolition program, which is investigating why the cost of demolitions increased 60 percent during Mayor Mike Duggan's administration.
The timing here could be considered curious. The unsealing of the documents was originally scheduled for Jan. 12 after Wayne County Circuit Judge David Allen determined the investigation to be a public matter, according to the
Free Press
. But just before noon on the Friday before a holiday — two weeks before the scheduled unsealing — the Land Bank
posted the documents to its website
.
The subpoenas were originally served to the Detroit Land Bank and the Detroit Building Authority in May 19, 2016 by the Special Inspector General for the Troubled Asset Relief Program, demanding documents including emails, phone records, voice mails, text messages, and work calendars from 32 people across the two authorities.
They include Duggan's group executive for operations David Manardo and former DBA deputy director James Wright. Both were handpicked by Duggan, their relationship with the mayor extending to Duggan's time as CEO of the Detroit Medical Center. In April 2016, Manardo was found by Detroit auditors
to have a conflict of interest
for essentially reporting to himself. Wright abruptly resigned in August 2016.
More than $250 million from the federal Hardest Hit Fund has been allocated to Detroit's demolition program, with the city demolishing more than 10,000 properties during Duggan's administration. Under Mayor Dave Bing, demolitions cost $8,500-$10,000 per home. At one point under Duggan, costs surged to $16,400 per home.
There are echoes of the past in the ongoing probe. In
a 1999 Detroit News story
, Duggan, then-Wayne County deputy executive, was accused of bad management and cronyism as part of a $1.4 billion Detroit school renovation program.
The subpoenas were posted following a lawsuit from local activist Robert Davis, who sued the Detroit Land Bank Authority after it denied his Freedom of Information Act request for the subpoena. "I truly applaud the federal government for doing a far-reaching investigation of this administration," Davis told the
Free Press
.
No one has yet been charged in the investigation.