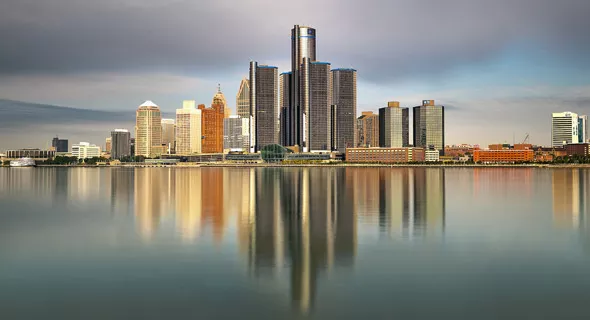 Detroit has exited active state financial oversight after balancing its budget in each of the three years since the city emerged from bankruptcy.
The State Financial Review Commission that sprouted from the city's bankruptcy restructuring plan voted unanimously to "go dormant" today, in a move that returns financial control to the mayor and city council. The nine-member FRC says it will remain inactive for its decade-long term, so long as the city continues to post balanced budgets each year.
Until now, the FRC had final decision-making power on budgets, collective bargaining agreements, and contracts larger than $750,000.
In a news release, Mayor Mike Duggan called the end of oversight a milestone in the city's continued progress and a testament to the his administration's commitment to strong fiscal management.
"For the first time in four decades, Detroit's elected leadership will be in complete control of government functions," Duggan said in the release.
The end of active state oversight closes the curtain on a 40-year stretch in which some aspect of Detroit city government was under the oversight of a state or federal entity. That includes 36 years of federal court oversight of the Water & Sewerage Department for environmental issues, a decade of U.S. Justice Department oversight of the police department over use-of-force and lockup conditions, and a decade of U.S. Housing and Urban Development control of the Detroit Housing Commission due to poor performance.
Detroit shed about $7 billion of $18 billion in debt and obligations when it went through bankruptcy in 2014. The city now boasts a $36 million projected operating surplus for this fiscal year and says it has created a 10-year budget forecast to "ensure continued stability."
But Detroit could
owe billions
in pension obligations that it will need to start paying off in 2024. Those payments will cost the city $143 million a year. The Duggan administration and city council have said they plan to
stock away $335 million
in surpluses over the next eight years in order to help ease that burden.
Stay on top of Detroit news and views. Sign up for our weekly issue newsletter delivered each Wednesday.