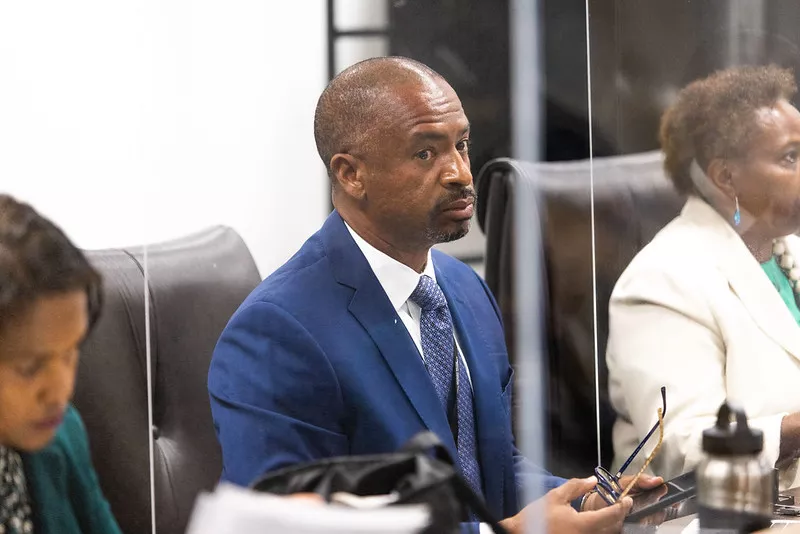 Detroiters plan to launch a petition drive to oust city Councilman Scott Benson this spring after his home and office
were raided by the FBI
in August 2021.
The FBI targeted Benson and then-Councilwoman Janeé Ayers as agents ramped up their investigation into
corruption at city hall
.
While Ayers was defeated in the November 2021 election, Benson was running unopposed and is still serving.
Neither has been charged so far.
Since the raid occurred in Benson's last term, it cannot be the official reason for the recall. Michigan law requires petitions to state the reason for the recall, and it must be for an action taken during the current term.
Benson's most recent four-year term began in January 2022.
"We can't recall him for that," Ramone Jackson, who is helping with the recall, tells
Metro Times
. "That would have been the perfect thing to recall him on. But that happened last term."
So organizers chose one of Benson's most controversial votes: He was among five of nine council members who approved
$60 million in property tax breaks
for the Hudson's site redevelopment in July 2022.
That alone is a sufficient reason to recall Benson, Jackson says.
At the time, many residents were strongly opposed to giving billionaire Dan Gilbert's company millions of tax dollars at a time when many of the city's neighborhoods are deprived of adequate services.
"It's not just Benson," Jackson says of the other council members who supported the tax handout. "But we need to set an example that we are not going to tolerate going against the people. He's a perfect example of going against the people."
Petition organizers have been meeting once a week to plan the recall attempt. When the weather gets warmer, they plan to begin collecting signatures.
But it won't be easy. In 2011, then-Gov. Rick Snyder shortened the period in which to collect signatures from 90 days to 60 days.
The number of signatures needed for a recall is 25% of the votes cast for all gubernatorial candidates in the last election. Organizers have not yet figured out how many people cast ballots in the past gubernatorial election in District 3, which Benson represents.
Voting tallies are based on precincts, not districts.
Benson's district is in northeast Detroit.
Coming soon: Metro Times Daily newsletter. We'll send you a handful of interesting Detroit stories every morning. Subscribe now to not miss a thing.

Follow us: Google News | NewsBreak | Reddit | Instagram | Facebook | Twitter