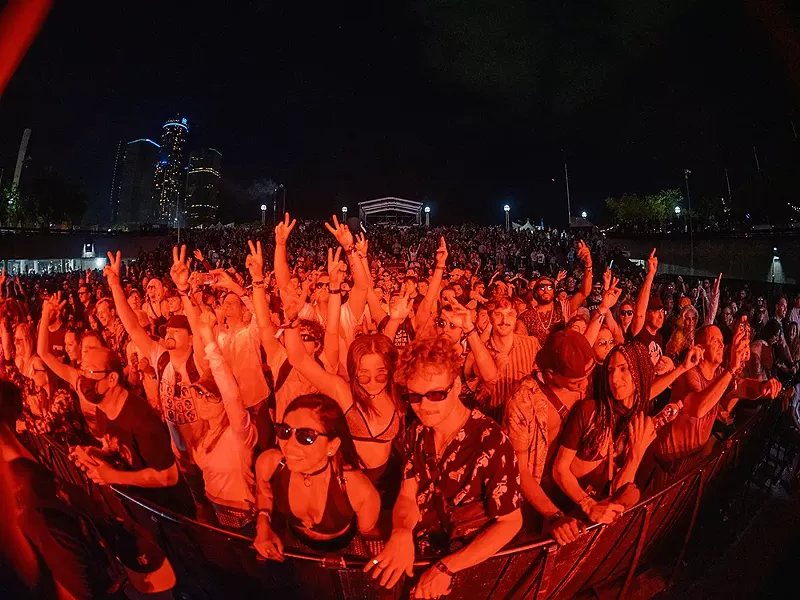 Detroit's Movement Music Festival has released its full 2023 lineup, which includes a mix of international players and homegrown talent set to perform Memorial Day weekend.
At the top level, U.K. duo Basement Jaxx has been tapped for a headline DJ set, joining previously announced headliners Underworld and Charlotte de Witte. Other newly announced big-name acts include electronic music star Skrillex, Detroit's pioneering and influential '80s act Cybotron, Memphis hip-hop group Three 6 Mafia, dubstep duo Zeds Dead (Altered States), and many more.
The new additions join previously announced 2023 Movement acts including Detroit's mysterious Moodymann, who is marking his first return to the fest in a decade, along with Caribou, Green Velvet, DJ Minx, and others.
In all, more than 115 acts will perform at Hart Plaza from Saturday, May 27 through Monday, May 29.
"Since its inception, Movement has been dedicated to bringing music fans a completely original experience to Detroit, with a focus on showcasing authentic and diverse lineups that are purely about the music and culture," festival producer Paxahau said in a statement. "The 2023 lineup continues to showcase the festival's wide-range in programming, featuring an inspired selection of dance music's most in-demand artists, underground mainstays, and notable first-time performers; a potent cross section of seasoned vets and future generations of electronic music."
General admission and VIP weekend and one-day passes are available from movementfestival.com.
The full lineup, in alphabetical order by day, is below:
Saturday, May 27
2LANES
AK
AKUA
AL ESTER
AUX88 (LIVE)
BASEMENT JAXX (DJ SET)
BMG
CARL CRAIG FT. JON DIXON (LIVE)
DERRICK CARTER B2B MARK FARINA
DJ GODFATHER
DJ HOLOGRAPHIC
DJ MINX
ERIKA
FUSEGRADE
IDA ENGBERG
J HOUSE & MÁSQUENADA (HOUSEPARTY)
KASH DOLL
KYLE HALL B2B BYRON THE AQUARIUS
LADYLIKE
MACEO PLEX
MAGDA B2B MIKE SERVITO
MARK BROOM
MASTERS AT WORK
MILAN ATKINS
MISTER JOSHOOA
MJ NEBREDA
MOODYMANN
NIKS
OCTAVE ONE (LIVE)
ONYVAA
SHAUN J. WRIGHT
SHEEFY MCFLY
SHIGETO FT. DEZ ANDRÈS (LIVE)
SILLYGIRLCARMEN
SOUL CLAP
STACEY HOTWAXX HALE
STACEY PULLEN
SURGEON
THREE 6 MAFIA
TSHA
UNIIQU3
ZEDS DEAD (ALTERED STATES)
Sunday, May 28
ADAM PORT
AMX
ASH LAURYN
ASHER PERKINS
BEN KLOCK
BEN SIMS
BUZZ GOREE
CARIBOU
CASSY
CHARLOTTE DE WITTE
CHRIS LIEBING
CRAIG GONZALEZ
CYBOTRON
DECODER B2B JAY YORK
DJ CENT
DJ NOBU
DJ SEOUL
DRU RUIZ
EDDIE FOWLKES
ELA MINUS
GREEN VELVET
HUEY MNEMONIC
JOE HIX
KEVIN REYNOLDS (LIVE)
KEVIN SAUNDERSON B2B DANTIEZ
KiNK (LIVE)
LINDSEY HERBERT
MATHEW JONSON (LIVE)
MELÉ
PARANOID LONDON (LIVE)
REBECCA GOLDBERG (313 ACID QUEEN SET)
RICARDO VILLALOBOS
RIMARKABLE
ROBERT HOOD (LIVE)
RYAN CROSSON B2B SHAUN REEVES
SAM DIVINE
SANTONIO ECHOLS
SCAN 7 (LIVE)
SETH TROXLER
SPECIAL REQUEST
SUBURBAN KNIGHT
T.LINDER
ZIP
Monday, May 29
AUDIA
AUDION (LIVE)
BEATNOK
BEIGE
BEN SCOTT
BONOBO (DJ SET)
BRIAN KAGE
DJ SEINFELD
DOM DOLLA B2B JOHN SUMMIT
FATHER DUKES
FISHER
FJAAK
GIORGIA ANGIULI (LIVE)
HEIDI
HENRY BROOKS
JAVONNTTE & ISAAC (HYBRID SET)
KASKADE REDUX
KLANGKUENSTLER
LADYMONIX
LAUREN FLAX
LEE FOSS
LOGIC1000
LSDXOXO
LUKE HESS
MIJA
MULTIPLES (SURGEON & SPEEDY J) HARDWARE (LIVE)
REBŪKE
SARA LANDRY
SINISTARR
SKRILLEX
SOUNDMURDERER
SPFDJ
STEPHAN BODZIN (LIVE)
UNDERWORLD
WHODAT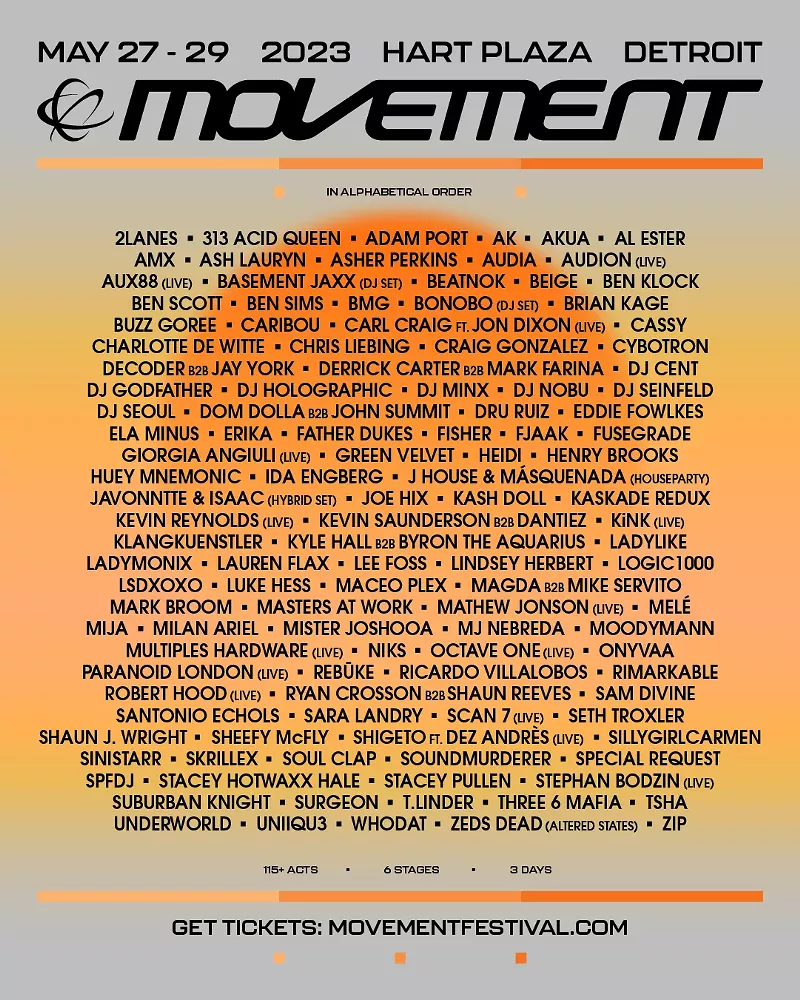 Coming soon: Metro Times Daily newsletter. We'll send you a handful of interesting Detroit stories every morning. Subscribe now to not miss a thing.

Follow us: Google News | NewsBreak | Reddit | Instagram | Facebook | Twitter