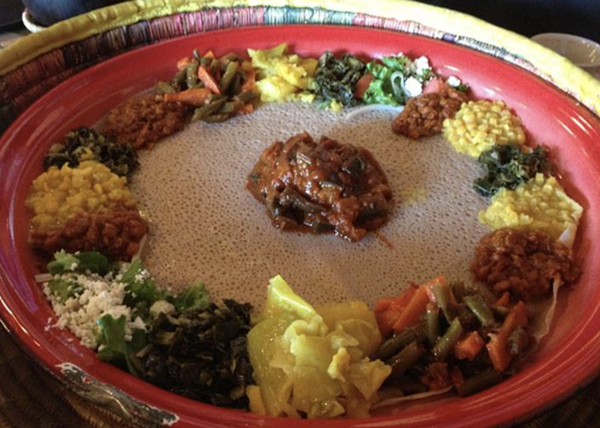 Southfield's Taste of Ethiopia is planning a new vegetarian and vegan restaurant in downtown Birmingham
Owner Meskie G-Yohannes tells
Metro Times
the new 2,200-square-foot space at Old Woodward and Hamilton could open as soon as April, though there's not yet a firm date.
Though G-Yohannes offers meat dishes at the Southfield location, she plans to keep it off the menu in Birmingham because more and more people are eating vegetarian and vegan.
"A lot more people are eating that way, and I myself am a vegetarian. If it was my way, then I would say 'no more meat' at the other restaurant," she says. "But the economy and market is not there, so whatever brings in the money is what it is. So I'll test it and see. If there's a demand for the meat, maybe we'll serve it."
For the uninitiated, Ethiopian cuisine is vegetarian-friendly to begin with, and communal meals are served on a large platter with
injera
, a soft, slightly spongy sourdough-like flatbread that's naturally fermented and made from teff grain. The injera is used as a utensil to grab the food, which is rolled into the bread and eaten. Ethiopian food is highly flavorful and full of interesting spices, though it's not spicy. There's little oil in the dishes, and the east African nation's cuisine is generally healthy.
G-Yohannes says she chose the new space at 183 N. Old Woodward Ave. because she was walking around downtown Birmingham one afternoon and found the 2,200-square-foot former Thai restaurant for lease. Her customers come from all over metro Detroit and as far as away as Toledo, she says, so she felt like a second restaurant would be more convenient for some.
The Southfield location opened 12 years ago and G-Yohannes says it felt like it was time to expand to accomodate her expanding customer base.
"The customers make me enjoy the work that I do," she says. "My customers, I love them, and they do the same — they talk highly about us and recommend our food to others, and that's a great gift."
So many restaurants, so little time. Find out the latest Detroit dining news with our weekly food newsletter delivered every Friday morning.