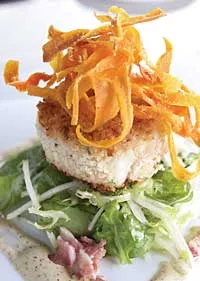 Assaggi's menu skips along the northern coast of the Mediterranean from Spain to Lebanon. But this restaurant is more about innovation than tradition. Yes, you will find veal scaloppini, but also paella, the traditional Spanish dish of seafood with saffron-infused rice; barbecued duck with Moroccan spices; and Israeli couscous with dates and apricots.
A dish that exemplifies Assaggi's creative approach is an "amuse" (pre-appetizer tasting) of steamed blue cultured mussels in an unthickened cream sauce that's delicately flavored with anisette, giving it a hint of licorice, a taste reinforced with an abundance of fresh tarragon. The sauce is savory, with chunks of pancetta, minced shallots and diced fresh tomatoes. Freshly grated Parmigiano Reggiano is scattered over the whole, most of it landing on the mussel shells, where it melts; the cheese is such an intense addition to the flavors that you'll want to find a discreet way to pick it off the shells.
The same dish was on the menu when Assaggi opened five years ago, and was among the inspired recipes that won praise in the press and a following of loyal customers. Co-owners George Gize and Josie Rotondo-Knapp soon expanded into the building next door, creating seating for 100. Now they've opened a courtyard patio that adds another 60 seats, weather permitting.
Gize and Rotondo-Knapp are ever-present in the restaurant, providing the hands-on attention to detail that makes Assaggi rise above other Mediterranean eateries. Each has more than 30 years in the business: Gize as a chef, Rotondo-Knapp in the front of the house. Both say the menu is a "team effort," with Gize pointing out that the pastry chef came in at 10 that morning, but by 2 in the afternoon he was prepping for dinner. "We allow our culinary team to bloom," he says.
Offering a taste of a chocolate ganache, Gize says the taste is piqued with habañero chiles, the hottest used in cooking. The ganache is rich, its sweetness restrained, and it's set off by an avocado-citrus sauce. Here the colors and flavors are playing off each other in exciting and inventive ways. "I love the flavor of habañeros," Gize says, adding that the bonnet-shaped orange pepper also appears in the crab cakes, paella and calamari, as well as the marinade for pork tenderloin.
The Georges Bank scallops were the best flavored I've had in some time. (Some scallops are soaked in phosphates to make them retain water and improve their appearance; these clearly were not.) Seared on the outside, the inside remained both firm and delicate, a treat to both taste and touch. Six hefty scallops encircle a rustic tart layered with grilled eggplant, zucchini and goat cheese.
My friend ordered Moroccan-spiced barbecued duck basted in pomegranate barbecue sauce and served with wehani rice (an aromatic rice that splits slightly when cooked) and braised greens. The duck emerged grease-free with a reasonably crisp skin, but we both felt it could have been seasoned with a lighter hand.
On another occasion we were celebrating a graduation. No one in our party — from 5 to 85 years old, neither vegetarians nor carnivores, nor low carb to no-holds-barred eaters — was dissatisfied with the entrées. The graduate enjoyed house-made spinach ravioli, stuffed with spinach and ricotta cheese in a simple tomato sauce. A simple sautéed chicken breast gets a crunchy coating from Parmigiano cheese. I ordered pork tenderloin, seasoned with coriander and served with a mash of carrots and sweet potatoes, as well as braised red cabbage and fennel; the interesting sides made this dish. The veal scaloppini was perfect, with that winning combination of artichoke hearts, capers and lemon.
Service at Assaggi is above reproach; servers know the food and the 120-bottle wine list. Sit outside or ask for a seat in the main dining room, where you can watch the semi-open kitchen and a huge brick oven from which loaves of pita, still puffy with hot air, will be brought to your table. A very good salad comes with dinner entrées; try the Gorgonzola dressing. The menu changes often to emphasize what's seasonal and freshest. In the new courtyard, a garden of tomatoes, peppers, basil, flowers and other herbs, as well as a (small) reproduction of Michelangelo's "David," conjure up the atmosphere of Tuscany. And, happily, the sound of the waterfall drowns out the traffic on Nine Mile Road.
Elissa Karg dines for Metro Times. E-mail [email protected].