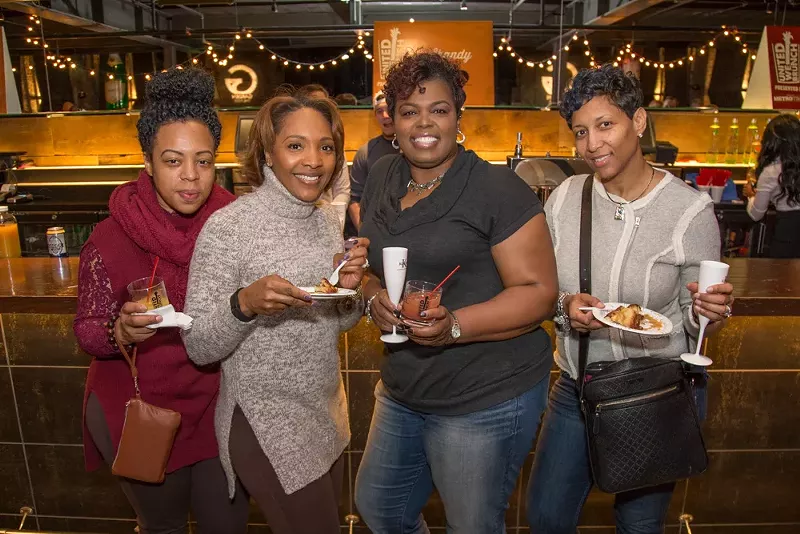 Is there a meal more beloved than brunch? Your answer should be an emphatic "No!"
The weekend feast is the perfect time to stuff your face with eggs Benedict and Belgian waffles in an effort to overcome that righteous hangover you earned the night before. Sipping a little hair-of-the-dog is also typically a requisite. Seriously, what is there not to love?
Maybe you already have a favorite brunch spot where the coffee is hot and the mimosas are strong — but why not expand your horizons a little?
Metro Times
' annual United We Brunch event is the perfect place to explore a host of Detroit restaurants with amazing brunch offerings. This year more than 20 will bring samples of menu favorites. Plus, there will be a ton of booze.
This year guests will get samples from Toast, The Morrie, River Bistro Detroit, Bolero Latin Cuisine, The Great Lakes Coffee Roasting Company, Treat Dreams, Gold Cash Gold, Cafe Muse, Mudgies, and plenty more.
OK, back to the booze.
Admission comes with six (SIX!) drink tickets, which get you access to Tito's Bloody Marys, Korbel mimosas, beermosas, spiked coffee, and pretty much any other boozy breakfast drink you could possibly imagine.
As for brunch food samples — those are unlimited.
This is starting to sound pretty good, huh?
Well, the whole thing takes place in the heart of Midtown at the Magic Stick and Garden Bowl, and you can knock down some pins for free while you're there. The Garden Bowl is the country's oldest continuously running bowling alley and JR JR (when they went by Dale Earnhardt Jr. Jr.) once performed on a stage stretched across the lanes. Lady Gaga also reportedly likes to hang out here while she's in town. And, we once shared the bar with Conor Oberst. It's a cool place, OK?
The whole thing happens on Saturday, March 24 from 11 a.m. to 2:30 p.m. and tickets are $30 for general admission and $45 for VIP. The extra $15 gets you two additional drink tickets, a commemorative glass, and access to a VIP area with exclusive tastings.
Want to buy your tickets now? Go to
MTBrunch.com
.
We'll see you there.
Get our top picks for the best events in Detroit every Thursday morning. Sign up for our events newsletter.