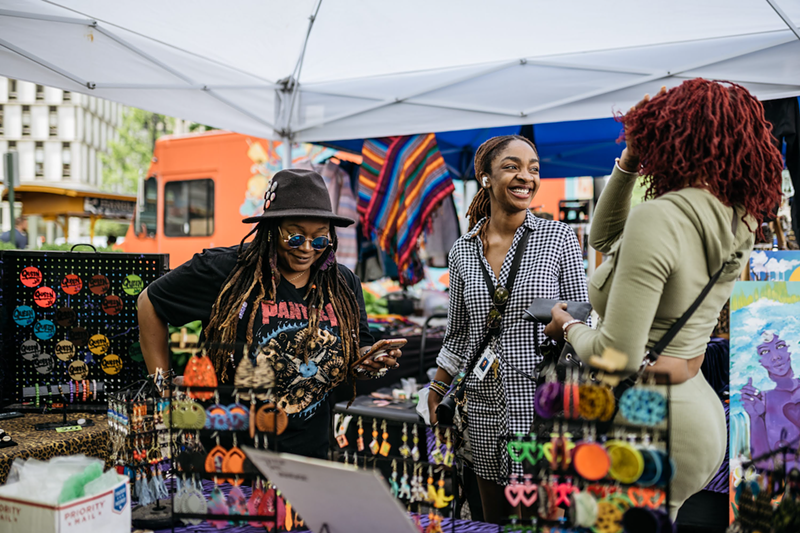 This Juneteenth, don't ask Black folks for nothing, because we will be relaxing and celebrating with our community. Juneteenth became a federal holiday in 2021 and commemorates the end of slavery on June 19, 1865, when Union troops announced "all slaves are free" in Galveston, Texas.
If you're looking for Juneteenth celebrations in metro Detroit, you've come to the right place. We'll update this list as more events are announced. Know any we missed? Hit us up at [email protected].

"Detroit Forever" presented by Downtown Detroit Partnership
Wednesday, June 14-Saturday, June 17
The Downtown Detroit Partnership is kicking off its first Juneteenth weekend celebration with three days of events across Campus Martius, Cadillac Square, and Beacon Park. On Wednesday, June 14, there will be live African dance and drum performances by Efe Bes of iBm and Bambuti, and poetry readings by Nandi Comer followed by a screening of Black Panther: Wakanda Forever. Friday, June 16 is the Black Business Showcase with vendors, food trucks, and live music from King Sophia at Cadillac Square. It wraps on Saturday, June 17 with the Beacon Park Night Market showcasing Black-owned business vendors, food trucks, and live music by DJ Lovebeam and the Aisha Ellis Quartet.
Campus Martius, Cadillac Square, and Beacon Park, Detroit; downtowndetroit.org/events/; no cover
Juneteenth Film Festival at Emagine Royal Oak
Monday, June 5-Thursday, June 29
The Emagine in Royal Oak will be showing a host of Black films throughout the month of June in honor of Juneteenth. Some of the films include Straight Outta Compton, Ray, Hustle and Flow, Respect, The Wiz, and Cadillac Records. Each film screening costs $5 with proceeds benefiting the United Negro College Fund.
Emagine Royal Oak, 200 N Main St, Royal Oak; Emagine-Entertainment.com

Mount Clemens "CommUNITY Family Reunion"
Friday, June 16-Monday, June 19
Mount Clemens has four days of activities planned. On Friday, June 16, the city will host a meet-and-greet for organizations that support those struggling with homelessness, unemployment, food insecurity, financial hardship, and medical or mental health conditions. Chicken and fish dinners will be available for purchase with proceeds going to a local scholarship. Saturday, June 17 is family fun day with board games, chess, spades, cornhole, hula hooping, and more. Sunday, June 18, will be a Father's Day celebration with free desserts until supplies run out. Finally, the official Juneteenth celebration is on Monday, June 19, with live music, food trucks, vendors, bounce houses, and family-friendly games.
Cairns Community Center, 58 Orchard St., Mount Clemens; no cover.

Beats and BBQ Juneteenth Kickoff
Friday, June 16, 6:30-10:30 p.m.
Juneteenth Jubilee Detroit and Black Leaders Detroit's 5th annual Freedom Weekend kicks off with live performances, barbecue, and art installations.
Batch Brewing Company; 1400 Porter St., Detroit, eventbrite.com; no cover.

Freedom Day 5K
Saturday, June 17, 8 a.m.-12 p.m.
Juneteenth Jubilee's Freedom Weekend continues with a 5K walk/run fundraiser at Marygrove Conservancy. Proceeds from the event will go toward supporting organizations that promote literacy, health, and financial literacy in Detroit.
Marygrove Conservancy, 8425 W McNichols Rd., Detroit; eventbrite.com; $20 donation.
Juneteenth Jubilee Stroll
Saturday, June 17, 12- 6 p.m.
Support Black businesses on Detroit's historic Avenue of Fashion with a day of giveaways, promotions, entertainment, an HBCU tailgate, and more. Free parking is available until 6:30 p.m. at lots B and D at Livernois and Pembroke.
Avenue of Fashion, Livernois Avenue and Seven Mile Road, Detroit; eventbrite.com; no cover.
Southfield Juneteenth Family Reunion
Saturday, June 17, 12-9 p.m.
This family-friendly event was first started in 2018 and is the oldest and largest Juneteenth celebration in Oakland County. Expect local vendors, art, food, children's activities, and more.
Catalpa Oaks, 27705 Greenfield Rd., Southfield; eventbrite.com; no cover.

Wayne County and Huron-Clinton Metropark's Juneteenth Heritage Day
Saturday, June 17, 12-4 p.m.
The second-annual Juneteenth Heritage Day will feature poetry by Mama Sol, a Juneteenth history presentation by Detroit Historian Jason Jordan, drumming by Sowande Keita and the African Drum Ensemble, live music from Aisha Ellis Trio, dance by Inner City Dance Scope, and more. There will also be food trucks, photo booths, and a kids' zone.
Nankin Mills Recreation Area, 33259 Edward Hines Dr., Westland; waynecounty.com; no cover
Madison Heights Juneteenth Food Truck Rally
Saturday, June 17, 12-6 p.m.
Madison Heights Civic Center Park will host Black-owned food businesses for the city's third annual Juneteenth celebration. Expect eats from Big Bo's Grill, Yeah It's Vegan, Grillz on Wheelz, Eight Claws Crab Boil, Mr. Creole, Motor City Sweet Treats, So Icy Italian Ice, and more. Beyond food, organizers promise live music, local vendors, pony rides, a petting zoo, spoken word performances, and bounce houses. Attendees are encouraged to bring canned goods and non-perishable items to donate to the Madison Heights Food Pantry.
Madison Heights Civic Center Park, 360 W. 13 Mile Rd., Madison Heights; madisonheightsjuneteenth.com; no cover.

Rhythm and Soul: A Juneteenth Celebration at Willis Show Bar
Saturday, June 17, 8 p.m.
Featuring the At-Will Band and special guests.
Willis Show Bar, 4156 Third St., Detroit; willisshowbar.com; $10 in advance, $15 at the door.
Pontiac Juneteenth Freedom Day Event
Saturday, June 17, noon-10 p.m.
The City of Pontiac is celebrating its first-ever Juneteenth event with food, entertainment, and fireworks. Programming includes a celebration on Bagley Street from noon-4 p.m., a parade from 4-5 p.m., and downtown activities and fireworks from 5-10 p.m.
Downtown Pontiac; no cover.

Robert Glasper at the Russell Industrial Center
Saturday, June 17, 9 p.m.
Four-time Grammy-winning pianist Robert Glasper will make his Detroit debut for this Juneteenth concert at the Russell Industrial Center presented by MeanRed Productions. His music blurs the boundaries between jazz, hip-hop, R&B, and rock & roll with a range of collaborators.
Russell Industrial Center,1600 Clay St, Detroit; mean.red; $40

Juneteenth Black Farmers Market
Saturday, June 17, 11 a.m.-4 p.m.
Annual kickoff for the Detroit Black Farmer Land Fund campaign and community gathering with youth activities, farm stand, bubble therapy, pizza by Its Food Detroit, and a performance by Mollywop!
Oakland Ave. Urban Farm, 9354 Oakland Ave., Detroit; no cover

Freedom Fest
Sunday, June 18, 12-6 p.m.
Black Leaders Detroit and Juneteenth Jubilee Detroit present Freedom Fest in partnership with the Charles H. Wright Museum of African American History, the City of Detroit, and the Metro Detroit Black Business Alliance. The event will take over Shed 5 of the Eastern Market and includes a rib cook-off.
Eastern Market Shed 5, 2810 Russell St., Detroit; mdbba.com/juneteenth; no cover.

Liber8 313 at Spot Lite Detroit
Sunday, June 18, 6 p.m.-midnight
Black Techno Matters is coming to the Blackest city in the U.S. and the birthplace of techno for a night of music featuring all Black femme artists. There will be an hour-long panel with the performing DJs on the meaning of liberation for Black artists in Detroit followed by two stages of music by Kindle, something blue, SABETYE, DJ Etta, Blackmoonchild, AK, and The AM/AMX.
Spot Lite Detroit, 2905 Beaufait St, Detroit; ra.co; $11:45.

Black Bottom Live Music Series presented by D.Cipher
Monday, June 19, 2-6 p.m.
Live music, local vendors, and mindfulness practices will be featured at the Campbell Terrace on the Dequindre Cut.
Dequindre Cut Greenway, Detroit; instagram.com/wearedcipher; no cover.

Subscribe to Metro Times newsletters.

Follow us: Google News | NewsBreak | Reddit | Instagram | Facebook | Twitter