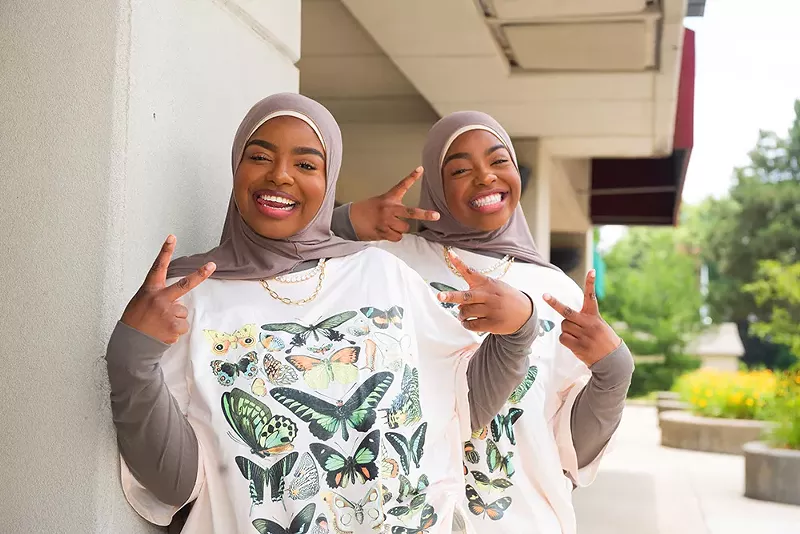 Stacey Holton watches in disbelief as the waitress inside of Canton's Coffee Haus serves her twin daughters two stuffed croissants and two slices of cake. She gives them that, "Are you serious?" look and they respond with a, "Yes we are!" Holton shakes her head and says nothing else. One thing she understands is that her 23-year-old songbirds, who go by the stage name Aint Afraid, are going to unapologetically do "them" every chance they get.
That same attitude has led to them amassing 310,000 Instagram followers, nearly 50,000 YouTube subscribers, and millions of views and streams in less than three years. Their music is a form of pop, soul, hip-hop, and R&B that carries messages of inspiration, community, and love — think India.Arie with a pinch of Summer Walker.
Born Zakiyyah Rahman (aka Yahzi, aka WiZdumb) and Sakinah Rahman (aka Inah, aka Straingth), they moved to Michigan from Baltimore when they were toddlers. They're the oldest of five siblings and were inspired by their mother's musical taste growing up.
"Our mother played music around us that had a message — 'Man in the Mirror,' 'We are the World,' songs with meaning," says Yahzi. "So music for us was a tool to advocate, a tool to bring joy to people, and uplift someone's day. So when we tapped into making our own songs, naturally they were all positive because that's what we knew music to be."
The duo took music seriously from as early as 8 years old, even preparing for their elementary school music class as if it was the Grammys. "We performed 'Cry' by Karina Pasian," says Yahzi. "We were rehearsing like every single day. We felt like little stars in our heads."
"We had watched an interview from Anita Baker once and she said, 'All my life I knew I was special,' and it was that right there," adds Inah. "You kind of have this feeling like you know you're destined for this and that motivates you to keep doing it."
By the time they were teenagers, they were known in the community as the "singing twins." They performed at conferences, community events, and won the "Ypsilanti Young Citizens of the Year" award in 2017. Singing and activism went hand-in-hand, and the community embraced them.
"Instead of sitting down with the mayor or a representative of our community, we would perform a song or a poem," Yahzi says. "We'd always use art to tell our story or the story of others and to get our message across."
When Yahzi says "message," she's referring to the displacement that her family experienced all through their childhood. The sisters battled poverty and attended at least 10 different schools between kindergarten and 12th grade.
"We were born into homelessness, from there we went into transitional living and from there we lived a life on [government assistance]," Yahzi says. "We were in that situation for most of our lives, and from being a product of poverty you understand the importance of telling your story."
The sisters don't look at their misfortune with disdain or sadness. They've never looked for sympathy and have made it a point to view their entire childhood through a positive lens.
"When I look back at our lifestyle, it gave us more than it took away from us," adds Sakinah. "We didn't have the riches and luxuries of other people's lifestyle, but it gave us patience, being appreciative, and learning to take real substance everywhere that you go. Having nothing made us realize that we had everything."
By the time they were in college the hunger to start going after their musical aspirations was starting to take over. College life and music life started to be a tough mix.
"They were at Eastern [Michigan] and they said, 'Momma, we're not going back to school,'" Holton says. "They would turn down gigs like, 'Well we can't do that show because we have biology.'"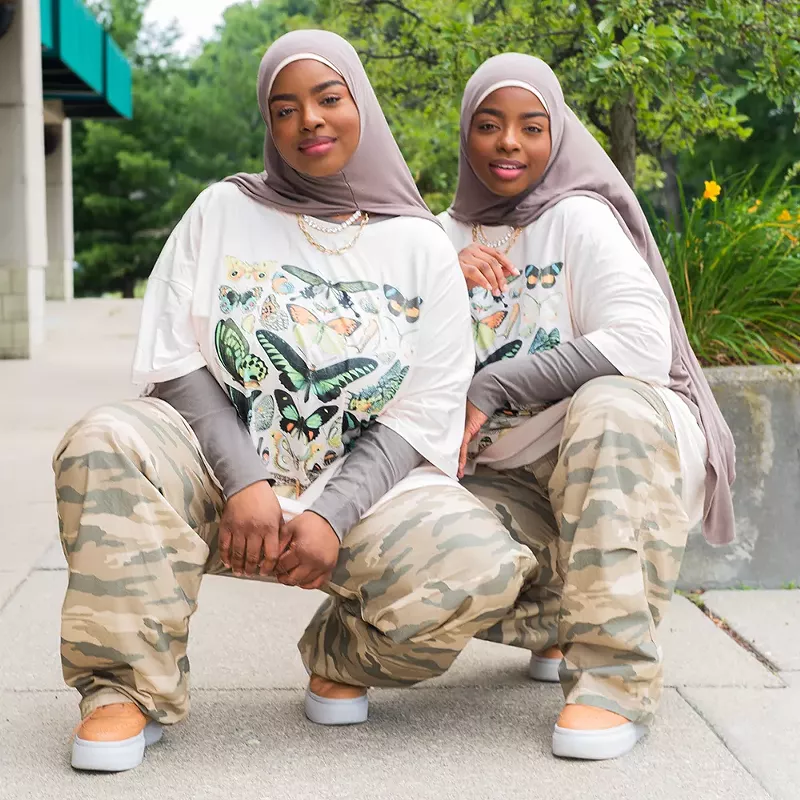 Holton decided to support her daughters' goal to pursue music full-time, and the duo dropped out of college. That decision came on the eve of the pandemic, which turned out to be a good thing. With no outside distractions, the sisters were able to hone their look, their marketing, their sound, video production, and all the other facets to being independent artists. They started releasing music to streaming sites in 2020, including lyric videos on YouTube. The first few songs received streams in the low thousands, but their 2021 album Ain't Afraid and the accompanying visuals initiated a snowball effect.
The video for their 2021 song "LBP" is an upbeat ode to female empowerment that highlights a true story of a college counselor that tried to persuade the sisters to not pursue music and told them rudely that they needed to find their own independence from each other.
"We just wanted to take our classes together. She was like, 'You guys won't be able to live your life together,'" Yahzi says. "It was funny to hear her say that. ... But in that moment, we told her, 'You don't know who we are. We didn't ask for your opinion. We didn't come here for your guidance on our lives.'"
On "Crimson" the sisters sing a compelling ballad about putting value in the wrong things and people. "It's a deep song — it has a message of depth," Inah says. "It's about not getting caught up in this life. People be out here just wilding out and being crazy and they think they're winning, when they're not."
"Heavy Guarded Heart" is one of their most emotional and sensitive songs in which they explore topics common in many women. "That's a very touchy song," Yahzi admits. "I think we're affirming the girl in us, the young woman in us, and many other women out there. The song starts with 'I got daddy issues.' That's true for us. My father wasn't in my life, no real men in my life, there were no strong relationships or examples. I have so many trust issues, so many different things to handle when it comes to how I view men and what I think about for the future of relationships."
Though Aint Afraid has a very current and contemporary sound, they know the appearance of twin Muslim sisters tends to throw people off.
"Sometimes they say things like, 'Ya'll speak English?' 'Ya'll don't have an accent?'" says Yahzi.
"People don't expect us to talk about what we do or they don't expect us to be the ones behind the voice. The shock factor is actually in a beautiful way. We represent so many things — Black women, Muslim women, young women," adds Inah.
Their Muslim faith is woven all through the themes of their music without verbally being centered around it. It's obvious by the hijabs and chadors that they are Muslim women, but they don't address their identity in an over-the-top way in their music — just elegant written songs that represent all the attributes from their faith.
"I think the beautiful thing about showing some aspects of our faith is that we have the same values as you," Inah says. "We all want peace, love, and unity, and we ain't afraid to share positivity. The beautiful thing about being able to incorporate our faith into our music is that you don't even know we're incorporating it."
The sisters of Aint Afraid admit that sometimes there is some negativity that pops up in the comments section of a social media post, but they pay it no mind. They're beautifully focused on their purpose and their music so much that they don't let anything knock them off their square. They believe in each other and they feel their brand will not only cross all race and spiritual boundaries but will make a significant impact on mainstream music.
"Aint Afraid can be a stamp that's bigger than music," Yahzi says. "Community work and activism is the core of who we are. I would love to have community centers in our name, or a program put in place to help develop underprivileged communities, to educate them and give them resources to continue to help themselves. ... This is the life we always wanted to live. We're living out our 8-year-old [self]'s dream."
From the 2023 new Detroit music issue.
Coming soon: Metro Times Daily newsletter. We'll send you a handful of interesting Detroit stories every morning. Subscribe now to not miss a thing.

Follow us: Google News | NewsBreak | Reddit | Instagram | Facebook | Twitter