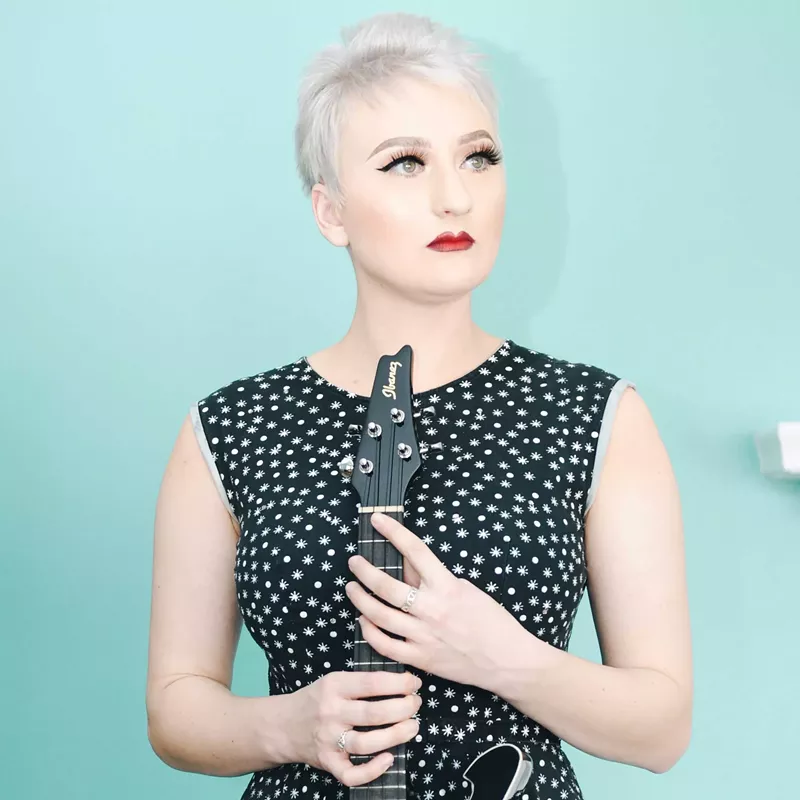 "Timing is everything if you're gonna be a gunslinger," Emily "Rose" Seward croons on the title track of Rose St. Germaine's new eclectic Americana album. Released in November and mastered by Third Man Records, Gunslinger investigates the good, the bad, and the ugly lurking inside all of us.
"There's a certain nostalgia to 1960s Spaghetti Westerns," Seward says. "I was looking at the idea of our personal pasts, America's past, and acknowledging the different lenses from which we can perceive time."
It took more than two years for Seward and co-collaborator Alex Nouhan to drop the thirteen-track boot-stomper, Rose St. Germaine's second full length since its 2020 debut, Visions. Along the way, the duo watched countless classic shoot-em-ups, rewound dusty reel-to-reel tape, and even stumbled upon a picturesque llama burial ground. (See the Gunslinger album cover art. R.I.P, Fuzzy.)
"We wanted to reinvent the Western genre while taking it in a more psychedelic direction," says Seward, who plays piano, organ, and hammer dulcimer in the band. She pens Rose St. Germaine's soul-bending tunes while guitarist and multi-instrumentalist Nouhan holds down a rootsy rhythm.
As Seward puts it, her creative partner, co-arranger, and recording engineer "flipped her world upside down" upon their first meeting in 2019.
The pair's chemistry is as plain as the high noon sun. Combining elements of intimate dream pop, lush folk, and trippy, theatrical indie rock, Gunslinger flutters like a bird, kicks like a mule, and manages to leave no emotional stone left unturned.
Like most humans, Seward found that 2020's plague brought introspection.
"I was reflecting a lot on my past, my experiences, and present relationships. Trauma is one aspect of the album," she says, adding that it's also about trying on different masks.
Opening track "My Kingdom" is a groovy, country-tinged force of nature told from the perspective of an emotional bandit.
"This is someone with an awareness of their manipulation, but is fully charging ahead," Seward says. "I'm processing the part of myself that wonders what goes on in peoples' heads."
Recorded primarily to analog tape, Gunslinger feels wise beyond its years — not unlike Seward, 27.
Growing up homeschooled in Southfield, the songwriter preferred silent movies, '70s glam rock, and Rosemary Clooney ballads to whatever tween sensation the Disney Channel was offering up.
"I wasn't isolated by any means, but I also didn't know what the world was," she says. "I lived vicariously through classic films."
One of Seward's earliest memories was attending classical and organ concerts with her parents. More than simple entertainment, young Seward recognized that music could equal power.
"I was terrified of the organ," she says with a faraway smile. "It was so terrifying and scary to be surrounded by sound that way. I just knew I wanted to dominate it."
Anyone who's attempted to play theater organ knows this is a tall order. Determined, Seward rolled up her sleeves, first with piano lessons, then with serious organ studies. By her thirteenth birthday, she was winning over audiences at local and national concerts. Though her hard work paid off, the plot darkened. She suffered life-changing abuse at this tender time.
"There's a lot of trauma wrapped up with that period of my life," says Seward. "I said 'screw music.' I was in high school when I decided I wanted to become a teacher."
Seward, who graduated from Central Michigan University and proudly teaches high school social studies, has since allowed her musical passion to roost.
Built in the 1940s, her Ferndale home is a quirky-cozy testament to the singer's creative passions. A painting depicting one of many alter egos adorns the living room wall. The persona — part of her work in Detroit clown performance art troupe, BURN mARALAGO — is "Skeeball," "an exiled alien clown who continues to try, and fails, to make Earth-friends."
She says there is some connection between the masks she wears, both in song and on stage.
"The songs or skits I find most effective are about fundamentally parodying real experiences or deep issues that we all have," she says.
During our interview, the artist's two dachshunds, Coney and Fred, clack across the creaky hardwood floors of her home studio. Track "Tennessee" was inspired by her journey to the state aftering hearing about a busted puppy mill.
"My friend and I jumped in my car, and in 24 hours, we had a dozen dachshunds," she laughs.
Four years ago, when Seward first relocated to Ferndale, her life wasn't all so clear. It's no wonder why she credits Gunslinger as a huge source of accomplishment, personally and professionally.
"I had written all these songs when I was in college for teaching. I didn't know what to do with them and I just wanted somebody to record demos," she says, adding that Nouhan and founding drummer Brendan Tracey were instrumental to her 2019 return to music.
"The whole reason I had this backlog to share with Alex was because I was using the songs as a therapy tool," she adds. "I found I was able to express things in song and understand my situation better by writing music."
At times hauntingly minimal (see: delicately-plucked opener "Seed Song") and totally otherworldly (check out Seward's hammer dulcimer solo on 'Phantom Promises'), Gunslinger is a homegrown job, mixed by Nouhan at his Ferndale studio (Both, LLC) and released by Detroit label Remove Records. A big-shot producer in Nashville, however, provided some much-appreciated feedback.
"This producer worked with Harry Styles, and he liked our mixes. We felt 'mission accomplished.' We weren't sure how they would translate, so we had to take them to the best speakers in the world," she says. "Going to Tennessee was a Gunslinger odyssey, a field trip."
So, has the band managed to cast out their demons and trot into the sunset? As long as Seward's kicking, she'll likely be venturing into the unknown, making music from the chaos of this wild, wild life.
Bad guys, beware.
"In the end it doesn't matter how good of a gunslinger you are," she says. "If you're timing's off, you're going to get gunned down."
From the 2023 new Detroit music issue.
Coming soon: Metro Times Daily newsletter. We'll send you a handful of interesting Detroit stories every morning. Subscribe now to not miss a thing.

Follow us: Google News | NewsBreak | Reddit | Instagram | Facebook | Twitter