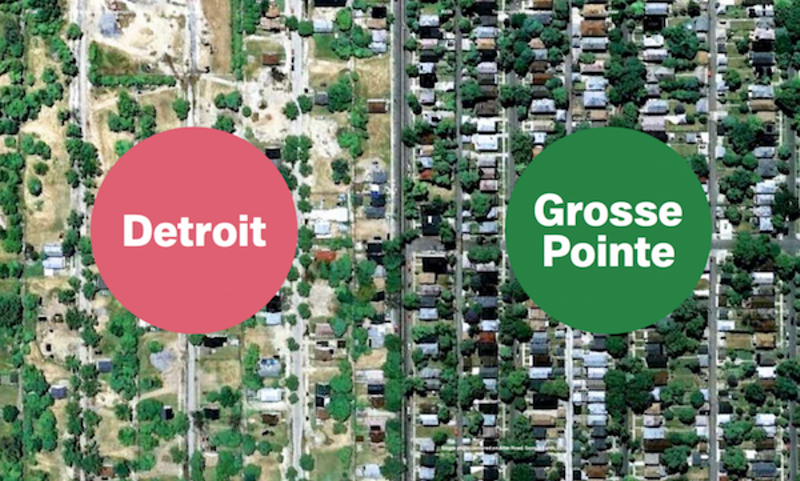 As we ramp up toward the remembrances of the assassination a half-century ago of Dr. Martin Luther King Jr., we risk letting another, much more local King anniversary slip by without mention: The civil rights leader's visit to Grosse Pointe in March of 1968.
We'd almost forgotten it even happened, and might have, if not for a sharp-eyed resident of the Grosse Pointes who jogged our memory.
That person is Grosse Pointe Park resident Katherine Gowman. She has a rock-solid pedigree as an east sider. Her father, Geoff Gowman, was instrumental in saving the Alger Theatre, now showing films for the first time since the 1980s. She spent her childhood in the Grosse Pointes, and grew up taking the bus into Detroit since she was a teenager. Recently, after spending almost 20 years away from Detroit, Katherine has returned, buying a house — a duplex — in Grosse Pointe Park, two blocks away from Alter Road. She and her family present proof that you can love the Grosse Pointes and still love Detroit. The affection doesn't have to be mutually exclusive.
If we appear to be introducing Katherine carefully, putting her Grosse Pointe bona fides way up front, it's because she has created
a website that showcases how the two communities are different
. It offers carefully documented history, including photographic imagery of the past and the present. Much of it concerns the stark barriers between Detroit and the Grosse Pointes:
the physical barriers that block off streets
, the readily apparent
differences in the quality of housing and recreation
, and statistical differences between Detroit and Grosse Pointe
in crime, education, and home values
. It includes a glimpse of
the "point system"
by which prospective Grosse Pointe home buyers were thoroughly vetted, many without their knowledge. Some of the other history makes it in, including
maps showing 40 years of a color line shifting east and then halting at the suburban border
. And that's before even getting into the de jure segregation of the days of restrictive covenants.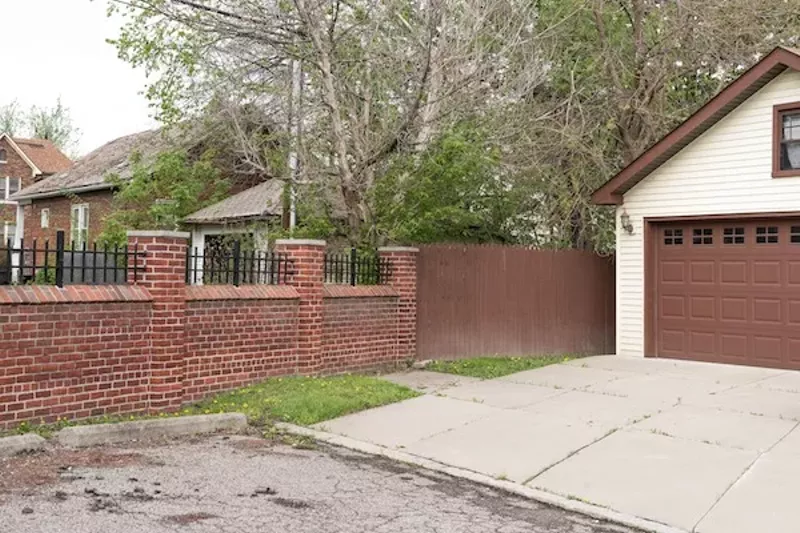 Katherine didn't set up the website out of any spite. Rather, she says of the history she helps uncover, "I think it's really interesting." She adds that she had originally set it up because she lived in Germany for such a long time and found it difficult to help people there understand how one city could be so disinvested and how a handful of its suburbs could be so prosperous. Germans looking at the aerial imagery showing the differences between the gap-toothed Detroit side and the densely built-up Grosse Pointe side simply thought the Detroit side had an abundance of farms. Katherine struggled to find a way to explain to Europeans that half a neighborhood's houses can disappear without a single bomb dropping.
Of course, at the heart of Katherine's website is the reason we discuss it today:
the visit of the Rev. Dr. Martin Luther King Jr., who came to Grosse Pointe in March 1968, less than a month before his assassination
.
He spoke at Grosse Pointe High School. It may be difficult for some people today to understand that King, regarded widely today as a hero, if not a prophet, was deeply reviled by many whites. The far-right Detroit group Breakthrough charged King with being a red traitor, a supporter of the Viet Cong, and a speaker seeking to sow discord and "bring our country ever closer to a state of total anarchy, communist revolution, overthrow, and finally conquest." A
broadside issued by the group
growled, "Let him come if he dares!"
School had been closed at 4 p.m. so the bomb squad could comb over it. Meanwhile, a convoy of demonstrators in decorated cars circled the block screaming "King is a traitor" and other slogans.
As King began speaking, members of the audience erupted one by one, shouting and screaming in protest, going limp when finally in the grip of the police. At least once, Dr. King clucked, "… everybody talks about law and order."
What did King have to say to the estimated 3,200 people there to hear him? Here's a section of the speech that seems especially relevant:

There are two Americas. One America is beautiful for situation. In this America, millions of people have the milk of prosperity and the honey of equality flowing before them. This America is the habitat of millions of people who have food and material necessities for their bodies, culture and education for their minds, freedom and human dignity for their spirits. In this America children grow up in the sunlight of opportunity. But there is another America. This other America has a daily ugliness about it that transforms the buoyancy of hope into the fatigue of despair. In this other America, thousands and thousands of people, men in particular, walk the streets in search for jobs that do not exist. In this other America, millions of people are forced to live in vermin-filled, distressing housing conditions where they do not have the privilege of having wall-to-wall carpeting, but all too often, they end up with wall-to-wall rats and roaches. Almost 40 percent of the Negro families of America live in sub-standard housing conditions. In this other America, thousands of young people are deprived of an opportunity to get an adequate education. Every year thousands finish high school reading at a seventh, eighth and sometimes ninth grade level. Not because they're dumb, not because they don't have the native intelligence, but because the schools are so inadequate, so over-crowded, so devoid of quality, so segregated if you will, that the best in these minds can never come out. Probably the most critical problem in the other America is the economic problem. There are so many other people in the other America who can never make ends meet because their incomes are far too low if they have incomes, and their jobs are so devoid of quality. And so in this other America, unemployment is a reality and under-employment is a reality. [At this point, King was again interrupted by another screaming audience member.]
Katherine's website attempts to find out, 50 years later, how far we have come at addressing the situation so ably diagnosed by Dr. King a half-century ago. Much has changed, and not all of it for the better. The differences along stretches of Alter and Mack have become starker, if anything, a reflection of the country's growing economic inequality, expressed as it so often is through the prism of race.
In this read-the-headline-then-condemn-the-messenger world, Katherine has her reservations about presenting this work, especially to some of her neighbors. Are they big enough to understand that a critique of our political boundaries and what they entail doesn't mean an attack on those enjoying the sunny side of the street? She hopes so.
In fact, she's working on another website that takes a look at redlining. Her informal research leads her to believe that, wherever redlining was introduced first, segregation tends to be the most engrained. It sounds like a fascinating experiment that should attract the attention of people from here to Germany.
And, yes, that includes the Grosse Pointes too.
Stay on top of Detroit news and views. Sign up for our weekly issue newsletter delivered each Wednesday.