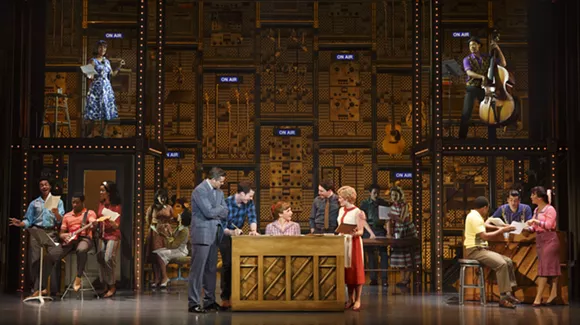 While most millennials may only recognize Carole King's music from the "Gilmore Girls" theme song or from an oldies station on the radio, the Broadway stage production "Beautiful: The Carole King Musical" puts the epic songstresses' music into a whole new wonderful light that people of any age can really get down with.
The musical is the perfect vehicle to showcase the crazy amount of songs that Carole King wrote with then-husband and writing partner Gerry Goffin. You'll hear hit after hit like "Will You Love Me Tomorrow" and "One Fine Day" that I had absolutely no idea that King had any hand in making.
Julia Knitel does a fantastic job of portraying King throughout the show. Some of those wigs were pretty awful, but Knitel brings the warmness and love that King embodies. Liam Tobin portrays Goffin, but it falls a little flat. Maybe just because the character of Goffin is portrayed as so unlikeable since he knocked King up, married her, and then cheated all the while not really caring for her own feelings.
The show really soars when it's just Knitel playing King alone at the piano. While the production heavily highlights the King-Goffin relationship (and how could they not — it's a love story), the solo work that led to
Tapestry,
one of the best pop albums of all time, is where I wanted more. Songs like "So Far Away" and "It's Too Late" were the best moments of the show.
"Beautiful" does fall into the trap that many biography musicals tend to tumble into: the timeline is a little fuzzy and not all of the songs are pushing the storyline. Carole saying good-bye to friends and fellow songwriters Cynthia Weil and Barry Mann (Erika Olson and Ben Fankhauser) before she moves to L.A. while singing "You've Got A Friend" made total sense, but then the show goes full on concert with performances of "The Locomotion" and "On Broadway."
Regardless of its minor flaws, "Beautiful" is totally worth seeing, especially if you grew up with the music. Every time a new song started and the actor began to sing, I could hear a collective "aww" from the baby boomers in the audience. Nostalgia is running deep in the Fisher Theatre right now, and luckily, you can still see the show until January 8.