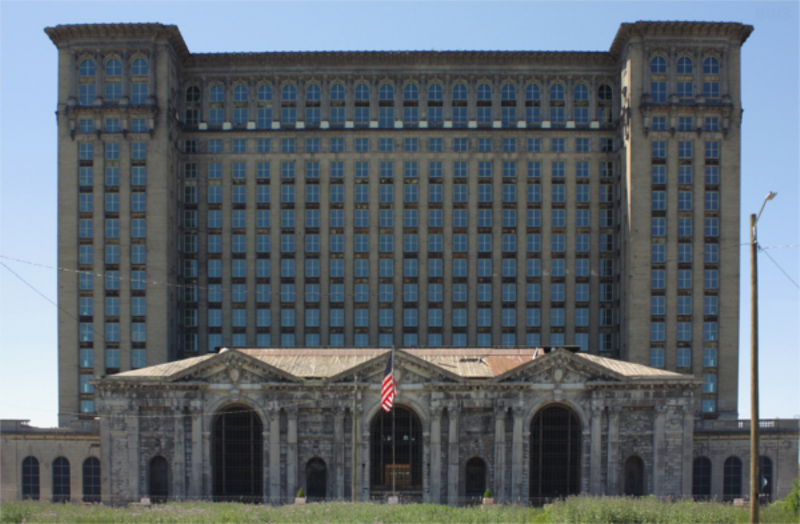 If words were wrecking balls, Michigan Central Station would be a smoking pile of rubble this morning.
That's because Nolan Finley wrote
a blistering editorial last night demanding the station be sold and fixed up or razed to the ground
. Given his tone, you definitely think he would prefer the latter. (Preferably, with the earth salted, so that nothing may grow.)
As editorial page editor of
The Detroit News
, it's his right to issue opinions about architecture and development. It's his right to issue opinions about anything. (When he said
a few years ago
that nobody in downtown Detroit served a good meal and a drink after 10 p.m., that was his right too.)
Now, not all of us are as architecturally savvy as the residents of, say, Garden City or Livonia. But we must admit that there are some who will always see an old building, temporarily unoccupied, as an eyesore — an impediment to investment and development. That thinking guided Detroit through years of high-profile demolitions that did nothing to revive a flagging city. In the end, private investment rebounded not via demolitions, but through pump-priming with public money — tax abatements, below-market-rate land swaps, and direct subsidies, as well as tax-free bonding authority and a generous showering of brownfield credits from our local and state development authorities to the public-private partnerships.
No, we did not demolish eyesores until our dreams came true. In fact, even before the Morouns began tarting up the old railroad station with new windows, our on-the-street reporting showed that people in Corktown quite enjoyed the station being the focal point of their neighborhood.
In particular,
we spoke with resident Putnam Weekley four years ago
, and he told us an earful:
I meet so-called enlightened people who say, "We should bomb that place and raze it to the ground." And I'm like, "Well, what are you going to replace it with?" I kinda like the economy that's built up around the train station. I mean, my whole life revolves around the train station. I've got my bank, the place I work, the grocery store, my house, my bar. It just circles me, and it's beautiful.
Of course, that was four years ago, back when Nolan Finley couldn't find a meal after 10 p.m. that wasn't a coney dog. Take a tour of Michigan Avenue today, and you'll find that quite a lot has changed even since then.
Change, of course, is the great constant of American cities. Love it or loathe it, it does happen.
Until recently, changes in Detroit were quite slow. But since 2005, the pace has really picked up. Now, the formerly unthinkable is a reality. Penthouses atop the Book-Cadillac? A $12 million renovation of the Milner Arms? Capitol Park lofts going for high prices? A request for proposal is even out for the Leland, long considered one of the last bastions of downtown's slackers.
Who could have seen this coming four years ago? Not everybody. Back then, at least one journalist's attitude was, "Last person out of downtown, turn out the lights," right?
The point is: Nobody knows exactly what the market forces, architectural tastes, or even transportation modes of the coming years will be. It may well be that a plutocrat will ride to the rescue to renovate the beaux-arts showpiece. Deep-pocketed developers have a long and cherished history of losing money on projects; if it's their desire it's their privilege (see the Renaissance Center).
But maybe, in the end, it will make sense to own a historic building integrated with public space instead of creating a closed campus, capitalizing on Detroit's history instead of flattening it, shoring up that which is decrepit instead of spending a fortune tearing it down.
But that would take something called "vision."
Apparently, that is in mighty short supply in some quarters.
Stay on top of Detroit news and views. Sign up for our weekly issue newsletter delivered each Wednesday.