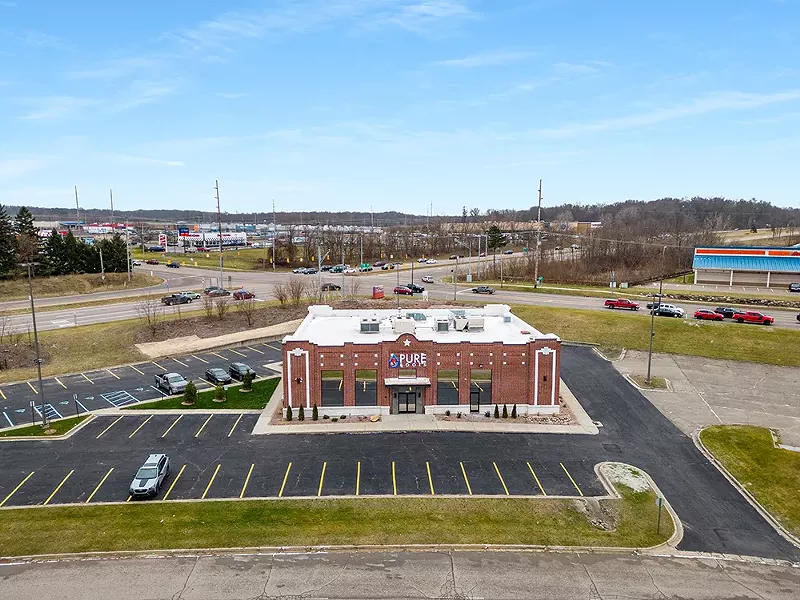 A former Don Pablo's Mexican restaurant in Battle Creek that has been vacant for nine years will soon be reborn as Michigan's largest cannabis dispensary.
Pure Roots is behind the $5.6 million development, which sees the building at 5805 Beckley Rd. transformed into a state-of-the-art, 8,000-square-foot dispensary.
"It was a complete interior gut and renovation," says Reni George, Pure Roots' vice president of governmental affairs. "Imagine freezers and all kinds of restaurant equipment. In the underground, plumbing, electrical — everything was a complete gut. We had to do all new landscaping, all new sprinkler systems. There isn't a facet of the building that we haven't touched, other than the external brick and fixing a couple holes."
George points out that the store, which is licensed for adult-use sales for anyone 21 or older with a valid ID, is the only cannabis dispensary located on an outlot of an active shopping mall. The Pure Roots dispensary is on the outskirts of the Lakeview Square Mall property, which George says is symbolic of the mainstreaming of cannabis in Michigan.
"We feel that there are wonderful clients and patients that use cannabis for recreational and medical use, and are effectively represented by a real estate footprint of this size," he says. "This is more akin to the normalization of cannabis use as a part of daily, normal, high-functioning individuals. The old [characterization] of people who use and can't function was based on falsehoods and mischaracterization by the war on drugs."
George describes Pure Roots dispensaries as having a "high apothecary style" driven by technology. New customers take a survey on an iPad asking them questions about desired effects and frequency of use. Then a knowledgeable budtender gives them a guided tour of the store floor, asking additional questions and providing consultation.
"We want to provide a consistent, easy experience for people," George says. "We always say, 'Hey, what do you want to feel?' It's kind of guided to that level."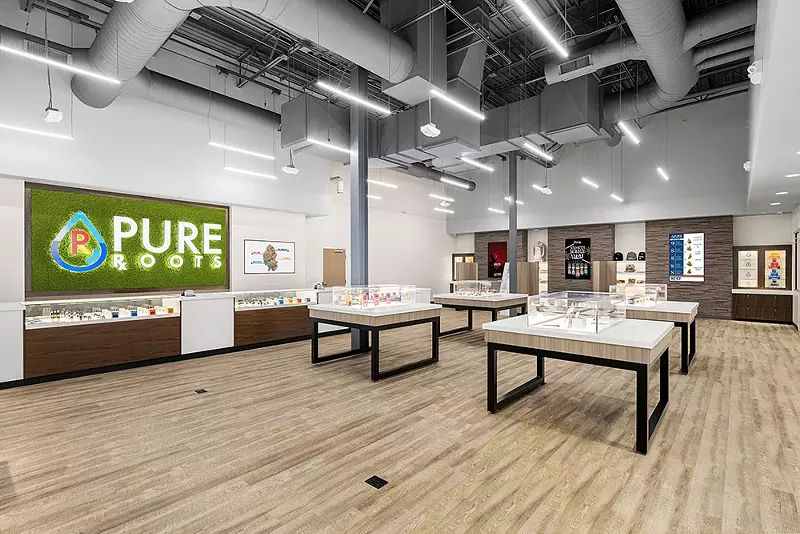 The store's products are categorized by desired effects, including "Rest," "Relief," "Revive," and "Reflect." They're also sold in prepackaged boxes with a de-humidification packet, which the company says delivers long-lasting potency, aroma, and flavor.
The company also says its products are free of remediation chemicals other makers use to pass state-regulated testing. It also focuses on educating customers about terpenes found in its products, or essential oils present in various strains that impact the effects they will have on users.
Most people understand cannabis strains as being categorized as a sativa, known as uppers, or indica, known as downers, or a hybrid of the two. But George says it's important for consumers to start understanding which terpene profiles they prefer.
"Where the previous nomenclature was hybrid or indica, that categorization doesn't give the consumer a consistent experience," George says.
The stores also use kiosks for contactless payments, which George says is both a way to prevent theft and also streamline costs at a time when the price of cannabis in Michigan has been dropping, cutting into the bottom line of cannabis companies.
George says the store will employ around 10 people.
Pure Roots also plans to soon launch a mobile app where customers can order products online for delivery and get updates on when they're scheduled to arrive, much like Uber.
The dispensary opens to the public on Wednesday, Feb. 1 and will celebrate a grand opening party starting at 1 p.m. on Saturday, Feb. 11.
It's the company's fourth location, following stores in Ann Arbor, Center Line, and Lansing. George says the company is licensed for seven more dispensaries in Michigan, with plans to open in Muskegon, Kalamazoo, and Bedford Township in the near future.
More information is available at pureroots.com.
Coming soon: Metro Times Daily newsletter. We'll send you a handful of interesting Detroit stories every morning. Subscribe now to not miss a thing.

Follow us: Google News | NewsBreak | Reddit | Instagram | Facebook | Twitter