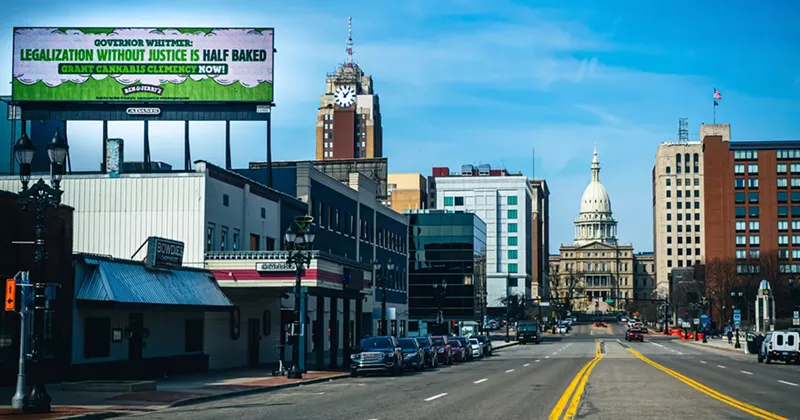 You may have spent 4/20 getting baked and eating Detroit-style pizza, but Ben & Jerry's used the holiday to address something more serious.
The Vermont-based ice cream company took out a billboard in Lansing calling out the hypocrisy of having legal cannabis in Michigan while people are still serving time for marijuana-related offenses.
"Governor Whitmer: legalization without justice is half baked. Grant cannabis clemency now!" the billboard near the Michigan State Capitol reads.
The campaign is calling on Whitmer to grant clemency for cannabis convictions under the clean slate bill she signed in 2021. The bill made way for the removal of cannabis convictions and other misdemeanors from Michigan residents' records.
Whitmer used the bill to commute the sentence of Michael Thompson, who has become a poster child for the devastating effects of the war on drugs. The Flint native was released in 2021 after spending 25 years behind bars for selling three pounds of weed to a police informant. His sentence was the longest served for a nonviolent drug charge in Michigan's history.
"We thank Governor Whitmer for having the courage to address the injustice in Michael Thompson's case," said Chris Miller, head of global activism strategies at Ben & Jerry's, in a press release. "However, Michael is just one victim, and many in Michigan are still paying a price for the racist war on drugs and the criminalization of cannabis, which is why we are calling on Governor Whitmer to provide justice for all those still incarcerated for cannabis crimes."
Thompson recently appeared on the "Green Cotton" episode of Ben & Jerry's social justice podcast Into the Mix to talk about the Michael Thompson Clemency Project and racial inequities in cannabis criminalization.
"You got to understand 25 years — what do you expect my life to be like?" he said during the podcast. "I had to fight even after marijuana was legal… I had to still fight to get out. So, I'm just thinking, how many more Michael Thompsons is in there?"
Ben & Jerry's has also placed mobile billboards with the message across Ann Arbor and Lansing as part of a national campaign urging clemency for cannabis convictions nationwide. Along with the billboards, the company created a template for residents to send letters to Whitmer expressing their support.
You can listen to the full "Green Cotton" episode of Into the Mix featuring Michael Thompson via benjerry.com, Spotify, and Apple Podcasts.
Coming soon: Metro Times Daily newsletter. We'll send you a handful of interesting Detroit stories every morning. Subscribe now to not miss a thing.

Follow us: Google News | NewsBreak | Reddit | Instagram | Facebook | Twitter