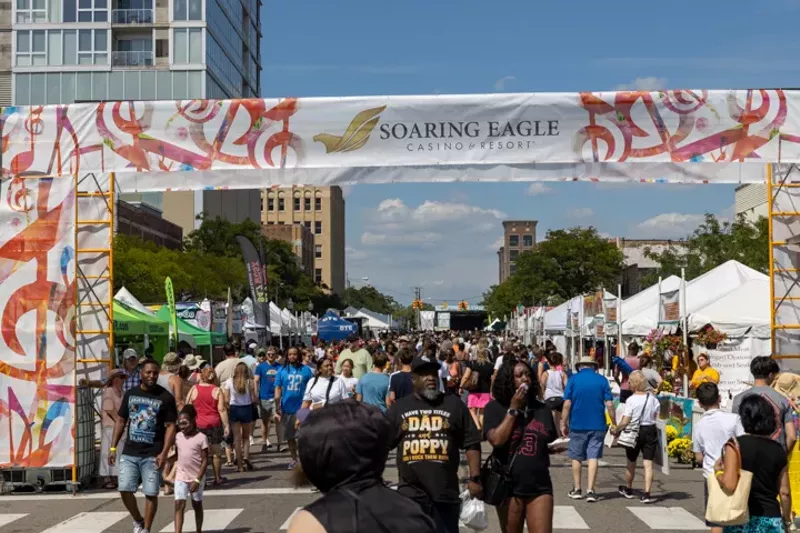 Royal Oak City city commissioners have unanimously approved a proposal to allow adult-use cannabis sales at this year's Arts, Beats & Eats.
Yes, we know people have been smoking in their cars before Arts, Beats & Eats since the fest's founding in 1997, but this means we'll finally get the chance to smoke weed legally onsite.
Organizers of the Labor Day weekend festival and cannabis sponsor House of Dank still have to get temporary licenses from the Liquor Control Commission and Cannabis Regulatory Agency for it to be official official.
The plan is to add a House of Dank tent that will offer pre-rolls, edibles, and cannabis vape cartridges for sale, and a consumption lounge with private security.
The tent would be located in the alley between South Center Street and Washington Avenue between Sixth and Seventh Street. It would be surrounded by a fence to obstruct view from street level.
House of Dank has been the festival cannabis sponsor since 2021, but it has not allowed consumption on the premises. Last year, it featured an Astroturfed lounge with prizes, merch, games like cornhole, and DJs from Detroit's Movement Music Festival. The company also had reps on hand to direct attendees to its dispensaries to purchase cannabis products.
Last year, city commissioners struck down the proposal over concerns about cannabis consumption at an event where alcohol is also sold, and children being exposed to weed.
Police Chief Michael Moore, who was previously one of the weed proposal's biggest opponents, presented an extensive plan at a City Commissioner meeting by festival organizer Jon Witz, who will utilize fans and air purifiers to mitigate odor concerns.
A kids' zone that would have been next to the proposed cannabis tent has been removed.
Moore told city commissioners the police department is now "neutral" on the issue.
Royal Oak Mayor Michael Fournier said at the meeting this is a trial run for this year's festival only.
"I'll support it for the sake of experimentation," he said. "If it's executed properly and well and it doesn't detract from the festival, I think it could be something to stay. If it does detract from the festival, meaning it becomes the main focal point and all of that, I'll probably have a change of heart next year."
Arts, Beats & Eats is slated for Sept. 1-4.
Coming soon: Metro Times Daily newsletter. We'll send you a handful of interesting Detroit stories every morning. Subscribe now to not miss a thing.

Follow us: Google News | NewsBreak | Reddit | Instagram | Facebook | Twitter