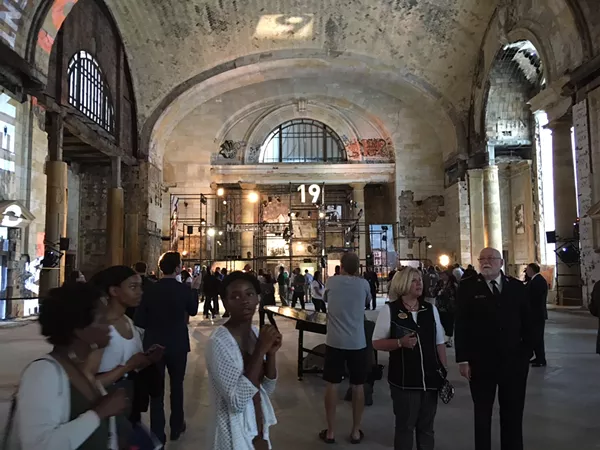 This weekend may be your first or last chance to peep at Michigan Central Station — ruin porn's favorite centerfold — before extensive renovations are underway.

As a part of Ford Motor Co.'s welcome celebration on the lawn of the newly purchased building on Tuesday morning, it was announced that the automaker will be offering free tours of the depot's Grand Hall this weekend. In addition to the tour, visitors will have an opportunity at a first glimpse at an unreleased documentary about the historic building and are encouraged to explore an exhibit curated by Ford and the Detroit Historical Society. It's the first time the train station has been open to the general public in... well, a very long time.

Though the 500,000-square-foot structure has been left to perish since being purchased by Manuel Moroun in 1992, its new owners hope to have the building renovations complete by 2022, the Detroit News reports. The renovations include creating offices for 2,500 Ford employees as well as some public spaces that will be determined, in part, by community polling.

Tours will run this weekend from 1 p.m.-6 p.m. on Friday, June 22 and 10 a.m.-5 p.m. on Saturday and Sunday.

Get our top picks for the best events in Detroit every Thursday morning. Sign up for our events newsletter.