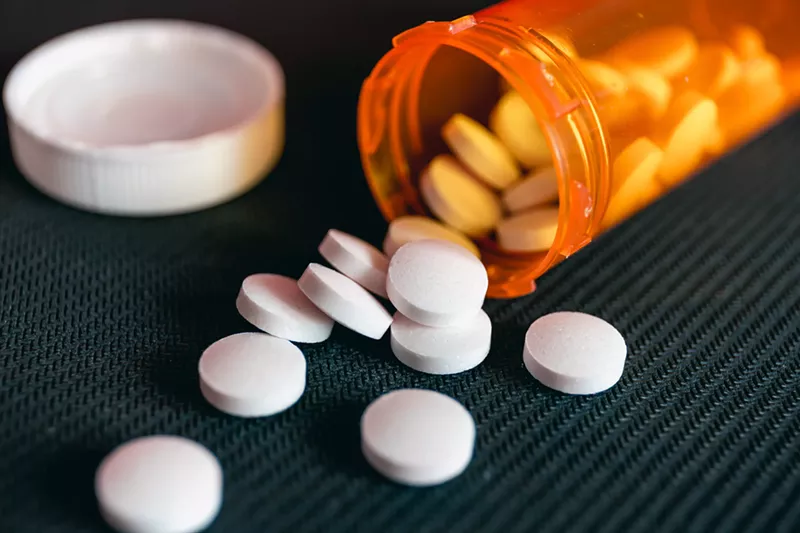 By now, the toll of the U.S. opioid epidemic is clear — encouraged by Big Pharma, doctors overprescribed pain pills, leading to widespread misuse, addiction, and an estimated 453,000 overdose deaths between 1999 and 2016.

The 2019 National Survey on Drug Use and Health found that a majority of misused prescription drugs were obtained from family and friends, often leftovers from their home medicine cabinets. In recent years, the Drug Enforcement Administration has encouraged people to turn in their unused prescription pills as part of the twice-a-year National Prescription Drug Take Back Day.

The next one is between 10 a.m. to 2 p.m. on Saturday, April 24. People can find a local drop-off point at takebackday.dea.gov to dispose of any unused medications — anonymously, no questions asked.

The program also takes back old vape cartridges. In 2019, a deadly respiratory illness was linked to cannabis cartridges that contained a substance called vitamin E acetate. The substance was banned in Michigan in 2019, and while it has largely been linked with the black market, vape cartridges containing it were still showing up at some dispensaries as recently as 2020.

Drugs can be dropped off at the following locations:

• 2nd Precinct, 13530 Lesure St., Detroit
• 3rd Precinct 2875 W. Grand Blvd., Detroit
• 4th Precinct 4700 W. Fort St., Detroit
• 5th Precinct 3500 Conner St., Detroit
• 6th Precinct 11450 Warwick St., Detroit
• 7th Precinct 3501 Chene St., Detroit
• 8th Precinct 21555 W. McNichols Rd., Detroit
• 9th Precinct 11187 Gratiot Ave., Detroit
• 10th Precinct 12000 Livernois Ave., Detroit
• 11th Precinct 5100 Nevada Ave., Detroit
• 12th Precinct 1441 W. Seven Mile Rd., Detroit
• The Youth Connection 4777 E. Outer Dr., Detroit
• The Guidance Center 13101 Allen Rd., Southgate
• The Inkster Police Department, 26279 Michigan Ave., Inkster

They can also be dropped off at any of Detroit Wayne Integrated Health Network's 24 red boxes located throughout Wayne County. You can find them at dwihn.org/rx-dropoff.

According to the DEA, the last National Prescription Drug Take Back Day in October collected 985,392 lbs. of medications, or 492.7 tons.

Some of the most misused opioids include codeine, fentanyl, Vicodin, and OxyContin. The latter is the subject of Empire of Pain: The Secret History of the Sackler Dynasty, a new book by writer Patrick Radden Keefe that expands on his 2017 coverage on the topic for The New Yorker. The Sacklers are a wealthy family who made a fortune pushing pain pills — the book puts that figure between $4 billion and $13 billion from OxyContin alone. But according to Keefe, the DEA was complicit in a tragedy that has claimed more Americans "than had died in all of the wars the country had fought since World War II."

"Historically, the DEA had regulated the quantity of these drugs that could legally be brought into the United States," Keefe writes. "But the burgeoning opioid industry pushed to raise these limits, lobbying doggedly, and over time the DEA accommodated. The opioid crisis is, among other things, a parable about the awesome capability of private industry to subvert public institutions."

Stay on top of Detroit news and views. Sign up for our weekly issue newsletter delivered each Wednesday.