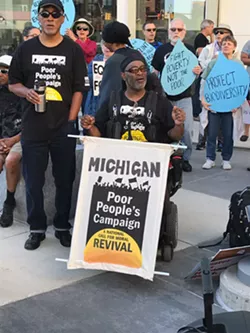 The rally sponsored by the Michigan Poor People's Campaign outside Cobo Center last week aimed at taking the moral higher ground in the fight against the financial and political web of poverty.
"Jesus was a poor man," the Rev. William Barber, co-chair of the national Poor People's Campaign, told the assembled crowd.
Michigan Poor People's Campaign coupled the rally with Barber's scheduled address to the UAW Constitutional Convention, which was going on inside Cobo at the time. In a show of solidarity with the campaign, UAW Vice President Cindy Estrada was among those speaking outside at the demonstration.
"It will take all of our movements coming together if we want to make real change," said Estrada. "It's not just contracts we bargain, but it's about the world we create."
All those movements are taking on many of the issues the Poor People's Campaign addresses. Low wages, systemic racism, the war economy, voting restrictions, ecological devastation, access to clean water, access to health care, the war against immigrants, and the "nation's distorted morality" are treated as part of the same evil dogging poor people and keeping them that way.
The national Poor People's Campaign has been active for a couple of years, and this event was part of an effort to sign on local religious leaders. The campaign is in the midst of 40 days of action that will culminate June 23 with the Stand Against Poverty Mass Rally and Moral Revival in Washington, D.C.
It's a revival of the Poor People's Campaign that was cut off 50 years ago by the murder of Rev. Martin Luther King Jr.

The campaign builds on the fusion politics that was successful for progressive activists then and is so necessary now. The same day that folks rallied outside Cobo, activists of many stripes were involved in crucial events around the city. The UAW was inside Cobo; the Allied Media Conference was kicking off at Wayne State University, and later in the day a MoveOn-sponsored Families Belong Together Rally was headed to the Detroit Immigration Detention Center.
A T-shirt worn by one demonstrator displayed the general ethos of that fusion. In one of the most expansive agendas to be found on a shirt, it declared:
"Science is real

Black lives matter

No human is illegal

Love is love

Women's rights are human rights

Kindness is everything."
The water issue had a high profile in the crowd, from the Flint crisis to pending shutoffs in Detroit to water problems in communities across the country. Numerous signs addressed water issues and two women from Flint spoke about their personal struggles.
Barber pointed out, "You can buy unleaded gas but you can't buy unleaded water," while addressing that problem.
The underlying issues of the campaign include a long-simmering offensive from the right to reverse liberal trends that culminated in the Civil Rights Act of 1964 and the Voting Rights Act of 1965.
Opponents of those laws on the right began their so-called Southern strategy appeal that has successfully gnawed away at those rights with veiled, dog-whistle racist appeals. President Donald Trump has pulled those appeals from the underground to the mainstream with his openly misogynist, racist, and anti-immigrant campaign strategy. Trump may be brazenly trying to finish this takeover, but he did not start it.
"Don't get a Trump addiction high and miss on how he got here," Barber said.
Regarding the presidential election, Barber said that in Wisconsin 250,000 votes were suppressed while Trump won the state by 30,000 votes. That kind of thing is the goal of all the voter purges that are taking place. If you can't win fairly then don't let the other side's supporters vote.
Notice that last week the Supreme Court just upheld the Ohio voter purge law along partisan lines. That includes conservative Justice Neil Gorsuch, who was installed by Trump after the Republican-controlled Senate refused to even consider Barack Obama's nominee over the last 10 months of his presidency. Republicans are getting good payback on that stalling move. Never let anyone tell you the Supreme Court doesn't matter. This one was built piece by piece over the past few decades.
Moving to health care, Barber pointed out that the United States already has the money to help poor people with something such as universal health care, or Medicare for all as it is being referred to. However, the war economy that has taken over the country gobbles up billions and Trump seeks more billions to build a border wall.
"We have misguided priorities," Barber said. "We're making the decision to build more bombs or give people clean water. ... Politicians get health care just for getting elected. How the hell can you say you don't want the people that elected you to get the same thing you get."
While Barber spoke on the driveway outside Cobo, he was approached by a uniformed security guard who apparently told the reverend he couldn't do what he was doing there.
"You can arrest me," said Barber. When the guard came back shortly after, Barber asked if that was his final warning. He went on to point out to the demonstrators that the security guard is a low-wage worker with no health care, and that he should be outside supporting the demonstration for poor people.
As the stock market soars, it's only people who own stocks who profit. The low unemployment rates mask the fact that there are working poor people who don't earn enough to support a family or pay for health care. A Washington Post headline last week announced that "A minimum-wage worker can't afford a two-bedroom apartment anywhere in the U.S."
The article goes on to say that the $15-per-hour living wage that many are fighting for would not pay the rent in most states. No wonder we need a Poor People's Campaign. The living wage that people still can't get isn't even enough for people to live on.
There were other speakers at the rally, including the Rev. Ed Rowe, an organizer of the event, as well as a couple of other ministers, and the state chair of the Michigan Welfare Rights Organization, Maureen Taylor.
As Barber wound up his speech before going in to the UAW Convention, he gathered the group together for a prayer, saying, "If you've never prayed before, it doesn't hurt."
It wasn't my first time, but I'm not really a praying kind of guy. It didn't hurt. And I'd rather pray with people who are trying to help the poor than with folks running around quoting biblical verses to justify ripping immigrant families apart, or a televangelist who says God wants him to have a $54 million private jet.
A long time ago I thought there was at least some level of morality on the religious right. Not anymore.
It's on our side.
Stay on top of Detroit news and views. Sign up for our weekly issue newsletter delivered each Wednesday.