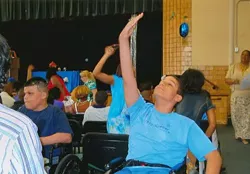 Former Detroit Public Schools' Emergency Manager Roy Roberts could at times be disarmingly candid. One of those moments came in April, as he unveiled the district's new strategic plan. Closing more schools every year, he acknowledged, was a losing plan.
"When the team came to me with schedules for reviewing the list of schools that might have to close, I was extremely uncomfortable," Roberts confided. "I said if this was a Fortune 500 company with a board of directors, and the leadership team continued to bring that board plans year after year that did nothing to stop a loss of market share, or a plant closing, the board would fire the entire team."
But Roberts' seriousness in his decision to close at least one of those schools, Oakman Elementary/Orthopedic, is hard to discern.
Oakman serves approximately 300 pre-K-to-grade 5 children, about 40 percent of whom have special needs. Because special and general education students commingle from their first day of school, young children grow up seeing the humanity in each other. This goes a long way to eradicating the fear and stereotypes that lead to stigmatization.
The school's distinctive features include accessible entryways, a single floor layout, rooms for performing diaper changes and catheterizations, and a wheelchair-accessible greenhouse and playground. School personnel form a tight-knit, loving community of professionals who take tremendous pride in every facet of the school.
Roberts, in a communication to the school's families in April, explained the need to close the school:
"Facility Condition: Very bad flooring, requires new bathrooms, as well as complete security and mechanical system upgrades at a cost of over $900,000. Sharply declining enrollment: Just 288 students in a school with capacity for 446; approximately 50 percent of seats unoccupied. Lost 50 percent of enrollment since 2009."
But the district has been unable to substantiate any of these claims.
Enrollment numbers for Oakman are readily available on the DPS website. Rather than declining 50 percent, enrollment has actually increased since 2009, when it stood at 265. In 2003, DPS determined the school's capacity to be 290. With an official enrollment of 288 today, the school is operating at 99.3 percent capacity.
The district maintains that the building capacity is now 446, even though neither the square footage of the building nor the composition of its student body has changed. School leaders, who say they were never consulted in increasing the school's stated capacity, surmise the district has simply inflated the numbers, assuming every classroom in the school is a "regular education" classroom — with a capacity of 25-33 students.
However, at Oakman, one of the classrooms in each grade is a classroom for students with physical and other health impairments. By law, such classrooms have a capacity of just 10 students.
My Freedom of Information Act request for the district's rationale for increasing the stated capacity was answered with a single line on a single page stating the school's present enrollment.
School personnel also dispute the estimated $900,000 in needed upgrades. My Freedom of Information Act request for an itemization of the needed repairs was answered, again, with a single line on a single page stating the current annual operating costs — and no itemization of needed upgrades.
When I informed the district's Freedom of Information Act coordinator that I had not received any of the requested information, which by law the district must provide, she told me that I was welcome to file an appeal.
For now I'm filing a different sort of appeal, publicly and directly, to incoming Emergency Manager Jack Martin.
Mr. Martin, we need a plan for the district to win.
Thomas Pedroni is an associate professor at Wayne State University and director of the Detroit Data and Democracy Project.