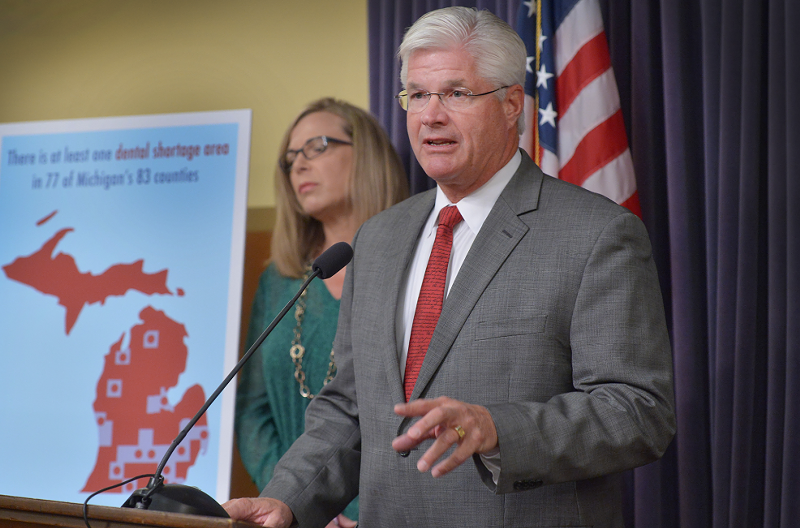 Republicans aren't thrilled with Michigan Attorney General Dana Nessel, though that's to be expected.
Since taking office in January, the progressive Democrat dropped out of at least 10 conservative
lawsuits
that her predecessor, Republican Bill Schuette, had joined on issues ranging from the environment to abortion to separation of church and state.
She's injected new life into the Flint water investigation, says she wants to shut down the Line 5 oil pipeline project, created a hate crime unit, created a
payroll fraud unit
, said she won't enforce Michigan's 1976 abortion ban if Roe v. Wade is overturned, and is generally fighting for people instead of corporations.
Those are not things most Republicans like. In fact, in a radio interview last week, Republican Senate Majority Leader Mike Shirkey suggested impeaching Nessel if she refuses to enforce existing laws she feels are unconstitutional. He suggested doing so even though former Republican Attorney General Schuette also didn't enforce laws
he didn't like
and was
similarly an activist
.
Thus, the threat is, at its root, the same thing that happened in lame duck. It's a giant tantrum thrown by a Republican man baby whose party recently lost an election and who doesn't like the consequences of that loss. It seems to be the new Michigan GOP strategy — lose, then do what you can to undermine those who come after you, which should be no surprise given the party and Shirkey's history.
Shirkey is the Clarklake state senator who during lame duck authored the constitutionally questionable legislation that gutted citizen-initiated laws that made paid sick time mandatory and increased the minimum wage. His laws are
headed to the Michigan Supreme Court
, which will likely rule on the case later this year. Shirkey also wrote a third bill that made it a misdemeanor to reveal the identity of dark money nonprofit donors.
In lame duck, Michigan voters wanted a minimum wage increase and mandatory paid sick time, but Shirkey (and his donors) didn't like that, so he used a questionable political maneuver to thwart the will of the people.
With Nessel, voters elected an attorney general who promised to take the state in a much more progressive direction. Shirkey doesn't like that, so now he's once again talking about using a questionable political measure to thwart the will of the people.
Impeachment, in this case, is questionable because it isn't a tool for when a politician doesn't like an opponent's policies. As we noted, Shirkey didn't appear to care when a Republican attorney general wasn't enforcing laws. What's also revealing is that some in the state GOP appear upset with Nessel for creating units to enforce payroll theft and hate crime laws. In other words, it seems almost as if Republicans don't want her to enforce laws they don't like, and, again, Shirkey and the GOP were fine with Schuette's activism. That means that Shirkey is considering impeachment because his party lost an election and he doesn't like the consequences.
None of this is too surprising. In December, we handed Shirkey a "Dooby," which is the annual
Metro Times
award that recognizes that
state's shadiest and most dubious characters
. At this point, he's on track for back-to-back awards.
Stay on top of Detroit news and views. Sign up for our weekly issue newsletter delivered each Wednesday.