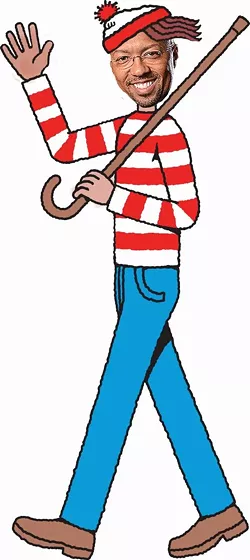 JUST WHEN IT SEEMS that the political follies around here couldn't get any crazier — they get crazier.
Last week's game of "Where in the World is Charles Pugh" — played out in City Council chambers, emergency manager Kevyn Orr's office and in the media, including this rag — was so over-the-top I just had to throw my hands up in frustration with this city. I'm a lifelong, dyed-in-the-wool Detroiter with a strong progressive streak, but this is too much. The government stink is so pervasive, it's on every single individual in the city, I don't care how squeaky clean you may be.
Pugh and other council members are the group that was going to bring integrity back to city government after the carnival we witnessed with the likes of Martha Reeves and Monica Conyers. Instead, it is just another example of citizens getting duped by the pretty face and familiar name. Charles Pugh, a former television newscaster and radio personality, got the most votes in 2009 to become council president. That was after it was disclosed he had lost his home to foreclosure. I don't know the details of his financial life, but it should have been a warning that balancing the books wasn't his strong point.
Then he got into a Twitter dustup with an intern at Automotive News, and was narcissistic enough to post photos showing off his abs. There's nothing illegal about that, but it all points to a guy who lacks a sense of propriety for his position — really, spending his time carping with an intern.
I don't have an opinion on the allegations in the criminal complaint filed against Pugh last week by the mother of a young man he was mentoring. But I do have an opinion about how he is handling the situation — inappropriately. Folks in Detroit were looking under rocks for him and he was spotted in a Seattle coffee shop. He's certainly left no word to voters about what he's up to and his office staff isn't passing on any useful information. The yawning silence from Pugh doesn't make things look good. He's previously shown a tendency to disappear when the going gets tough. It took days to find out what happened when he had an accident with his city car.
Pugh's disappearance took place just as council President Pro Tem Gary Brown was taking a position as assistant to Orr. Maybe he figures there's more clout elsewhere in the halls of power. And all this was on the heels of Kwame Kenyatta, who's been battling an undisclosed illness, resigning from council too.
Now we have a six-member council when there should be nine, as we stumble toward a vote for council by districts for the first time in nearly a century.
Things are looking pretty dicey at the Wayne County offices too. Nothing as sexy as an indictment to the chief executive, but there are enough stinky financial deals around him to make folks think twice about voting for Robert Ficano next time around. We all know what happened with Kwame Kilpatrick; and Mayor Bing has been toothless from the start.
Need I remind you that we have had seven police chiefs in the past decade? That's not an elected position, but it is a political appointment. Four of those chiefs left office under the cloud of scandal. Hamtramck now has an emergency manager, and Highland Park has been there and done that. Local politics at every level seems to be swirling down the toilet.
We've just witnessed the political theater of mayoral candidate Mike Duggan getting tossed off the primary ballot for turning in his qualifying signatures two weeks early. Now he's running as a write-in candidate. On the plus side for Duggan, he only has to come in second to make the fall ballot. On the minus side, I figure Wayne County Sheriff Benny Napoleon is going to slam him hard for not being a real Detroiter.
As we approach the primary for mayor and City Council next month, with the finals in November, what we've been seeing is a good reminder for voters to pay close attention to how we cast our votes. Don't be swayed by the pretty face; don't fall for the I'm-blacker-than-my-opponent appeal. Don't even trust the media. We need to really pay attention to what candidates say and what they do. It's difficult. It takes effort and steadfastness and a lot of thought — but it's critical that voters make some good decisions.
Given the emergency manager situation, it's not clear how important the mayor and City Council will be in the short term. But after the emergency manager is gone — whenever that ultimately is — we need good people in place to take things over. Also, we need a political system populated with people of good will and skill. We seem to be lacking an upcoming political class, people who are doing the work of governing and moving up into ever more responsible positions. That's what we decide this year, particularly with a new council group elected by districts. Throwing out all the bums is easy enough. Replacing them with good, competent people is an entirely different proposition.
ALL THAT SAID, I still like living in Detroit. Philosopher and activist Grace Lee Boggs does too. Among the first things she says in the recently released documentary film,American Revolutionary: The Evolution of Grace Lee Boggs, is "I feel so sorry for people not living in Detroit" — as she trundles along with her walker outside the abandoned Packard plant. The film was screened at the Detroit Film Theatre on Saturday as something of a 98th birthday celebration for Boggs and a culmination of "Detroit 2013: A Time for Resistance," a weeklong series of workshops around progressive issues.
Boggs' position is that the city has fallen hard, but people in the neighborhoods are taking things in their own hands to put things right — regardless of what the politicians and power brokers do. Boggs has been at this a long time and has perspective that most people lack. "What was doesn't work," she says in reference to how we always try to make things bigger and the need for us to reimagine approaches to many of our most basic institutions.
The feature-length film was directed by Grace Lee (no relation to Boggs) and 13 years in the making. By golly, the camera loves Boggs as she, sometimes humorously, recounts her years as a communist in the 1940s and '50s, her partnership with James Boggs, her involvement in the Black Power movement, and more recent years in Detroit nurturing such efforts as Detroit Summer and putting the neighbor back in the hood.
Boggs explains her idea of revolution is a profound change in the way we think about things. The common belief that revolution involves violent overthrow of political and economic power is what she calls a rebellion. Revolution takes much deeper thought.
"It's so much easier to become discouraged than encouraged," Boggs said during the after-film discussion. Don't take the easy way out.
Larry Gabriel is a writer, musician and former editor of Metro Times. Send comments to [email protected]