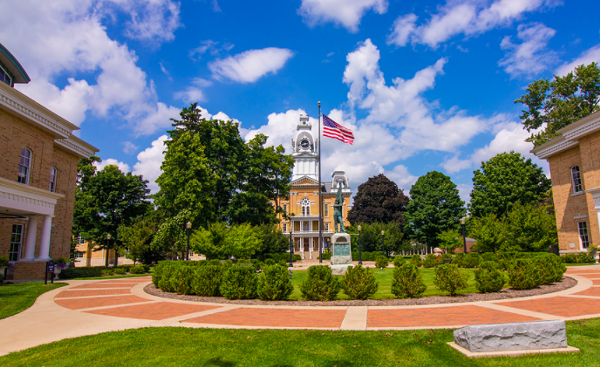 You've likely heard by now that, overnight, the U.S. Senate passed the most sweeping proposed changes to the tax code in decades via a bill many Republicans rallied behind
before its language was even ready
. And you've likely heard how the changes would
disproportionately benefit the rich
.
What you may not know, however, is that amendments to the bill got so fucking ridiculous as Republicans tried to incorporate their various pet projects in the run up to a floor vote — that a tax break Democrats said would apply to just one college in the entire country wound up on the table.
Enter Michigan's conservative Hillsdale College, which has churned out a plethora of influential right-wing political and business leaders, including
Blackwater founder Erik Prince
, who House investigators grilled this week about whether he tried to help the Trump administration backchannel with the Russians. Prince is also the brother of Education Secretary Betsy DeVos, whose wealth — and, by extension, job — comes from the Amway company co-founded by her father-in-law. The other co-founder of that company was a man named Jay Van Andel, whose son is a Hillsdale grad and major donor who now holds a leadership position at Amway.
According to
Politico
, the last-minute provision that Democrats said would benefit only Hillsdale came from Republican Pennsylvania Sen. Pat Toomey, who put forth a plan to exempt all colleges that don't accept federal student aid from the endowment tax. The provision was a response to a portion of the bill that would put a new tax on investment income earned by some private universities and colleges.
For Senate Democrats, the proposed amendment was a
new low
.
"I can't find anybody else in America who benefits from this particular provision. That doesn't strike me as right," Oregon Sen. Ron Wyden was reported to have said.
"It feels like this is a very limited provision written for a very special person," Missouri Sen. Claire McCaskill reportedly said.
Politico
noted that the college's president, Larry Arnn, is influential in conservative intellectual circles and was last year floated as a possibility for education secretary before DeVos got the job.
The right-wing online publication, the
Federalist
, reports that Hillsdale is not the only college in the U.S. that doesn't accept federal funds, and that the provision would have applied to
six other schools
. Toomey did not appear able to name those schools last night however, and Democrats succeeded in blocking the amendment.
While the conservative Hillsdale won't fatten its pockets under the tax package approved by the Senate, a whole bunch of other terrible things that could eventually worsen the quality of life for not-rich Americans did pass. You can read details on those
here
.
The bill will still have to be reconciled with a House version passed last month.