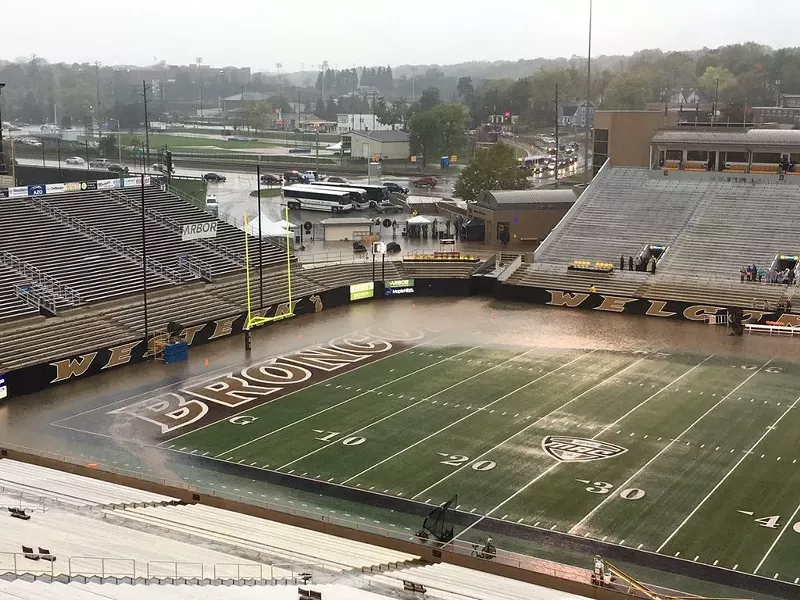 It was raining a little bit more than cats and dogs this weekend in Kalamazoo.
The WMU Broncos were planning to celebrate Homecoming this past Saturday until Mother Nature literally opened up the flood gates and practically drown Kalamazoo with rain.
The WMU football team was supposed to take the field in the mid-afternoon for a Homecoming football game until so much water was dumped from the sky that the field almost turned into a lake.
The game was canceled and rescheduled for the next day, but that didn't stop WMU fans from celebrating the big weekend and cracking some jokes about the flooding stadium.
Lots of students and fans had fun joking about the WMU football team motto "row the boat" and the fact that you could finally actually row a boat on WMU's football field.
Time to bring back "row the boat."
WMU's Waldo Stadium is underwater. Game here tomorrow not likely More @WOODTV pic.twitter.com/RHuFibtXrS

— Barton Deiters (@ReporterBartonD) October 14, 2017
When @BarstoolWMU takes "Row The Boat" too literal pic.twitter.com/8OsNpfgfbj

— Barstool Blue (@BarstoolUofM) October 14, 2017
Reports came out
after Saturday that 1 million gallons (!!!) of water were drained from Waldo Stadium once the rain cleared up. And WMU ended up losing the rescheduled game. It was a lose-lose all around.