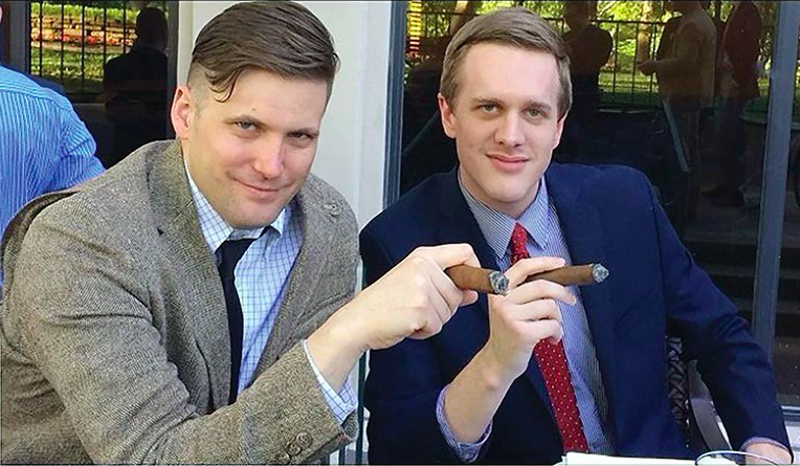 Updated 6:48 p.m., Sunday, March 4:


The white supremacists have relocated to the parking lot of the Ann Arbor Staples for shuttle service to their secret destination. In an email obtained by
Metro Times,
a conference coordinator says there are people on hand to ensure the cars of conference-goers are not vandalized.

Updated at 5:50 p.m., Sunday, March 4:

The white supremacists are still determined to gather this evening. At last check they were hanging out in the parking lot of the Ann Arbor Dunham's, where they were to take a shuttle to an unknown destination at 6:30 p.m.

This original post was updated at 10:40 a.m., Sunday, March 4 to reflect that two of the venues where the alt-right group initially planned to meet had canceled.
We've obtained the itinerary of the white supremacists meeting in metro Detroit.
If we're catching you unawares, white supremacist Richard Spencer and co. are descending upon metro Detroit this evening, and are expected to be featured at an
alt-right conference
put on by the Foundation for the Market Place of Ideas (FMI). The places they plan to visit are secret, and would-be guests had to go through a thorough vetting process to attend.
At least one person who is not a neo-Nazi or Nazi-sympathizer (or white nationalist or identitarian or whatever these people are calling themselves), managed to get approved for the conference. And this informant has shared with
Metro Times
an itinerary he says was sent out this morning by FMI's disgraced former executive director,
Kyle Bristow
. (It's an odd turn of events, as Bristow yesterday said he'd
resign from the group
and skip the conference — but apparently that doesn't preclude him from playing ring master).
The
Nazis and friends
had initially intended to kick off what was billed as a "fun and inspirational extravaganza" with a cocktail party tonight at the Carpathia Club in Sterling Heights — also known as metro Detroit's
largest German cultural organization
. A voice message left at the club's main line this morning was not immediately returned, nor was an email to the club's "web meister." But since this story was originally published, the
Detroit Free Press
reported that the club
canceled
the planned visit at the recommendation of Sterling Heights police.
Tomorrow morning, the Nazis appear poised to
do brunch
at an undetermined location in downtown Royal Oak. Managers or staff at three of the itinerary's suggested eateries — Lily's Seafood, Cafe Muse, and the Royal Oak Tap House — all said they had no big reservations scheduled for Monday morning. The manager at Cafe Muse said he planned to warn the manager on duty tomorrow that Spencer and co. could be coming.
"I don't imagine that we would feel comfortable having an organization like that at our restaurant just because of our values and it would certainly be against those," says Cafe Muse manager
Jacob Hurley.
Next up on the itinerary is a trip to Michigan State University for Richard Spencer's big talk, brought to the campus with help from Bristow, who sued the school after it initially denied Spencer speaking privileges. Spencer will speak from 4:30 p.m. to 6:30 p.m.
The "extravaganza" was originally planned to round out at Tipsy McStaggers in Warren, where the group had reserved the entire bar for what was to be a six hour-long party equipped with karaoke and a DJ. But the bar manager says he booked the event before knowing anything about the group. He and the bar's general manager have since done some research on Spencer and FMI and have decided to no longer let them in.
"They represented themselves as a social group, fun-loving and they wanted to come in and drink and party and they wanted to use our bar and we were fine with that," says Tipsy McStaggers manager Dave Fotenas. "Come to find out, they're part of a hate group."
"I'm actually trying to get in touch [with them to say] that they are no longer welcome at our bar and, moreover, our community."
Before the release of the itinerary, the FMI website had said the conference would feature speakers including Spencer,
Cameron Padgett
,
Matthew Heimbach
, and
Eli Mosley
. The conference was initially billed as an opportunity for the alt-right "to discuss the future of their movement and to coordinate their activities," but that reference has been taken down from FMI's website and replaced with Bristow's resignation letter.
On Twitter last week, Bristow said the conference would be attended by 100-150 people. He deleted his account on Saturday after we pointed out that he used the medium to post
anti-Semitic symbols and advocate for violence against illegal immigrants
.