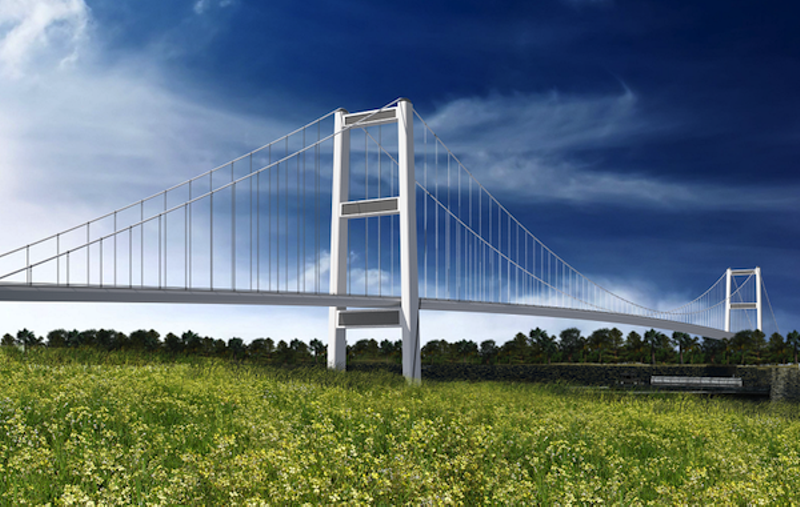 An opinion piece from the editorial board of the Wall Street Journal
opens with a comparison so clever we wonder why we haven't seen it made in Detroit: "Mexico isn't paying for that border wall, but Canada has volunteered to single-handedly finance a bridge to facilitate trade with the United States."
See what they did there? That's why they make the big bucks at the
WSJ
.
The topic, of course, is the Moroun family's bid to block construction of the long-planned, much-anticipated, vitally important new bridge across the Detroit River. See, the Moroun family owns the Ambassador Bridge, thankyouverymuch, and has grown accustomed to the estimated $60 million in revenue derived chiefly from being the only international bridge within 50 miles. The prospect of another bridge cutting into that revenue has undoubtedly played a role in the many lawsuits, "campaign donations," and ballot measures that have cropped up over the years.
It's the sort of thing that makes the capitalists over at on Wall Street a little leery. The
Wall Street Journal
loves rich people, but the idea of one rich person holding a virtual monopoly on trade with the country's biggest trading partner makes even them a little leery. Which is why the
WSJ
editorial took a dim view of the Morouns' ads appealing to President Donald Trump to revoke a key State Department permit for the new bridge's construction. Approving of the bridge, which is scheduled for a ceremonial groundbreaking this week, and calling the Gordie Howe plan "the deal of the century," the paper grumbled, "Apparently the Morouns think Mr. Trump can be suckered out of it."
Stay on top of Detroit news and views. Sign up for our weekly issue newsletter delivered each Wednesday.