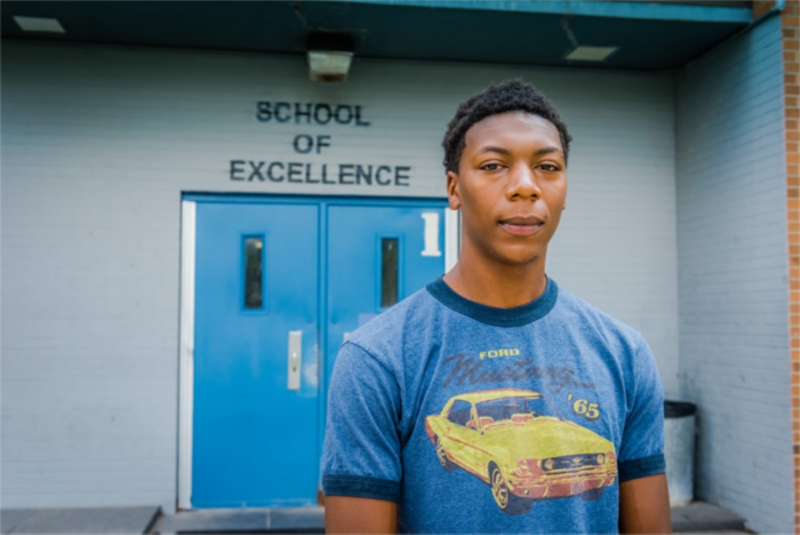 On Friday, dumped out with the least desirable news of the week came word that a lawsuit arguing that Detroit students were being denied an education had been dismissed.
Perhaps you remember the case.
MT
presented
a cover story about it last year
. With the help of a public interest law firm, a handful of Detroit students charged in federal court that educational officials in Michigan — including Gov. Rick Snyder — denied them access to an education of any quality.
The lawsuit took pains to illustrate how Detroit's schools — run under a state-appointed emergency manager — were a welter of dysfunction: overcrowded classrooms, lack of textbooks and basic materials, unqualified staff, leaking roofs, broken windows, black mold, contaminated drinking water, rodents, no pens, no paper, no toilet paper, and unsafe temperatures that had classes canceled due to 90-degree heat or classrooms so cold students could see their breath.
At times, without teachers or instructional materials, students were simply herded into rooms and asked to watch videos. One student claimed to have learned all the words to the film
Frozen
in high school. The lawsuit even mentions one eighth grade student who "taught" a seventh and eighth grade math class for a month because no teacher could be found.
We had described such teaching methods as a sort of "throw a book at them and hope they learn something" method of education — only without the book to throw. Student cannot be expected to learn when they are simply "warehoused for seven hours a day" in "an unsafe, degrading, and chaotic environment" that is a school "in name only." It is hardly surprising that, at the plaintiff's schools, which serve almost exclusively low-income children of color, almost 99 percent of the students are unable to achieve proficiency in state-mandated subjects.
Last year, the state moved for dismissal, arguing that the 14th Amendment contains no reference to literacy.
Then, last week,
U.S. District Judge Stephen Murphy III agreed with the state
.
Literacy is important, the judge noted. But students enjoy no right to access to being taught literacy. All the state has to do is make sure schools run. If they are unable to educate their students, that's a shame, but court rulings have not established that "access to literacy" is "a fundamental right."
At the close of last year's story, one of the plaintiffs in the case, Jamarria Hall, had reflected on his experiences at Detroit's Osborn High School and described the institution as a "crab barrel" — where you can't escape because you keep getting pulled, or pushed, back in.
He had said the state was one of those forces pushing any crabs who'd escape back in. "'Cause, starting out, they're the ones at the top of the barrel."
Apparently, we may add the U.S. government to those pushing crabs back in their barrel.
Stay on top of Detroit news and views. Sign up for our weekly issue newsletter delivered each Wednesday.