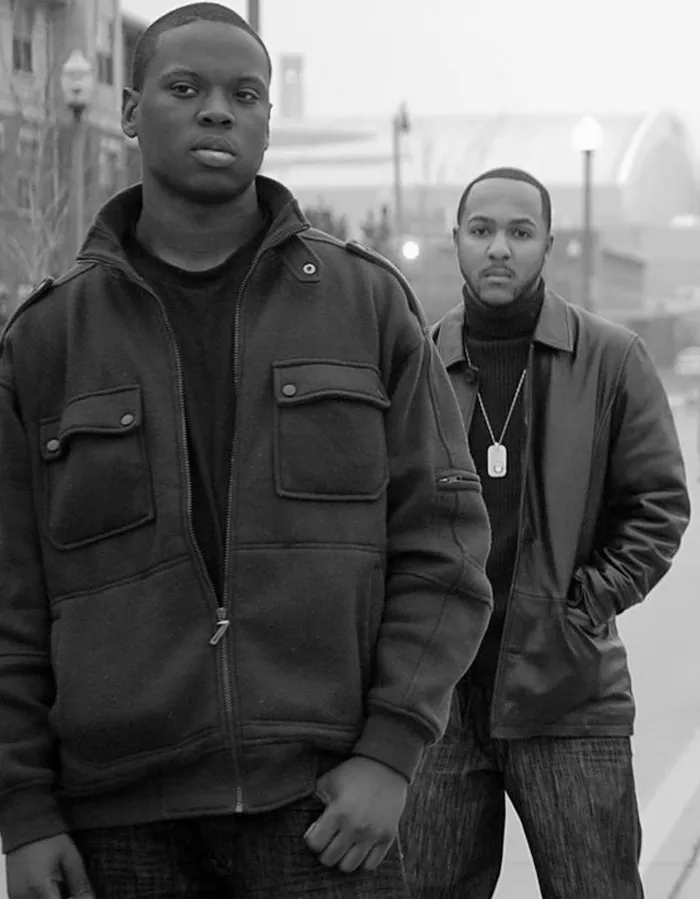 Mark Flash, part of Detroit techno collective Underground Resistance, which includes Movement headliner Timeline, neatly sums up the symbiotic relationship in two sentences: "Underground Resistance is techno history," he says. "Timeline is Underground Resistance."
Underground Resistance has always been sort of an enigma — a secret techno militia known by name and trade, but not by appearance or background. It's not widely known exactly what Underground Resistance is or how it all began, let alone who was involved in its inception and who is still involved to this day. In order to grasp the concept behind the group, which can be confusing at times, or to understand its past and present members, it's important to trace the roots of Detroit techno back to its founders, Juan Atkins, Kevin Saunderson, and Derrick May, aka the Belleville Three.
The "techno family tree" started with Atkins (the originator), Saunderson (the elevator), and May (the innovator). It continued to branch out with people like Eddie Fowlkes, James Pennington, Carl Craig, "Mad" Mike Banks, Jeff Mills (the Wizard), and Robert Hood. The last three, however, were pivotal in the development of Underground Resistance.
Banks and Mills, founding members of UR, were key figures in what's known as the "second generation of Detroit techno." They formed the militant collective in the late '80s, which Hood later joined, and brought a new image (or lack thereof) to techno with bandana-covered faces and almost zero photographic evidence of who was truly behind the organization. It created a sense of anonymity that drew people in, like a puzzle waiting to be solved, yet with pieces still missing. You could see the general picture, but never any concrete details. Yet more importantly, UR's secret nature made people focus on what was imperative — the actual music. It created a need to dive deep into the culture surrounding techno and explore its heritage, not just what was visible on the surface.
"It's about the music and not so much what people look like," says Flash. "There's a popularity contest out there … whoever is the most popular wins. But they stand in front of their music — we stand behind ours. That's the difference between UR and most people. We let the music speak for itself."
Seldom seen, but always heard — that's the motto of UR, according to Flash.
While Underground Resistance is a collective, it's also an umbrella name for bands and acts within the group, like Timeline, Los Hermanos, Red Planet, and Galaxy 2 Galaxy, among others. When asked how the parts fit together, Banks replies, "They don't. It's completely chaotic, kind of like the city it comes from."
Banks, Flash, Jon Dixon, and De'Sean Jones make up the Timeline component of UR, which emphasizes "hi-tech jazz," a term coined to describe the band's unique sound. It brings together elements of jazz fused with modern electronic technology, which involves a lot more experimentation.
"For myself, I tried a lot of different synthesizers and approached the keyboard from a different angle [to make hi-tech jazz], as opposed to what works," explains Dixon. "We're breaking the rules, but you have to understand those rules in order to break them."
Banks clarifies the style in a more personal way. "It (hi-tech jazz) is respect for our roots, our past, but with a definite eye towards evolving technologies and the future possibilities of jazz, keeping in mind the forgotten tradition of jazz's dance roots," he says. "[Timeline is] a variance of musical experiences and ages all under the house of 'hi-tech jazz.' This [the name] is also based on one of our founding members, Derek Jamerson, who unfortunately passed away at too young an age. The name of the group was based on the difference in time and the knowledge passed on between him and his father, James Jamerson."
"I think what makes Timeline different is that you have four individuals with completely different approaches to music production, as well as playing live," Dixon adds. "When you combine us all, you have so many different ideas in terms of what can be done rhythmically, harmonically, theoretically — it's just a lot of creativity and a lot of options that go into every individual song before we rehearse it. Every show is its own unique show, as opposed to programmed sets where [people] do the same show over and over.
"Timeline stands out from techno in general because while there are a lot of techno music producers, there really aren't many techno musicians, much less bands, producing and playing live."
Flash, a longtime member of UR and the newest member of Timeline, believes that fusing current technology with classic sound will continue in the future. "As long as technology is out there, we're going to keep using it to our advantage … along with those musicians out there who are good at their craft, they are going to show the rest of the world how it's done — how music is supposed to be generated," he says.
Although the techno aspect is undeniable, Timeline was also fueled by jazz musicians, indubitably tying back into the "hi-tech jazz" element of the group.
"Early jazz fusionists like Chick Corea, Lenny White, Stanley Clarke, Jan Hammer, Jean Luc Ponty, Narada Michael Walden, along with Chicago house [artists] like Mr. Fingers, Frankie Knuckles, Lil Louis, Louie Vega, and Kenny Dope Gonzales [were of inspiration]," says Banks. "There's also some Basic Channel in there too."
Nonetheless, Timeline holds true to techno roots and, according to Dixon, they'll be paying homage to Detroit counterparts during their set, with the possibility of hearing tracks from Mills and Saunderson in the Timeline performance, and when we spoke, the band was just wrapping up rehearsal and putting the final touches on their upcoming presentation. Timeline has something massive in store for Movement, something much different than anything ever done before. But it's a secret — just like UR itself.
"You really have to show up to find out," says Dixon.
Underground Resistance Presents: Timeline at 10:30 p.m. on Saturday, May 24, at the Movement Electronic Music Festival's Red Bull Music Academy Stage in Hart Plaza, Detroit; movement.us.